Bluehost Affiliate Program Review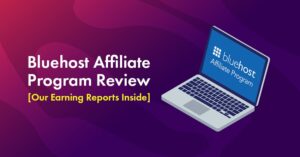 Summary
Bluehost is an official "WordPress" recommended web host since 2005 and powers more than 2 million websites worldwide. Bluehost has an affiliate program that pays you $65 per sale. Read our honest Bluehost affiliate program review to learn how you can make thousands of dollars from it.
Are you on the hunt for the best web hosting affiliate programs? Looking for a detailed Bluehost affiliate program review? You have come to the right place.
Bluehost has a lucrative affiliate referral program [Paid $5 Million as an Affiliate commission] that pays you $65 per sale. We have generated over $67,000 from the Bluehost Hosting Affiliate Program.
We've been promoting (and using) Bluehost for a long time and we earn over $1000 on average every single month from their affiliate program. We invested a couple of dollars in buying Bluehost hosting for promotional purposes and the reward we earn is enormous.
So are you curious to find out how we do that? Want to know if you can also do the same?
In this Bluehost affiliate program review, we'll talk about the following;
How we earn over $1500 per month from Bluehost (including our earning reports)
Why should you promote Bluehost
How to Join the Bluehost referral program
Eligibility Criteria
The real "secrets" to earning more money from the Bluehost affiliate program
And many more
Let's jump into the details.
Quick Note: Bluehost Affiliate Program review is also available in a video version.
Quick Note: Before closing down the browser window, go through the FAQs section. We have answered the most-asked questions that will be helpful for Bluehost Affiliate Marketers.
Bluehost Affiliate Program Review: Earn Over $1000 Per Month With Bluehost
About Bluehost
Here are some quick facts about the Bluehost company.
Bluehost was founded in 2003 and it is one of the world's largest web hosting providers. In 2010, the EIG group acquired Bluehost.
Bluehost powers more than 2 million websites worldwide.
Bluehost has been one of WordPress's top-recommended web hosts since 2005.
Bluehost is also a domain registrar.
Bluehost launched its affiliate program in 2004 and paid over $5 million in commissions last year alone.
---
Bluehost Affiliate Program: Features at a Glance
Features
Description
Affiliate Program Joining Fee
Nil
Internal Affiliate Program
No. Bluehost hosting affiliate program is now accessible from the Impact Radius affiliate marketplace-based platform
Accepted Properties
Blog, YouTube channel, social media accounts, and email list
Bluehost Affiliate Minimum Payout
$100 [Only for initial 2 sales]
Bluehost Affiliate Commission Rate
Fixed. $65 Per Sale
Recurring Referral Commission
No. A $65 Commission will only be granted once per lead.
Bluehost Affiliate Program Payout Duration
45-60 days after the sale credit date
Supported Payment Methods & Processing Fee
PayPal. No processing fees are charged by Bluehost. However, Impact.com charges a 2% fee capped at $20.
Supported Countries
Worldwide
Cookie Duration
90 Days
Requirements & Approval Process
Simple but manual approval process. Only requires a website or other platform with good content and some organic traffic.
Application Approval Duration
Within 48 business hours
Minimum Traffic Requirement
Bluehost doesn't mention the exact numbers. 1000-3000 monthly targeted traffic would be enough.
Available Affiliate Products for Promotion
Bluehost web hosting & domains
Affiliate Model
Pay per lead
Accessible Reports
Yes
Supported Banners
Both image and video-based
Bluehost Affiliate Contact
affiliates@bluehost.com
affiliates@bluehost.in
support@impact.com
Bluehost Affiliate Program Official Webpage
Join Now
---
What is Bluehost Affiliate Program? A Quick Overview
Bluehost offers an affiliate program that helps you earn a commission ($65/per sale) while promoting their web hosting products to your audience and clients.
What Bluehost products can you promote?
The quick answer is – All Hosting Types & Domains are eligible Bluehost affiliate products.
WordPress Hosting Plans
Dedicated hosting Plans
WooCommerce Hosting
And many more.
Quick Note: Bluehost only pays for hosting referrals. If someone only registered a domain through an affiliate's tracking link, no affiliate commission would be generated. The Bluehost affiliates will only be eligible for a commission when a user purchases any of the Bluehost hosting plans.
Now you must be wondering, do I still have to promote Bluehost domains? Well, yes you should. Bluehost offers a free domain in the majority of its web hosting plans and if you promote and make users aware of this special benefit, the chances are high that customers will purchase both domains and hosting.
How Does Bluehost Affiliate Program Work?
If we have to explain in a short, Here's how the Bluehost hosting affiliate program works:
Visit the Bluehost affiliate program sign up page to join as a Bluehost affiliate for free. Click on the Sign-Up button, and fill up the Bluehost affiliate sign up form to finish the signup process.
Here's how it looks like:
Once the signup process is done, you will get an email with your unique affiliate tracking code to promote Bluehost on your website.
You will also get access to the Bluehost promo materials such as custom banners and links to promote their products. For every visitor who clicks through your affiliate referral links and signs up, you will get a commission of $65 per sale.
Quick Note: The detailed version of the "Bluehost Referral Program Joining Process" is mentioned after the next section.
---
Bluehost Affiliate Program: The Eligibility Criteria
Bluehost Affiliate Requirements – Who Can Join the Affiliate Program?
Well, first let's talk about eligibility guidelines (if any) mentioned on the Bluehost hosting affiliate program official web page.
We have checked the Bluehost website thoroughly, but we haven't found strict rules and requirements. We only find these basic terms:
1. One thing that should be noticed under the Bluehost affiliate application form is Business Model.

Your business model for promoting Bluehost should be one of these.
2. Apart from that, it is also mentioned that the Bluehost team manually reviews & approves the affiliate applications.
3. Websites should have relevant content & a considerable amount of traffic. The exact traffic count required is not mentioned by Bluehost.
Quick Note: Based on our years of experience as an affiliate marketer, The affiliates would get approval easily even in a manual review process – if their website is in a relevant niche, has quality content, and receives minimum traffic of 1000-3000.
Pro Tip: Do not apply for Bluehost Affiliate Program without having quality content on your site. The site should have valuable Bluehost-related content. Example Bluehost Reviews, Comparison, Guides, etc.
What to do if a Bluehost affiliate application is rejected?
Bluehost will notify you of the rejection reason. However, if you feel unfair, you can contact affiliates@bluehost.com.
---
How to Join Bluehost Affiliate Program? The Step-by-Step Process
Quick Note: Bluehost used to have an internal affiliate program. But now, the Bluehost referral program has shifted to Impact Radius (A platform like Shareasale)
Becoming a Bluehost Affiliate is free and hardly requires 3 simple steps.
Step 1: Navigate to the Bluehost Hosting Affiliate Program official page and tap on the "Join Now" button.
Step 2: Fill up the Bluehost Affiliate Application Form
Now you will be on the Impact page. Here you will find a simple affiliate application form where you have to provide the following details:
Full Name
Email & Password
Company Information
Website address
Country
Phone number
Business Model & Property type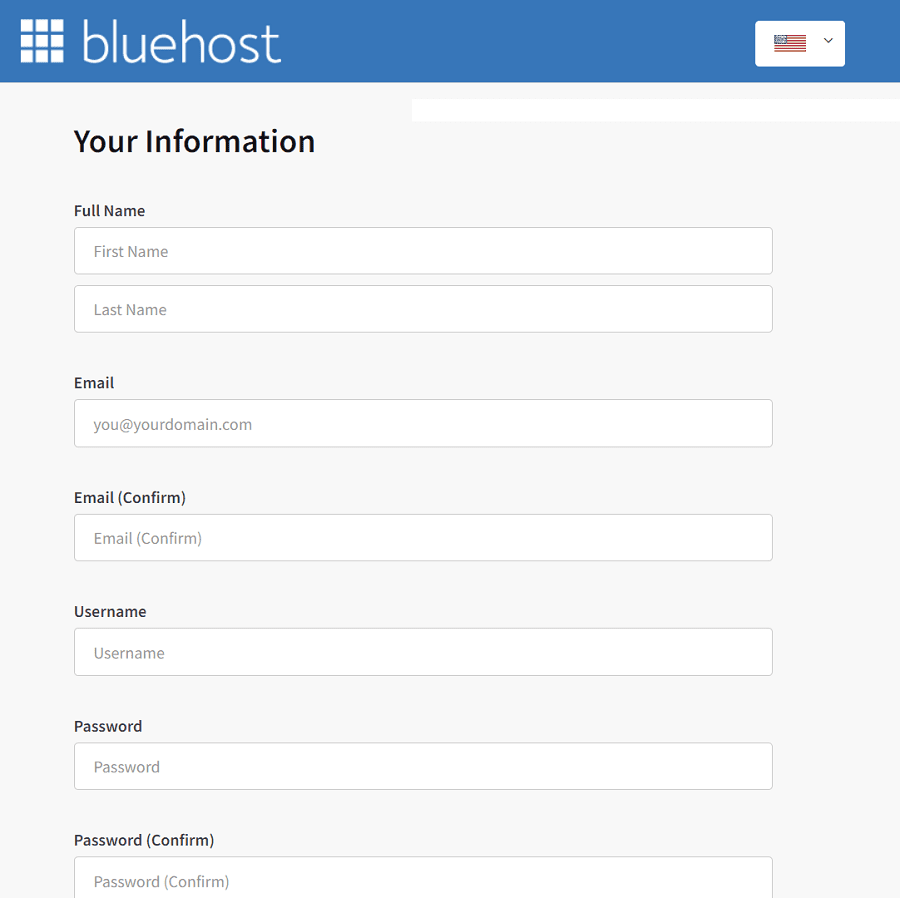 Quick Note: Go through the entire "Bluehost Affiliate Program Agreement & Terms".
Quick Note: The Bluehost referral program is available worldwide.
Step 3: Hit the Signup Button & wait for approval
Once you finish reading the agreement, Simply sign up. Bluehost's turnaround time is good. In case you are eligible, you will be approved within 48 business hours.
---
The Overview of Bluehost Affiliate Program Dashboard, Tracking Link & More
So you get approval for the Bluehost affiliate program. What should you do now?
Well, the further steps are mentioned here.
When you get approval, you will require 2 main things: Bluehost affiliate tracking link & banners for promotion.
How to Get Bluehost Affiliate Tracking Link
For people who are unaware of what affiliate tracking links are, here is a quick explanation: Basically affiliate link is a special link and is mainly used for tracking affiliate leads. The unique tracking ID would be attached to such links. One has to create & use affiliate links while promoting any affiliate program including an affiliate programs.
So to create a Bluehost affiliate tracking link:
Step 1: Simply navigate to Bluehost affiliate login page
Make sure to log in with the same email address you used at the time of submitting the application.
Once you logged in, you will see the "Create a link" box. Inside the box, first, select Bluehost and then tap on the create button. This will generate a unique Bluehost affiliate tracking link. (See image below)
This will probably generate the link which redirects users to the Bluehost Shared Hosting page.
But what if you want to generate an affiliate link and redirect users to another Bluehost landing page? [Example WordPress Hosting page]
In such a scenario, simply put up the landing page link in the second column and then hit the create button.
Quick Note: You do not require to generate country specific affiliate links. Bluehost.com affiliate links will work globally.
Accessing Bluehost Affiliate Banner Ads
Are you familiar with AdSense ads? Well, this is exactly like this. On your website, you can also display Bluehost banner ads which are enriched with your affiliate tracking id. To do this, you will require a Bluehost custom HTML code.
Don't worry you don't have to do any coding. Simply navigate to Content > Assets > Images from the impact dashboard. Click on the "Get Ad Code" or "Get tracking link" button corresponding to the ad banner. Copy the code and paste it into your website.
On a WordPress website, the HTML code can be inserted on any web page using the "Custom HTML block" available in the Gutenberg editor.
---
Bluehost Affiliate Program: Affiliate Commission Rate, Payouts & Withdrawals
One should carefully review payouts, minimum threshold, withdrawals, and payment methods-related information before applying for any affiliate program.
Bluehost Affiliate Program Payouts:
Once you generate a sale and it gets approved, it will be shown under the withdrawal amount after 45-60 days. One thing should be noted here: Withdrawals will be processed through Impact.com (Between the 15th and 31st of every month)

The minimum Bluehost affiliate payment threshold is $100 (up to the first 2 sales). It means the first two sales will be processed only when you reach $100 (or 2 sales). After that all single sales will be eligible to be processed at the end of the month it was credited.

Bluehost Affiliate Payment Methods: PayPal & Wire transfer.
Bluehost Affiliate Withdrawals:
As mentioned earlier, the Bluehost affiliate program has moved to Impact.com, and hence the withdrawal process has been changed.
To withdraw the Bluehost affiliate commission, Login to the impact app and select bank account from the right-corner drop-down menu. Then under the payment method, define the payment method (Bank transfer/PayPal). You only have to do this once.

And you can also set up an autopay – Meaning the withdrawal will be initiated automatically once the balance reaches the defined threshold. (Impact runs the withdrawals only 2 times a month – 1st and 15th. So if your balance failed to meet the minimum threshold before these dates, the withdrawal will be made on the upcoming or next withdrawal date).
Quick Note: All your payments will be processed by Impact. And hence for queries related to payment processing, you can contact the Impact Support team at: support@impact.com.
---
Bluehost Affiliate Review: Pros, Cons
Bluehost Affiliate Program Pros:
Why Should You Promote Bluehost? Here are the Top 10 Benefits for Affiliates:
1. It's free to join
The Bluehost referral program is free to join for everyone. You can visit this page to sign up as an affiliate for Bluehost for free. There's no joining fee or setup fee and it's also instant to set up your affiliate account with Bluehost.
2. Extremely affordable hosting plans & 30 days money refund policy
As an affiliate, you're responsible for recommending great products to your audience. Bluehost is NOT only a great web host but it also offers extremely affordable plans starting only at $2.95 per month.
So if you're looking to promote reliable yet affordable web hosting services to your audience (or customers), Bluehost is a great choice for you.
Quick Note: To produce high-quality content around Bluehost, You will definitely require Bluehost hosting. Bluehost Shared Hosting plan is enough for promotion purposes.
3. Offers amazing hosting features
It's easier to convince people to sign up for Bluehost web host because it offers a ton of useful hosting features at affordable prices.
Their hosting features include;
Free domain for 1 year (which instantly saves $10 to $15)
Host unlimited sites
$200 marketing credits
Free worldwide CDN
24/7 network monitoring and many more.
4. Unlimited earnings
Did you know there's NO cap on your Bluehost affiliate income? Yes, you can generate as many sales as you can and you'll get paid for every single sale you generate through your links. Bluehost paid over 5 million dollars to its affiliates last year alone!
5. Hefty commissions for each sale
You can earn $65 for each qualified sign-up. The good thing is, as you keep generating more successful signups per month, your average commission (bounty per signup) will also increase.
For instance, if you're generating 10+ sales per month, you can get as much as $75 per signup. Get in touch with the Bluehost affiliate manager to discuss your bounty per sign-up as you keep growing your Bluehost sales.
6. 90 days cookie duration
Bluehost offers a HUGE cookie period of 90 days.
What does it mean? If someone clicks on your affiliate link and does not sign up immediately but signs up within 90 days, you will still be able to get a commission for that referral.
7. Excellent reporting
Bluehost offers incredible reporting to its affiliates.
Here's how the Bluehost affiliate dashboard looks like;
On the Bluehost affiliate dashboard, you can easily discover the following things;
See which links you're using to promote Bluehost (from "my referral links")
Discover how well your highest converting links are performing (from "top campaigns")
Find out your earnings during each two-week pay period
Payout history and many more
8. Reliable tracking
If there's ONE thing we love most about the Bluehost affiliate program it is their ability to track every sale.
Bluehost has an integrated with Impact tracking system to ensure you get a commission for every successful sale you generate through your affiliate links.
9. Access to a dedicated affiliate team
Bluehost offers a dedicated affiliate team to help their affiliates. They give you advice on how to generate more Bluehost sales and provide you assistance whenever you need it. You can also get in touch with them by emailing at affiliates@bluehost.com
10. Access to custom banner ads and links
Bluehost gives you access to creative promo materials including banner ads and custom links to easily promote their web hosting products to your audience. You can download them for free (or embed the code) from the Bluehost Impact affiliate dashboard.
Bluehost Affiliate Program Cons:
The 45-60 days commission processing period might be long for some users.
---
Alternatives to Bluehost Affiliate Program
Dozens of hosting affiliate programs are available for affiliates. However, after reviewing them thoroughly we would like to recommend only these Bluehost alternatives:
Hostinger
HostGator
A2 Hosting
Bluehost vs Hostinger Affiliate Program Comparison:
| Features | Bluehost Affiliate Program | Hostinger Affiliate Program |
| --- | --- | --- |
| Affiliate Commission | $65 Per Sale (Fixed) | 60% of the sale amount |
| Cookie Duration | 90 Days | 30 Days |
| Primary Payment Method: | PayPal, Wire transfer | PayPal |
| Minimum Payout | $100 | $100 |
Click here to Join Hostinger Affiliate Program
Bluehost vs HostGator Affiliate Program Comparison:
Features
Bluehost Affiliate Program
HostGator Affiliate Program
Affiliate Commission
$65 Per Sale (Fixed)
1-5 referrals $50 per signup.
6-10 referrals $75 per signup.
11-20 referrals $100 per signup.
21+ referrals $125 per signup
Cookie Duration
90 Days
60 Days
Primary Payment Method:
PayPal, Wire transfer
PayPal
Minimum Payout
$100
$100
Click here to Join HostGator Affiliate Program
Bluehost vs A2 Hosting Affiliate Program Comparison:
| Features | Bluehost Affiliate Program | A2 Affiliate Program |
| --- | --- | --- |
| Affiliate Commission | $65 Per Sale (Fixed) | 1-10 sales: $55 per sale11-15 sales: $75 per sale16-20 sales: $100 per sale21+ sales: $125 per sale |
| Cookie Duration | 90 Days | 90 Days |
| Primary Payment Method: | PayPal, Wire transfer | PayPal |
| Minimum Payout | $100 | $100 |
Click here to Join A2 Hosting Affiliate Program
---
Bluehost Affiliate Program: Earning Proof & Promotion Hacks
How Do We Earn $1000+ Per Month from Bluehost [With Earning Reports]
Money is one of the greatest motivational factors. Plus Earning proof on top of it acts as an inspirational boost.
For those who have trust issues with the Bluehost affiliate program, here is the Bluehost affiliate payment proof.
We have been promoting Bluehost from our both websites (BloggersPassion & HostingMonks) for the last 6 years earning a SKY HIGH dollars.
A quick overview of our Bluehost earning report from Jan 2016: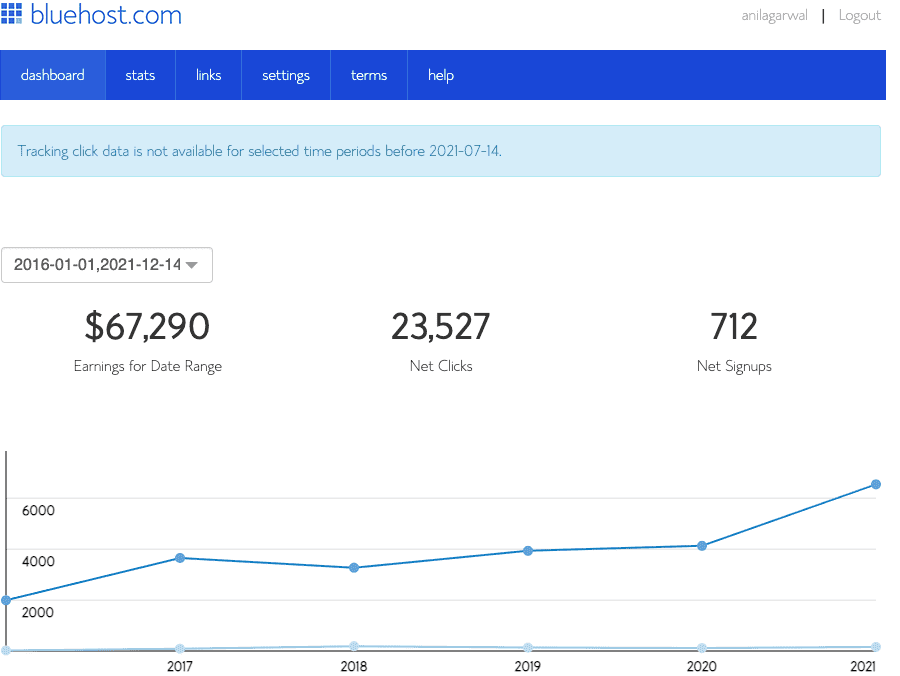 As you can see above, we generated over $67,000 from Bluehost since 2016. So far, we generated over 23,000 clicks with net signups of 712.
That means we made over $1000 on average every single month by promoting the Bluehost affiliate program.
Here's the interesting part: Bluehost's standard commission per sale is $65.
But… if you generate more sales in a month, you'll be able to get higher payouts!
Let us show you how it worked for us.
When we started promoting Bluehost, we were getting $65 per sale (which is the standard payout commission to all the Bluehost affiliates)
Once our average Bluehost sales reached between 5 to 10 every month, we started getting a $75 commission per sale (that's an increase of $10 per sale in commission)
When we started generating 10 to 15 sales a month, we started earning $100 per sale (overall $35 jump in commission!)
As of now, we're in the $100 commission-per-sale tier.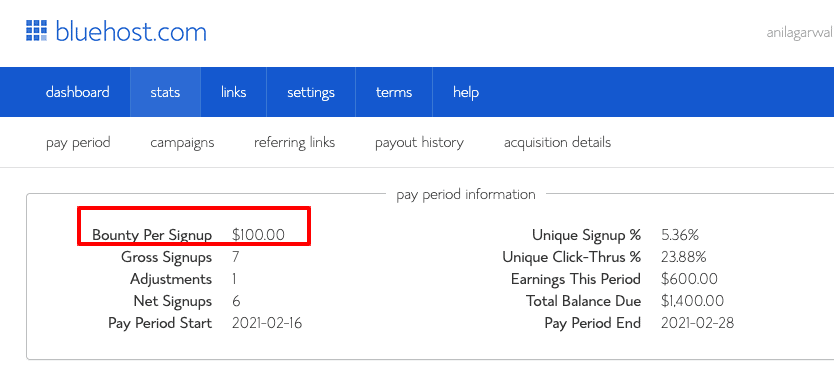 As you can see above, Bluehost's bounty per signup is $100 (instead of the regular $65 commission per sale).
If you're able to generate 20+ sales per month, you can expect that bounty per signup anywhere between $120 to $150 per sale (or even more).
There are super affiliate marketers like Pat Flynn who earn $200 per sale!
So the lesson is, the more sales you generate each month, the higher payout you'll receive from Bluehost.
---
3 Clever Ways to Earn Over $1000/mo from the Bluehost Affiliate Program In 2023
How to make money with Bluehost Affiliate Program?
[Short Answer]: Purchase a Bluehost Shared Hosting & Start a website, Start creating in-depth content around Bluehost, Promote through SEO and you're done.
Quick Note: Learning Affiliate Marketing isn't a single day job. You shouldn't have to invest months and money in learning. On BloggersPassion [Our Second Website], you will find dozens of affiliate marketing tips & tricks which help you to earn thousands of dollars for free.
Here are the THREE clever strategies you can implement to increase your Bluehost sales.
1. Build an Affiliate Website Using Bluehost [Buying Bluehost Hosting Would Help you in a Long Run]
It doesn't matter if you are promoting Bluehost or any other web host. If you want to make more money from an affiliate program, you need to know how to promote Bluehost affiliate products effectively.
So what's the best way to promote the Bluehost affiliate program to get it in front of the right people?
Start a blog.
Although there are so many other ways such as email marketing, social media, YouTube, and more to promote Bluehost as an affiliate.
But… blogging is the most effective channel.
How do we know that?
We've tried all the other promotional strategies and we generate 99% of all the Bluehost sales through blogging.
Here's the thing: if you want to promote Bluehost as an affiliate, grab their hosting first [starting from just $2.95/month].
Why?
[Anyone can perform WHOIS searches to easily find out where your website is hosted.
If you're planning to promote Bluehost as an affiliate, it's a smart idea to host one of your sites on Bluehost. That's how you earn more credibility as an affiliate because you're recommending a product that you actually use.]
Also, you can take all the screenshots of their dashboard, create tutorials using Bluehost, and analyze their uptime and hosting performance when you're hosted on Bluehost.
That being said, here's a simple tutorial on how you can use Bluehost to build an affiliate website.
How to get started with Bluehost
Step 1: Visit this special link to get started with Bluehost.
Once you're on their website, click on the "Get Started" button to continue to their hosting plans.
Quick Note: We've tied up with Bluehost to offer an exclusive deal for HostingMonks readers (where you can grab their hosting only at $2.95/mo).
Step 2: Pick any of their hosting plans. We recommend you their "Choice Plus" plan which costs you $5.45 per month but you'll get exclusive features like;
Host unlimited sites
$200 worth marketing credits
SpamExperts protection
Backup option from CodeGuard Basic and many more
But if you only want to host 1 website with limited storage, their Basic plan is great for you which costs you just $2.95/mo.
Step 3: You'll be asked to set up your domain. It's FREE to register a domain with Bluehost for 1 year. You can either enter your domain now or skip this step (to avail their free domain later).
Step 4: You'll need to create an account with Bluehost. You can also use the "Google Single Sign-On" option to quickly set up your account.
Finish the payment and you'll get a confirmation email from Bluehost upon the successful purchase. That's it, you're done! You can then install WordPress on Bluehost to start your website.
2. Plan your content smartly
If you want to build a successful affiliate website and are looking to improve your Bluehost sales, you need to create high-quality content where your affiliate links fit naturally.
Here's an example.
At BloggersPassion, we asked 40 SEO experts this question:
"What are the 3 best SEO tools you can't live without?"
We published their answers in a roundup post and included affiliate links to the products mentioned (which fit naturally).
Have a look;
That's how you can plan your content strategy to smartly promote your affiliate products such as Bluehost to increase affiliate sales.
Here are THREE PROVEN content or blog posts ideas to increase your Bluehost affiliate sales.
Create web hosting comparison posts
Potential buyers always compare similar products before they hit the "buy button". That's why product comparison posts work like a charm.
If you want to boost your Bluehost sales, create web host comparisons. Some examples include;
Don't be BIASED towards Bluehost to increase its sales. Be genuine while recommending any product on your website. Talk about each web host's pros and cons. That's how you build trust with your audience. Trust is the KEY to affiliate marketing success.
Find low-competitive "commercial keywords" around Bluehost
"Keyword research" is probably the best way to increase your Bluehost sales.
You need to find low-competitive keywords with "commercial intent".
What does it mean?
Low-competitive keywords have fewer monthly searches (making it easier for you to rank higher with minimal efforts)
Commercial intent keywords (also known as "buyer keywords") are the search terms used by people who are ready to buy something
Here are a few examples of commercial intent keywords related to Bluehost.
Bluehost discount
Bluehost promo code
Bluehost renewal coupon
Bluehost deals
Bluehost deal 2.95
Bluehost web hosting deals and the list goes on
If you observe the above keywords closely, all of them have a commercial intent. That means people who are looking for those search terms are ready to make a purchase.
So it's much easier for you to turn those visitors into paying customers. That's why you should target commercial intent keywords with less competition.
At HostingMonks, we use an all in one SEO toolkit called Semrush to find profitable keywords around Bluehost. You can also use freemium tools like Ubersuggest, KeywordTool.io, etc to find better keywords.
Create tutorials around Bluehost
People love "informative content". Whenever possible, create tutorials around Bluehost where you can include topics likes;
How to migrate from other web host to Bluehost
How to secure your Bluehost website
How to improve your Bluehost site's speed and performance
And the list goes on
Create Reviews & In-depth Guides
You can also write in-depth Bluehost review posts to generate more search traffic and sales.
Make sure to add your affiliate links while creating those tutorials. If people find those tutorials useful, you'll be able to generate decent sales every month from Bluehost.
Important: While creating product reviews or content around any affiliate program, make sure to use an affiliate link disclosure. It's not only a good practice but also builds trust with your audience.
3. Improve your conversions through SEO traffic source
Our main traffic source is SEO (Search engine free traffic) – People convert the most if they come through search engines. The biggest search engines are Google and YouTube. Focus on these 2 platforms for Bluehost promotion. You will surely earn big bucks like us.
We usually get 5% to 7% conversion rates on our Bluehost links which is a great number (in our niche).
The best way to increase your conversion rates is to create the RIGHT type of content such as;
Bluehost reviews
Comparison posts
Tutorials around Bluehost
Because of so much competition, creating high quality content isn't enough to generate organic free traffic from search engines. SEO optimization is a must.
Note: Similar to affiliate marketing, SEO is not a day job. Learning requires time and most importantly learning from the right source matters the most. You should always learn from those who show proven results. Example BloggersPassion – On our website, we have produced tons of free SEO guides.
We already discussed above how to plan your content smartly, so you can implement those tips to boost your overall Bluehost conversion rates.
What Others are Reading:
---
FAQs | Bluehost Affiliate Program Review
Here are some of the frequently asked questions about the Bluehost affiliate program.
What is Impact Radius?
Impact Radius is the affiliate network platform for affiliates where a lot of popular advertisers including Bluehost can be accessible. It's like a ShareAsale where affiliates can contact or apply for dozens of affiliate programs.
How much does Bluehost pay affiliates? 
Bluehost pays you a lucrative commission of $65 for every qualified hosting purchase made through your affiliate links.
How do I join as a Bluehost affiliate?
You can sign up for the Bluehost Affiliate Program from this page. It's free to join, once you visit the page, just click "Sign Up". You will get an email along with a unique tracking link that you can use to promote their products.
Is Bluehost affiliate free?
Yes. Joining the Bluehost affiliate program is free and easy. There is no fee to sign up as a Bluehost affiliate. 
When will I get paid as a Bluehost affiliate?
Bluehost processes sales between 45 to 60 days after the sale is earned. That means if you earned a sale in March, it will be processed between the 16th and 31st of May.
What is the minimum payment threshold of Bluehost?
The minimum payment threshold limit is $100 (you should generate at least 2 sales) before they process your first commission payment. This is applicable ONLY for the first payment. After that, you can get a commission even for a single sale.
How do I get paid as a Bluehost affiliate? 
All your Bluehost commissions are sent using PayPal's Mass Pay option. Bluehost itself pays the transaction fee so PayPal does not deduct transactions free from your Bluehost affiliate earnings (which is a good thing!).
Do I have to generate separate affiliate links for Bluehost.in and Bluehost.com?
No. Through impact.com you can generate a universal Bluehost link from which users will be automatically redirected to their country's version.
Is Bluehost Affiliate India the same as Bluehost.com affiliate program?
How do I connect with the Bluehost affiliate manager?
If you have questions about the Bluehost affiliate program or looking for tips on how to make more sales as a Bluehost affiliate, you can email at affiliates@bluehost.com
How do I promote my hosting affiliate?
You can promote Bluehost affiliates by creating high quality content on your own website, YouTube channel, Social media page, etc.
How to access Bluehost affiliate payout history and other reports?
To access Bluehost affiliate reports, Login to the Impact Radius app and navigate to the earnings history tab by tapping the top right balance amount button.
How much do Bluehost affiliates make?
The sky's the limit. Affiliate marketers like Pat Flynn usually earn around $200/per Bluehost sale.
Does Bluehost pay per click?
How do I withdraw money from Bluehost?
The Bluehost affiliate commission will be automatically withdrawn to the user account either on a fixed date or based on the predefined minimum threshold met.
Can I buy hosting from my own affiliate link?
Not at all. In case you do and are detected by the Bluehost team, your account might be flagged and disabled.
Is Bluehost available on ShareAsale?
Browse More:
Final Thoughts About Bluehost Hosting Affiliate Program Review
The best part about using Bluehost is that there's no cap on the number of sales you can generate through your affiliate links to earn more. It's also free and easy to sign up for.
Also, you'll be promoting an industry-leading web host that's officially recommended by WordPress.
Are you planning to join their affiliate program? Did you like our detailed Bluehost affiliate program review? If you've any questions about their program, let us know in the comments.