As a website grows, those who are operating on shared hosting start looking to upgrade. The first plan that comes to mind is "Managed Hosting".
But what exactly Managed Hosting is all about?
In this post, we will answer the question: "What is managed web hosting" and also reveal its hidden advantages.
Also helps you to choose the best managed hosting plan & much more.
What is Managed Hosting (Meaning & How it Works)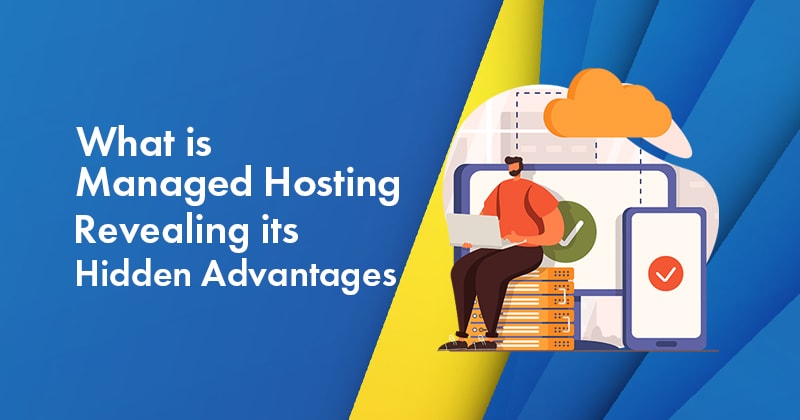 Managed hosting is a service where a hosting service provider takes care of your website's technical needs automatically, freeing you up to focus on other things. In other words, If a hosting is managed you don't have to perform these technical tasks manually:
Website setup
Website migration
Firewall configuration
Installing WordPress & Plugins updates
OS updates
Backups & Disaster recovery
Performance optimization
Server maintenance & repairs
Website monitoring, Malware scanning, Spam protection, etc.
Apart from that, the primary job of a managed host is to ensure their client websites stay up all the time, load at lightning fast speed, and perform fixes and in case of any trouble without interrupting the user.
Still confused? Watch this LiquidWeb video to understand Managed web hosting working:
---
Managed Hosting vs Unmanaged Hosting Services – A Quick Comparison
Shared Hosting, WordPress Hosting, Dedicated Hosting, VPS Hosting, etc – All can be managed or Unmanaged. Whether a service is managed or unmanaged is entirely depends on the web host service provider. The word "Managed" makes all the difference.
If you have an unmanaged hosting plan, then it's up to you to handle every technical task (discussed earlier) that engineers would normally do for you in a managed hosting plan.
Quick Note: Most hosting companies offer only Managed WordPress hosting plan. Companies like LiquidWeb, on the other hand, also offer managed VPS and dedicated hosting plans.
---
In Which Case We Should go for Managed Hosting
Wondering if Managed Hosting is right for you? Well, you should consider Managed web host in the following situations:
When you want to spend less time managing website technical & back-end stuff and more time on other business tasks.
When you have a lack of knowledge about server maintenance & website performance.
When budget is not an issue for you.
When you are not willing to compromise on website performance & website security.
When you don't have a server engineer on your team.
---
Managed Hosting Benefits [Pros]
Here are the benefits of Managed Hosting over Unmanaged Hosting:
Saves time: Rather than spending countless hours on website technical tasks, grab a managed hosting and outsource every technical trouble to the company's engineers.
Lesser threats & security issues: Web hosting companies often deploy more security features (spam protection, DDoS protection, enterprise level WAF, etc) in their managed plans than they do in their shared or unmanaged ones. Plus backups, malware scanning, and other features are all automated and due to this managed servers are more secure and have a lesser chance of getting hacked.
Stay up-to-date: Managed hosting is configured to automatically update WordPress, plugins, and other apps. This means that you don't have to worry about your WordPress, plugins, and apps becoming outdated.
Reduced Maintenance Cost: Hiring a technical IT engineer to fix issues like website breakdown, and a website down will make a BIG hole in your pocket. Instead buy a Managed hosting plan and let your hosting company engineers do this job.
Optimized Performance Always: Providing high-end performance is one of the primary jobs of Managed hosting engineers. Users won't have to install unnecessary performance optimization tools & plugins. Instead, the hosting team will configure your server based on your needs and requirements.
Top notch support: Managed hosting providers offer 24*7 full-service support so you can get back up and running quickly if issues arise.
Managed Hosting Drawbacks [Cons]
No access to cPanel: Since the web hosting team manages your server, most of the managed web hosting services don't allow you to access the server and make changes.
---
Managed Hosting Buying Guide [How to Choose a Best Managed Hosting Service]
Deciding on a Managed host could be confusing and overwhelming. Here you not just have to review plan features, and customer reviews, but a lot more things such as company SLAs, etc.
So before finalizing the managed web host plan make sure to review the following factors:
SLA (Service Level Agreement): Many managed hosting plans include a service-level agreement which defines the services, features, quality, and the tasks description that which company would handle on the behalf of the users. 99.99% response time, 24*7 support availability for resolving issues, SLAs performance status, etc should be included.
Support: Check if support options are free or not. Plus it should be 24*7*365.
Technicians Level: In Managed Hosting, Engineers, technicians, and other technical staff are mainly responsible for the success of your website hosting. Spending time reviewing their qualifications gives you insights into the customer support you can expect from the hosting company.
These are the key features every website must have. However, you can review other features as per your requirement.
Now the question is: What are managed hosting services?
---
WPX Managed Hosting (First Recommendation) – Using it For 6 Years
WPX hosting is one of the best managed WordPress hosting services on the market. We've been using it since 2016 to run BloggersPassion blog (and a few more) and have loved it so far.
The performance is excellent, and the security features are bulletproof. If you're looking for a high-performance, affordable service with security features that can't be beaten, WPX should be your top choice!
WPX Pricing [50% Off + 2 Months Free Hosting Included]:
Business Plan: $20.83/mo – 5 websites, 200 GB bandwidth, 15 GB SSD storage, etc.
Professional Plan: $41.58/mo – 15 websites, 400 GB bandwidth, 30 GB SSD storage, etc.
Elite Plan: $83.25/mo – 35 websites, Unlimited bandwidth, 60 GB SSD storage, etc.
---
Kinsta Managed Hosting (Second Recommendation)
Kinsta is offering WordPress managed hosting powered by Google Cloud – The main reason to trust Kinsta reliability. SSD based high speed hosting, Free staging environment, Lightning fast customer support, Secured environment, MyKinsta dashboard, etc are the primary features included.
Kinsta Pricing:
Starter: $35/mo – 1 Site
Pro: $70/mo – 2 Sites
Business: $115/mo – $450/mo (5-40 Sites)
Enterprise: $675/mo – $1650/mo (60-150 Sites)
Quick Note: You can also go with LiquidWeb because WPX & Kinsta only deals in "WordPress" managed plans.
---
Final Words on Managed Hosting
Now you know why managed hosting is so valuable. Before you upgrade to managed solutions, be sure to review the service level agreements (SLAs). Yes, it's expensive but every penny you invest is worth it.
Managed Cloud Hosting is the future! Imagine a world where you can focus on your primary business tasks without worrying about website technical & security issues. – In other words, It's time to start with managed hosting.
Do you have any queries? Feel free to ask.