Are you looking for a simple tutorial on how to start a WordPress blog on Bluehost quickly? Well, your search ends here.
If you are wondering why you should start a blog, here are 2 biggest reasons.
Make Passive Income
Build Online Influence
But here's the sad thing. Setting up a blog is a BIG deal for most people and that's the reason why they NEVER start their own blogs.
If you are one among them, this post is for you where I'm going to walk you through how to set up a WordPress blog on Bluehost i.e. using Bluehost for blogging.
Note: Some of the links mentioned on this page are affiliate links. That means, I earn a small commission every time you purchase something from those links without costing you anything extra. It helps me create really valuable stuff for you in the future.
Are you ready? Let's get started.
How to Start a WordPress Blog with Bluehost in 2023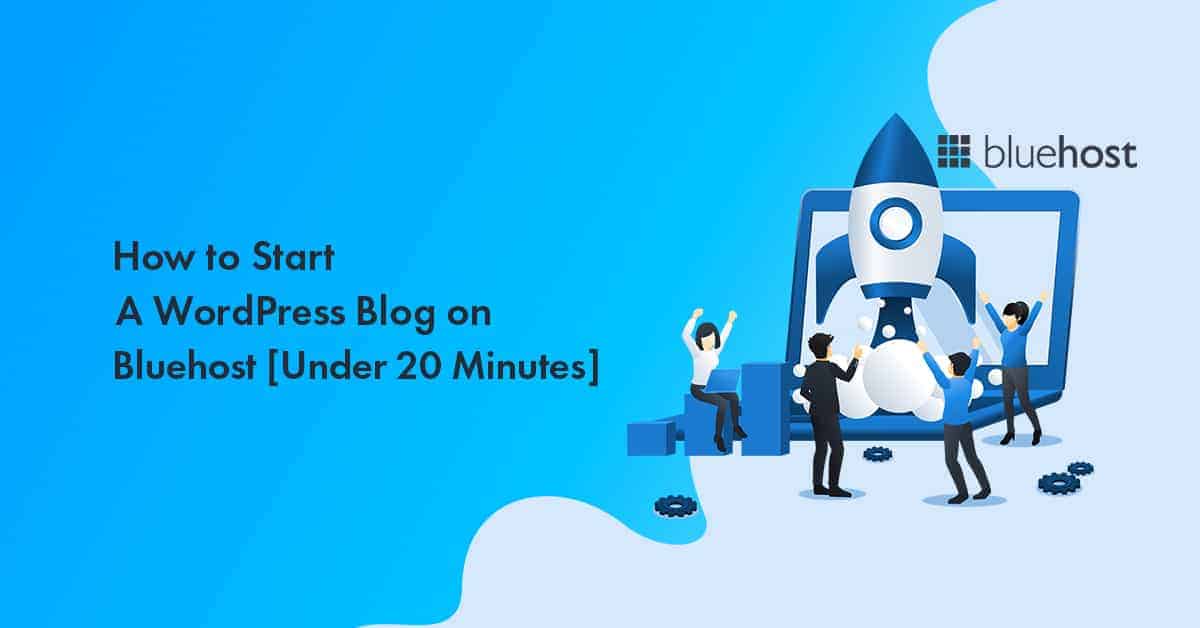 Launching a WordPress site on Bluehost is like a cakewalk.
Let's take the walk.
Step 1: Choose a Bluehost Plan
Click here to start a WordPress blog on Bluehost. Once you click on this link, you will be taken to Bluehost's home page (Our Co-branded page) and Click on 'Get Started Now' button.
Select a plan to continue.
Being a beginner, the basic plan is good for you.
Though Bluehost has three plans for WordPress shared hosting, you can choose one among them based on your needs.
1. Basic ($2.95/mo): In this plan, you can host 1 website with 50 GB SSD storage.
2. Plus ($5.45/mo): Plus plan will allow you to host UNLIMITED websites with unmetered SSD storage.
3. Choice Plus (5.45/mo): CodeGuard Basic Backup will be provided additionally in the Choice Plus plan.
Step 2: Register for Domain Name

Next, you need to set up your domain.
Enter any domain name that you want to register. Try to make it simple and easy to remember.
If your domain name is available you will see a screen showing your domain name is available!
Step 3: Enter Account Information and Select Package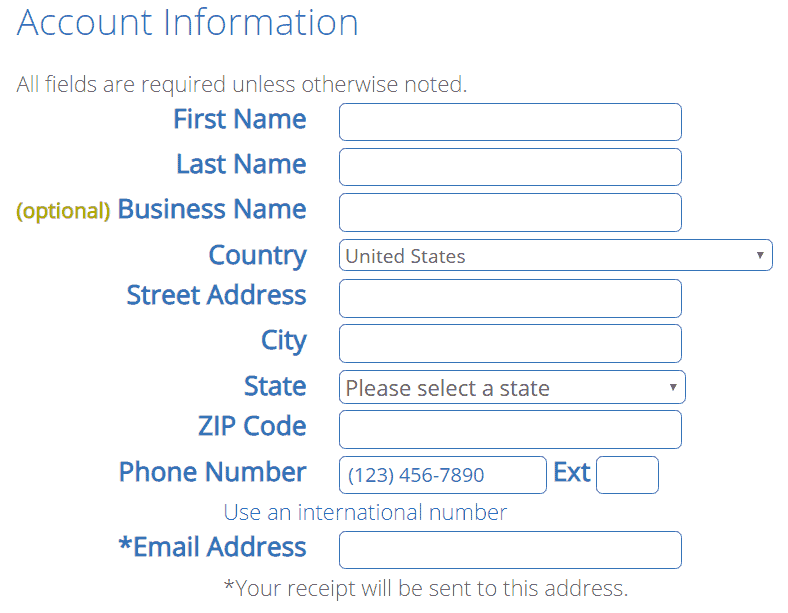 Provide some basic details like name, address, and contact number, etc. and then select an account plan.
I highly recommend you to pick 36 months package as you can get a Bluehost starter pack for just $2.95 per month (including the free domain).
It will cost you $3.95/mo and $4.95/mo if you opt for 24 months or 12 months respectively.
Step 4: Proceed For Payment
Uncheck package extras as a beginner you don't require them and select a payment method.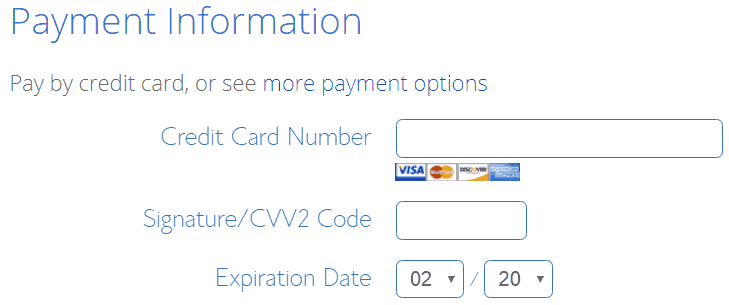 If you have selected the 36 months plan, the total cost would be $106.20 only.
Pay using your credit card or PayPal account.
On successful payment, you will get an intimation on your email with the payment receipt.
Step 5: Creating and Accessing Bluehost Account
Next, you need to create an account on Bluehost.
Enter your domain name
Choose a strong password
Always use numbers, capital letters and special characters (like $, @,*, etc.) while creating a password.
Login to your Bluehost account using your domain name and the password.
Once you are done with your account set up like the blog name, tag line, and goals, and picked a theme, the latest version of WordPress will be installed automatically and you will see a Bluehost control panel.

You will find your domain name on the Bluehost dashboard.
Click on View My site to access your website.
Alternatively, you can access your website directly from the web browser just by typing your domain name.
Click on the WordPress button to access your blog dashboard and find your new site waiting for you to start editing.
You can also go to the WordPress dashboard by typing your domain name followed by wp-admin.
It will look like this – domain name/wp-admin
Once you log in, you will be amazed by the WordPress dashboard where you can start blogging right away.
So that's it. See how simple it is?
Still, if you want to set up your blog by someone who's an expert, let me do it for you for FREE.
Working On Your WordPress Blog
Login into your WordPress account and you will be amazed by your blog dashboard.
Note: This is our current dashboard.
Initially, you will see a dashboard with 1 sample post, a few pages, and plugins.
So, the first thing you need to do is to remove default posts and pages.
Then you need to work on your blog appearance, add some important pages, plugins and start working on your first post.
Here I will try to cover the overview of some important aspects of WordPress blogging.
Trust me, using WordPress is extremely simple and once you start working on it you will become more confident in using it.
1. Post Writing and Publishing
You know, Blogging is all about sharing your thoughts in the form of text or graphics.
And writing good blog posts consistently is key to the your blog success.
Select Add New under Posts section to start writing a post.
Once you are done with the writing part, hit the Publish button and your post will be accessible to the whole world.
2. Media
This option will allow you to add media files like images and videos. Later on, you can embed these files to your blog post for better user engagement.
3. Pages
Create some important pages like about, contact, privacy policy, disclaimer, etc.
4. Appearance
This is a very important section to change the entire blog's appearance.
Apply an attention-grabbing theme.
Customize your blog including Site Identity, Layout, Colors, Typography, General, Menus, Widgets, Homepage Settings, and Additional CSS.
Activate or Deactivate widgets using drag and drop features.
Create Menus and Manage Locations
5. Plugins
Plugins extend the functionality of WordPress. You can either install plugins automatically from the WordPress Plugin Directory or upload a plugin in .zip format by clicking the Upload Plugin button at the top of this page.
Using Bluehost for Blogging?
Before making the final decision, you may ask, why Bluehost for blogging?
A valid question. Bluehost is the most reliable hosting service that you need to run your self-hosted WordPress site.
Web hosting is MUST to run a blog. It's just like renting a property where you have to pay others to run your site.
Now, let's discuss briefly what Bluehost offers you.
Bluehost has amazing features and it also comes at an affordable price tag. They offer you incredible benefits like:
Free domain name (for 1 year)
Unlimited email accounts
24×7 Live Chat & Phone Support
Built-in CDN (Content Delivery Network) support with Cloudflare integration
30-day Money-back Guarantee
So without much ado, let's talk about a few hidden features and benefits of using Bluehost to run your WordPress sites.
1. Unbreakable Security Features
If I had to start blogging from scratch, the #1 thing I give importance to is web hosting security. Web hosting plays a crucial role in your website speed and security.
If you are hosting on unreliable or cheap hosting service, you might either face frequent downtime issues or your site might get easily hacked by others. So it's essential for you to install your WordPress sites on reliable and unbreakable hosting providers such as Bluehost.
Bluehost offers all the necessary security features like SiteLock, SSL certificates, Daily Backups, etc.
Quick tip: If you are looking for web hosting, make sure you give top priority to the security features offered by different hosting services first. Then, give a thought to the pricing and also make sure to read the customer reviews on Google who are already using the hosting that you want to try. That way, you can get a better idea about a particular hosting service of your choice.
2. Multiple Web Hosting Choices
Most beginners who want to use Bluehost don't know one thing. They don't know that Bluehost offers various hosting plans for various budgets.
Bluehost basically offers:
Shared Hosting: Bluehost shared hosting plans start at $2.95 per month and these are the cheapest hosting plans from Bluehost where you can get features like free SSL, unmetered bandwidth, email accounts and so on.
Optimized WordPress hosting: WordPress hosting plans start at $2.95 per month and it is exclusively made for WordPress sites. It offers exclusive features like automatic WordPress installation and updation.
VPS Hosting: Bluehost VPS hosting plans start at $18.99 per month and these are the widely popular hosting plans from Bluehost where you can get advanced features like Root Access, enhanced control panel, dynamic resources for extreme performance and more flexibility over your websites.
Dedicated Hosting: Dedicated hosting plans start at $79.99 per month and these are the expensive hosting plans from Bluehost where you can get features like unmanaged dedicated server hosting, improved cPanel, multi-server management, database management and so on.
WP Pro (Managed Hosting): Grow your WordPress site with Bluehost WP Pro, plan starts at $19.95 per month. With WP Pro you can manage everything from one dashboard, all-in-one marketing center, email marketing, SEO tools, and social media tools included.
WooCommerce Hosting: Build fully customizable online stores with Bluehost WooCommerce. The plan starts at $6.95 per month and you will get a free online store set up phone call.
Among all, shared hosting is the most affordable and widely used by beginners.
You don't need a dedicated or any other hosting service from Bluehost when you are just starting out so I highly recommend you pick shared hosting from Bluehost instead of looking for other options like VPS hosting or dedicated hosting.
If you are just starting out,
Their shared hosting plans include the following things.
Unlimited Disk Storage
Unlimited Domain Hosting (excluding the basic package)
Free Drag and Drop Site Builder
Free Domain Name
Support International Domain Names
POP3/POP3 Secure E-mail Support
IMAP/Secure IMAP Email Support
3 Different Webmail (Web-Based Email) Solutions
Forwarding Email Accounts (Unlimited)
Unlimited GB of Site Transfer
Add-on Domains
Parked Domains
Subdomains unlimited
cPanel Account Control Panel
3. Money-Back Guarantee Policy
If you would not get satisfied with their services, you can raise the concern through their 24*7 fantastic customer support. If you do so within the 30 days of purchase you will receive a full refund on your hosting service.
In case you availed free domain offer, Bluehost will deduct a non-refundable domain fee of $15.99 from your refund amount.
Please note that money-back-guarantee does not apply to add-on products.
Furthermore, Bluehost does not offer any refunds for cancellations after 30 days.
Newly registered domains cannot be transferred to another registrar during the first 60 days of the registration period.
But after that, you may transfer it to another registrar at your convenience. You will retain ownership of your domain until the end of its registration period.
4. $200 Marketing Offers
Most bloggers would not tell you about the Bluehost $200 marketing offers. You can use these marketing credits to promote your site on Google AdWords etc.
Here are the BlueHost marketing offers you will get
Receive $100 for Microsoft Advertising
$100 for Google Adwords credits
How to use marketing offers on Bluehost?
Login to Bluehost cPanel for your account
Find Marketing Center under My Sites
Quick note: Once you have spent $25 on Google Adwords, you'll automatically receive an additional $100 in advertising.
5. Free SSL Certificate
Bluehost made it mandatory to offer SSL certificates (which turns your http version to https secured version) with all of its hosting plans including shared hosting plans.
6. Free Domain Name
Whether you know it or not, Bluehost offers you a free domain name for 1 year with all its hosting plans. Usually domain name registration for 1-year costs you anywhere around $10 to $20 depending on the service you choose, so you're saving all that money with Bluehost.
Not only that, Bluehost offers you a unique feature called domain manager which makes it easier for you to track, update, transfer, purchase and monitor all of your domains in one place.
7. SSH Access
SSH access (referred as Secure Shell) which is also known as Secure Socket Shell, is a network protocol that provides administrators with a secure way to access a remote computer. In simple words, the SSH protocol is a method for secure remote login from one computer to another.
Apart from the above, Bluehost also gives you access to the following things to easily safeguard your websites.
Server Side Includes
Hotlink Protection
Override .htaccess support
Log Files Site
Statistics
Customizable Error Pages
Custom Cron Jobs
With Bluehost hosting, you also get access to Apache SpamAssassin for free which is the #1 Open Source anti-spam platform that helps you classify email and block spam such as unsolicited bulk emails with ease.
8. 24/7 Trained Customer Support
Most hosting companies offer customer support but the majority of them don't provide you live chat support.
Fortunately, Bluehost offers it around the clock.
From web hosting to domains, any help you required regarding Bluehost can be discussed with Bluehost expert customer support time 24/7 throughout the year.
Apart from the live chat support, Bluehost also offers you, dedicated toll-free numbers for both US and international customers so you can pick up your phone and get in touch with their customer support staff if you need assistance urgently.
You'll also get access to the Bluehost knowledge base where you can find a ton of tutorials and videos to do everything from setting up your WordPress blog to managing your domains and so on in one place.
9. Backups, Multi-Server Management, Content Delivery Network, WordPress Installation and more
Backups: Most people who are new to the web hosting world don't know that Bluehost offers automatic backup updates of your site. In fact, Bluehost automatically creates daily, weekly, and monthly backups of your entire hosting account. That means you can easily restore all of your website's data including blog posts, pages, images, attachments, etc. with just one click.
Multi-Server Management: Do you need more than one account with Bluehost? No problem, you can easily add shared, VPS, dedicated services or any other hosting services offered by Bluehost to your account. Simply log in to your Bluehost control panel once and you can manage all your web hosting services from Bluehost in one place.
Content Delivery Network: Another biggest benefit of using Bluehost is that Cloudflare is integrated directly into your hosting account. Whether you know it or not, a CDN is also known as content delivery network, automatically increases the performance and speed of your website. The best part is that you can enable CloudFlare from your Bluehost control panel instantly on any of your websites for free.
Automatic WordPress Installation: Bluehost offers automatic WordPress installation and updation. That means you don't need to bother about how to install WordPress, even if any new release comes in, your WordPress site will be updated to the latest version automatically.
Unlimited Everything: From hosting unlimited sites to bandwidth and storage, you can get unlimited of everything (even with the shared hosting plans) which is a great reason most bloggers opt for Bluehost over other hosting choices.
The Good Thing About Using Bluehost is its Pricing
The majority of the bloggers use Bluehost shared hosting to run their WordPress sites because of its affordable pricing. Yes, there are so many other great choices out there such as WP Engine, WPX hosting, Siteground, etc. but they are all expensive.
They cost you $30 per month at an average and here's where Bluehost wins the race by offering their hosting plans at just $2.95 per month. No other hosting service provides so many unique features as Bluehost does at an affordable price tag that only Bluehost can offer.
So if you are looking for a reliable, WordPress recommended and affordable hosting to run WordPress sites, you should definitely consider using Bluehost. I've have used their services for over 5 years and I never faced any hosting related issues whatsoever.
Browse More:
---
FAQs
How to use WordPress.org with Bluehost?
Bluehost is officially recommended by WordPress. It has been the most reliable and affordable WordPress hosting since 2005.
And the best thing about Bluehost is that it installs WordPress automatically once you are done with the signing up for an account.
Even you don't need to update your WordPress version manually on any release, the latest version of WordPress will be installed automatically by Bluehost so that you have the most recent features available for your website.
How to launch WordPress site on Bluehost?
Launching a WordPress site on Bluehost is a simple and easy task. You need to simply choose a hosting plan paying via credit card or PayPal.
A free domain name is available for one year. Apart from that, WordPress installation and updation is done automatically by Bluehost itself.
What is WordPress?
WordPress is the world's most popular content management system. It facilitates you to create beautiful and powerful websites.
Furthermore, WordPress has a huge community of global developers so that you can customize your website hassle-free.
Why WordPress?
Did you know that WordPress is the no.1 content management system in the world?
Almost every top website like TechCrunch, BBC, Sony Music, MTV is using WordPress to run their sites. That itself tells the importance of using WordPress as your blogging platform.
Difference between Bluehost.com and Bluehost.in?
If you are an Indian blogger, you might be wondering which one to use: either Bluehost.com or Bluehost.in to run your WordPress sites.
Let me explain the difference between Bluehost.com and Bluehost.in quickly here.
If your audience is international, go for Bluehost.com (it has some exclusive features and you will be charged slightly more than that of Bluehost.in hosting when considering the price conversions). If you are just targeting the Indians, go for Bluehost.in.
But I highly recommend you to go for Bluehost.com if you are unsure about what to pick among the two as you can use dollars (even PayPal) to pay for your hosting plans.
What Others are Reading:
Conclusion about How to Start a Blog on Bluehost
Starting a WordPress on Bluehost is REALLY easy if you follow this simple step by step tutorial.
Without a doubt, WordPress is the most popular content management system that is used by millions of people worldwide to launch their blogs.
And Bluehost is officially recommended by WordPress and that's why using WordPress.org with Bluehost is a great option to launch WordPress site on Bluehost.
Although platforms like Blogger, offers free services but they don't come any closer to WordPress self-publishing platform.
It gives you full control over your sites and you can monetize your content without having to share your profits with others.
So what are you waiting for? Use this simple tutorial to launch your first WordPress blog on Bluehost. Please let me know if you have any more questions and bookmark this page for future reference.