Domain name and web hosting is a critical part of a website or blog to make it available on the internet, isn't it? I'm sure you already know that.
However, the problem is that most beginners don't usually have the money to pay for web hosting immediately, and while some people do have the budget, it's always good to know what you're getting into before you finally jump in with both legs.
The good thing is that there are numerous hosting providers available that offer first month free hosting trial to enable you to decide if it's really what you want and if you're happy with their service before making a full commitment.
Excitingly, these Cpanel web hosting with free trial will allow you to test-drive their hosting services before you decide to use them as your preferred hosting provider.
Therefore, in order to make the process of discovering and choosing this type of web hosting an easy one for you, I'll be sharing with you today 10 hosting providers that offer first month free hosting even without requiring your Credit Card or payment.
Best First Month Free Hosting Providers
What Is Free Trial Hosting?
In the web hosting world, free trials are mainly divided into 2 categories:
Those that require a credit card, PayPal, or other payment information to get started
And those that don't.
Let's call the former category "risk-free trials". This is because, while you might be required to pay a few bucks upfront, you'll still have at least 30-days to test-drive the web hosting services and ask for a full refund, if you not be happy with them.
That said, free trials are an old strategy most businesses use to attract new customers and users for their products, but they don't work all the time.
Some businesses, especially those with an offline presence, are designed to experience more success with real free trials, while online businesses that depend on recurring payments usually require prospects to enter their credit card details when getting started.
However, the truly free trials that require no form of payment information are typically more appealing to customers.
Think about it this way, how many times have you entered your credit card details to take advantage of an attractive introductory offer, and didn't remember to cancel your account within the trial period and get charged anyway?
Unfortunately, a truly first-month free hosting trial that doesn't require your payment info can be rather difficult to find.
With that out of the way, here are some of the best cPanel web hosting with free trial we've uncovered, from big names like Namecheap, Cloudways, LiquidWeb, Flywheel, and others, that don't require your credit card information.
---
Best cPanel Web Hosting With Free Trial
1. Namecheap
Namecheap is an ICANN accredited domain registrar, providing fantastic services for the last 2 decades.
Now, they are a one-stop solution for domain registration, web hosting, and all other related services.
You would be amazed by knowing that currently, Namecheap manages over 10 million domains and powering over 1.5 million websites of every size.
Whether you want to buy shared hosting, managed WordPress hosting, VPS hosting, dedicated hosting, or even reseller hosting, they have got you covered.
Moreover, Namecheap is a go-to resource for domains, emails, security services, etc.
And the best thing is that they have launched a 30-day free trial on all of their EasyWP plans which are true Managed WordPress Hosting solutions for everyone.
That means you can start building your online presence with ease for free, no credit card required.
Features:
Highly scalable solution (50K recommended visitors even for starter plan)
Automatic WordPress installation
Namecheap Cloud
3x faster than standard WordPress
Easily connect any domain to your WordPress site
Customized easy-to-use dashboard
Free PositiveSSL with Turbo and Supersonic plans
Free CDN
Simple Backups
SFTP Files Access
99.9% Uptime Guarantee
---
2. Interserver
Interserver was founded back in 1999. Yes, it's been now more than 2 decades since they are providing web hosting services worldwide.
In the last 21 years, the Internet has changed completely but what's not changed is their commitment towards quality services and support.
Rather, they have evolved their products line to the next level that includes Shared Hosting, Cloud Hosting, Quick Servers, Dedicated Servers, and much more.
Interserver has an extensive customer base now, ranging from individual freelancers to Fortune 500 companies, both domestic and international.
Their standard web hosting starts at $2.50/mo only that offers Unlimited storage, Easy Control Panel, 450+ Cloud apps, Free Website Migration along with a price-lock guarantee for a lifetime.
Added to that, you can also try their services for one month for just $0.01.
Here are some of the highlighted features that you can enjoy with Interserver standard web hosting services.
Features:
Unlimited ULTRA SSD Storage
450+ Cloud Apps
SitePad Website Builder
Unlimited E-Mail Accounts
Global Content Caching
Intershield Protection
30 Days Money Back Guarantee
Free Website Migration
Free SSL Certificates
---
3. CloudWays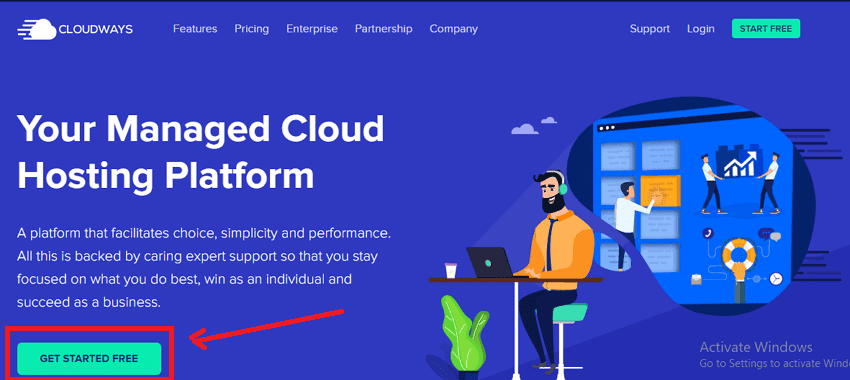 CloudWays is a popular hosting company with a huge customer base. The company offers Cloud Managed Hosting for both small, medium, and big businesses.
CloudWays was founded in 2011 and is your ideal cloud managed hosting provider for building any kind of website and apps using a wide range of CMS, frameworks, and other applications.
With over 30,000 customers worldwide, CloudWays offers a first month free hosting that will enable you to enjoy the world-class hosting company for a period of 3 days without making any financial commitment.
Aside from the free hosting trial, the company is equally offering WordPress hosting for low traffic blogs and high traffic blogs with endless customer support, fast loading servers, and other top-notch tools.
Getting started with CloudWays is also very easy:
Select a cloud provider among Vultr, DigitalOcean, Google Cloud Platform Live, or Amazon web services
Choose a platform among Magento, WordPress, Joomla, Prestashop, Drupal, and other PHP applications
Finally, choose your desired server resources (RAM, CPU, and Storage)
And you're all set
Here are some other amazing benefits you'll enjoy from CloudWays free trial:
Features:
Offers a free trial hosting without needing your credit card
Every Installation 1 click away
Integrated tools such as SSL Certificate and other security tools
Free Migration
Pay As You Go hosting service
Highly optimized for speed
24×7 Live Support
Let's you get your cloud server up and running in a matter of minutes
---
4. Nexcess by Liquid Web
Liquid Web was founded back in 1997, and since then they have been powering content, commerce, and applications.
They offer fully managed web hosting services and custom solutions for your most demanding projects.
Whether you are a freelancer, agency, business owner, or reseller, they have a perfect solution for everyone.
45,000+ customers in over 150 countries and 1.5 Million+ sites under management indicate its reliability and make it a hosting you can trust blindly.
Furthermore, 10 global data centers and 500+ hosting professionals on-site make it highly available, secure, and hassle-free hosting.
Its 24/7/365 most helpful human support including phone, chat, and helpdesk will facilitate you a 59-second initial response guarantee.
And most of all, you can enjoy their managed WordPress hosting and managed WooCommerce hosting services for free for 14 days. Even they will not ask for your credit card.
So give it a try today. Here is a list of features you will get along with the managed WordPress hosting.
Features:
Nexcess, their Managed Applications Cloud
Free site migration without worrying about downtime or any expense
Unlimited Email Accounts
Beaver Builder Lite
iThemes Security Pro and iThemes Sync
Automatic Daily Backups
Staging Site
Automatic SSL
Amazing Speed (PHP7, SSL, and Nginx)
24 Hour Support (phone, email, and chat)
Developer Tools (SSH, Git, and WP-CLI)
---
5. Flywheel

Flywheel offers pleasant managed WordPress hosting for agencies, freelancers, enterprise teams, and high-traffic websites. It makes building and managing WordPress websites incredibly easy.
The hosting company is primarily designed for agencies and freelancers who have many clients. Therefore, if you fall into this category, then this is the ideal hosting solution for you.
Additionally, Flywheel offers "White Label Hosting" solution, which means that they will take care of all your clients under your brand name without revealing the name "Flywheel" to your clients.
The good thing is that you can instantly get started with Flywheel without paying a dime today as they offer first month free trial hosting to new users. Just make use of the coupon code "FLYFREE" on checkout and you'll get a completely free 14-day trial web hosting from them.
Below are some of their awesome hosting features:
Features:
Free Website Migrations
Blazing fast website speed
Fully optimized for WordPress
Timely database backups
Google cloud hosting
Free SSL certificate
User-friendly dashboard
---
6. GoDaddy
You've probably heard a lot about GoDaddy, which is a popular domain registration company, but aside from its Domain Registration services, what you might not know is that it does offer a standard web hosting service, which you can get free of charge the first month as a trial.
GoDaddy happens to be one of the certified and leading domain registrars around offering a world-class platform to build an awesome website and blog.
Furthermore, the company allows you to build your own personal or business website within minutes using a huge collection of pre-made themes and templates with a custom domain name.
Basically, you'll get your first month free trial via GoDaddy's website builder, which means you can test the website builder for a period of one month and get your blog or website up and running within minutes using their easy-to-manage tools.
Below are some of the fantastic features you'll get from GoDaddy hosting.
Features:
GoDaddy free trial web hosting without any credit card required
FREE domain included with annual plans
FREE email hosting at your domain
Fast & secured hosting
Manage your domains through cPanel or Plesk
9% website uptime guaranteed
World's largest domain registrar with over 17 million domains under management
Free SSL certificate
Read: Best GoDaddy Hosting Alternatives for 2022
---
7. Shopify
Shopify is one of the biggest brands in the eCommerce industry, which you can use to build an awesome eCommerce store to sell your products using their fantastic, easy tools and themes.
There are millions of businesses and individuals that use Shopify to run their stores and businesses online.
If you're looking for a free trial web hosting to make create an eCommerce website and store online, then Shopify is your go-to platform. Interestingly, Shopify allows you to check out its platform and features completely free of charge for a period of 14 days without paying a cent.
So even if you're on a low budget and want to test the Shopify platform first before making any payment, then you can leverage Shopify's free 14 days trial and enjoy its full features and options before finally starting your own business with them.
Features:
Free 14 days trial (no credit card required)
Unlimited Bandwidth
Free SSL certificate for your store domain name
Hassle-free Setup
Blazing Fast Servers
Daily Backups and Instant Updates
99.9% Uptime
---
8. AccuWebHosting
With over 14 years of offering awesome shared, VPS, and dedicated hosting services, AccuWebHosting is a notable option for people looking for responsive support, specialized configurations, and scalable resources web hosting solution.
The hosting company is particularly resonating with Linux and Windows VPS hosting users, and it currently manages over 15,000 virtual servers and about 55,000 sites across the world. AccuWebHosting is amazingly agnostic when it concerns operating systems.
Furthermore, instead of pronouncing itself a Windows-only specialized hosting service or just giving Microsoft's option a lip service in favor of Linux installations, the company provides 9 different operating systems under basically the same pricing format.
Excitingly, AccuWebHosting offers new users free VPS hosting service for a period of one month. And after the one-month free trial, and you decide to continue using their service, you'll start paying just $14.97 a month or, you simply cancel your account without paying a dime.
As for their hosting features, AccuWebHosting includes free database backups with most of its plans and perhaps more importantly, free and unlimited website restorations. Users can also upgrade to a premium database backup plan for daily backups that are maintained for 7 days.
Additionally, apart from the free site migrations, most of its shared hosting plans include 24×7 DDoS protection, monitoring, and free email hosting.
Customer support is equally available around the clock, with the hosting company averaging chat responses within 7 seconds and ticket responses in less than 15-minutes.
Finally, AccuWebHosting's technical expertise is on pretty active and reliable with a minimum of 99.99% uptime guarantees, and lots of packages promising 100% availability.
Features:
Free 30 days VPS hosting trial
Top-notch customer support
Host unlimited domains
Weekly website backups
Unlimited SQL database
Fully Managed Support
Dedicated IP address
---
9. NetRegistery
NetRegistry is a world-class Australian based hosting company. The hosting company has been around for years and is definitely one of the best web hosting provider in Australia.
Although the hosting company is pretty expensive as compared to the other hosting providers, but the good thing is that you can get them for free.
Net Registry allows you to test their world-class cPanel hosting for a period of 30 days for free with no financial commitment and no obligations whatsoever.
Within the first 30 days of registering with them, you can test-drive their services and then decide whether or not it's the right web hosting solution for your business.
Interestingly, Netregistry offers a bunch of fantastic features that's probably more than your usual hosts.
And aside from web hosting, they equally provide web design services as well as almost everything related to internet marketing, including social media marketing, PPC, SEO, etc. Another great example of a one-stop solution.
And as for their customer service, Netregistry offers email, phone support, and live chat support during Australian business hours.
Finally, their loading speed is pretty average and not the best out there. Their data centers is located in Australia, so we'd expect their load speed to be much better, but they are still very good for your average business website.
Features:
30 days free trial for a cPanel world-class hosting
Good customer support
Free website builder
9% uptime guarantee
Free website migration
---
10. Lithium Hosting
Lithium Hosting is another popular hosting provider amongst bloggers and business owners.
The hosting company now offers 30 days of free trial hosting with lots of amazing features that you will need if you are looking for a dependable and affordable web hosting solution.
Excitingly, Lithium Hosting gives you the first month hosting completely free of charge, and then you'll have to pay $4.95 per month for Individual Hosting package after the free trial.
And if you decide to cancel your subscription during the trial period, you can do so and you won't be charged for the upcoming months.
Features:
Free 30 days hosting trial
Excellent hosting services and support
Affordable hosting solution
45 days money back guarantee
What Others are Reading:
---
FAQs | First Month Free Hosting
What is first month free hosting?
This is a special service offered by some of the web hosting providers that allow you to test their services risk-free even without a credit card. Generally, the trial period is 30 days but may vary from host to host.
What are the benefits of first month free hosting?
One can experience the different services (shared hosting, VPS, cloud), features (storage space, bandwidth, etc.), and performance (uptime, response time) offered by any company without paying anything actually.
What are the best first month free hosting providers?
Namecheap, Interserver, CloudWays, Liquid Web, Flywheel, GoDaddy, Shopify, AccuWebHosting, NetRegistery, Lithium Hosting are some of the best first month free hosting providers.
Which is free cloud hosting without a credit card?
Cloudways is one of the most reliable cloud hosting platforms for small, medium, and big businesses. You can try their services for 3 days without paying anything.
---
First Month Free Hosting | Conclusion
So these are the best first month free hosting solutions on the internet. I believe that this list of cPanel web hosting with free trial will help you test-drive these companies and then decide which of them is worth your penny.
All the web hosting solutions mentioned here are really good, it all depends on your choice and what you're looking for. But by the time you're done checking out each of them, I'm pretty sure you'll find one that perfectly suits your needs.
Now, let's hear from you.
Share with us in the comments below, which of the hosting providers you like. Tell us why you like it/them. And don't forget to share this post with your friends if you enjoyed it as they might be looking for something like this as well.