Are you looking for web hosts that offer first month free hosting? Your search ends here.
One of the main problems most beginners have is that they don't usually have the money to pay for web hosting immediately. Excitingly, these Cpanel web hosting with free trial will allow you to test-drive their hosting services before you decide to use them as your preferred hosting provider.
The good thing is that there are numerous hosting providers available that offer a first month (30 days or less) free hosting trial to enable you to decide if it's really what you want.
Most web hosts offer two types of free trials:
Web hosting free trials that require a credit card, PayPal, or other payment information to get started.
OR
Hosting free trials where credit cards aren't necessary: (Example: Namecheap, Cloudways, Nexcess, GoDaddy, Shopify, AccuWeb & More.)
In this post, you'll find a combination of both these web hosting free trials.
Here's the complete list of 9 hosting providers that offer 1 month free hosting in 2023.
Quick Note: The detailed description of these web hosting companies is mentioned in the next section. Don't skip it.
Quick Note: No one knows when the one month free hosting trial mentioned below ends? Grab it asap!
What Is Free Trial Hosting?
Web hosts that offer free trials (without asking your credit card details) can be considered as TRULY free trial hosting.
As we all know, all web hosting companies advertise about their high uptime on their website. But we don't know what's the reality until we get hands-on with that particular web hosting platform.
What if you get a chance to test the uptime, performance, and features of those web hosting companies before investing money? Isn't it great?
Well, considering this main benefit – the free trial hosting-based special offers would be a goldmine for beginners, small website owners, existing users, or anyone who is looking to test the capabilities of a web host before investing in it.
---
9 One Month Free Trial Web Hosting Services You Need to Know Now
1. Interserver
Interserver was founded back in 1999. Yes, it's been more than 2 decades since they are providing web hosting services worldwide.
Interserver has an extensive customer base now, ranging from individual freelancers to Fortune 500 companies, both domestic and international.
Their standard web hosting starts at $2.50/mo only and offers Unlimited storage, Easy Control Panel, 450+ Cloud apps, Free Website Migration with a price-lock guarantee for a lifetime.
Added to that, you can also try their one month free hosting trial service for just $0.01 – considered almost as free.
Features:
Unlimited ULTRA SSD Storage
450+ Cloud Apps
SitePad Website Builder
Unlimited Email Accounts
Global Content Caching
Intershield Protection
30 Days Money Back Guarantee
Free Website Migration
Free SSL Certificates
To grab Interserver 30-day trial ($0.01), follow these steps:
Step 1: Navigate to Interserver official website and select web hosting type
Step 2: Complete the Signup
Step 3: Input the "tryinterserver" coupon code and enjoy the Interserver web hosting free trial no credit card.
2. Namecheap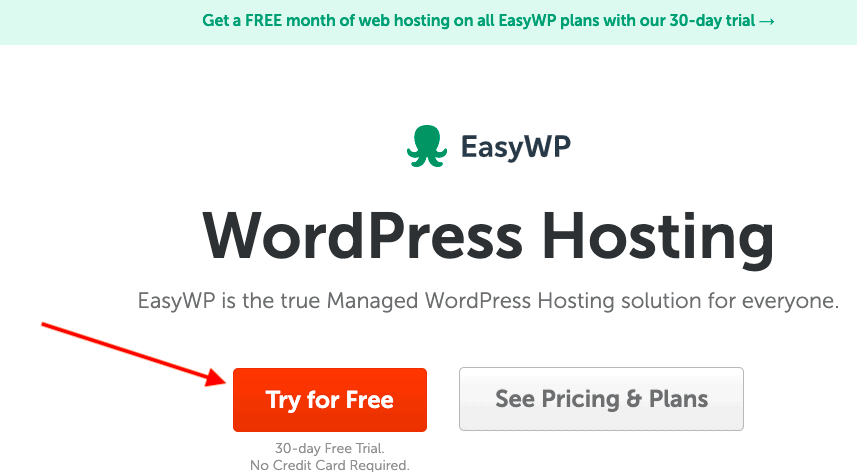 Namecheap is an ICANN accredited domain registrar, providing fantastic services for the last 2 decades.
Namecheap manages over 10 million domains and powers over 1.5 million websites across the world.
Whether you want to buy shared hosting, managed WordPress hosting, VPS hosting, dedicated hosting, or even reseller hosting, they have got you covered.
The best thing? They offer a 30-day free trial on all of their EasyWP plans which are true Managed WordPress Hosting solutions for everyone.
That means you can start building your online presence with ease for free, no credit card required.
What does Namecheap 30 Days Free Trial Web Hosting Include:
Highly scalable solution (50K recommended visitors even for starter plan)
Automatic WordPress installation
Namecheap Cloud
3x faster than standard WordPress
Easily connect any domain to your WordPress site
Customized easy-to-use dashboard
Free PositiveSSL with Turbo and Supersonic plans
Free CDN
Simple Backups
SFTP Files Access
99.9% Uptime Guarantee
Support migration from other domain service providers
How to Grab Namecheap cPanel Web Hosting Free Trial:
Watch this 2-minute video to understand the process:
How to upgrade Namecheap free hosting trial when it ends?
Well, if you would like to continue the Namecheap web hosting service (We're sure you do) after the end of the 30 days free trial period, then you have to upgrade your plan.
For this, simply navigate to the hosting list tab, click on change current plan, and then you will be asked to choose one of the Namecheap paid plans. Select it, make the payment and you're good to go.
3. CloudWays
CloudWays is highly recommended when you're primarily looking for free cloud hosting without credit card.
CloudWays is a popular hosting company with a huge customer base. The company offers Cloud Managed Hosting for both small, medium, and big businesses.
CloudWays was founded in 2011 and is your ideal cloud-managed hosting provider for building any kind of website and apps using a wide range of CMS, frameworks, and other applications.
CloudWays offers the first month free hosting that will enable you to enjoy the world-class hosting company for a period of 3 days without making any financial commitment.
Aside from the free hosting trial, the company is equally offering WordPress hosting for low-traffic blogs and high-traffic blogs with endless customer support, fast-loading servers, and other top-notch tools.
Getting started with CloudWays is also very easy:
Select a cloud provider among Vultr, DigitalOcean, Google Cloud Platform Live, or Amazon web services
Choose a platform among Magento, WordPress, Joomla, Prestashop, Drupal, and other PHP applications
Finally, choose your desired server resources (RAM, CPU, and Storage)
And you're all set
Here are some other amazing benefits you'll enjoy from CloudWays free trial:
What Does CloudWays Free Hosting Trial No Credit Card Include?
Offers a free trial hosting without needing your credit card
Every Installation 1 click away
Integrated tools such as SSL Certificate and other security tools
Free Migration
Pay As You Go hosting service
Highly optimized for speed
24×7 Live Support
Let's you get your cloud server up and running in a matter of minutes
How to Grab Cloudways Free Hosting Without Credit Card?
After signing up for Cloudways, the process is a little bit tricky. Watch a video below to smooth out the things:
How to switch or upgrade from Cloudways Free Web Hosting Trial?
So the 3-day free trial ends? Now, Looking to upgrade? Here are the steps:
Navigate to the account menu
Authorizing the credit card
Proceed with billing and you're done.
4. Flywheel
Flywheel offers 14-day FREE demo sites.
Yes, you heard it right. You can set up demo sites for free on Flywheel. Once everything's ready to go live, you can either pay on your own or transfer billing to your client.
Flywheel offers managed WordPress hosting for agencies, freelancers, enterprise teams, and high-traffic websites. It makes building and managing WordPress websites incredibly easy.
The hosting company is primarily designed for agencies and freelancers who have many clients. Therefore, if you fall into this category, then this is the ideal hosting solution for you.
Additionally, Flywheel offers a "White Label Hosting" solution, which means that they will take care of all your clients under your brand name without revealing the name "Flywheel" to your clients.
Below are some of their awesome hosting features:
What Flywheel Website Hosting Free Trial Offers?
Free Website Migrations
14-day free demo sites
Fully optimized for WordPress
Timely database backups
Google cloud hosting
Free SSL certificate
User-friendly dashboard
5. GoDaddy
GoDaddy is offering a 30-day free trial website hosting – No Credit Card Required.
You've probably heard a lot about GoDaddy, which is a popular domain registration company, but aside from its Domain Registration services, what you might not know is that it does offer a standard web hosting service, which you can get free of charge the first month as a trial.
GoDaddy happens to be one of the certified and leading domain registrars around offering a world-class platform to build an awesome website and blog.
You can build your own personal or business website within minutes using a huge collection of pre-made themes and templates with a custom domain name.
Basically, you'll get your first month's free trial via GoDaddy's website builder, which means you can test the website builder for a period of one month and get your blog or website up and running within minutes using their easy-to-manage tools.
Below are some of the fantastic features you'll get from GoDaddy hosting.
What's Inside Your GoDaddy Free Trial Website Hosting
GoDaddy free hosting trial no credit card
Email & Social media marketing
Fast & secure hosting
Manage your domains through cPanel or Plesk
99% website uptime guaranteed
World's largest domain registrar with over 17 million domains under management
Free SSL certificate
24*7 customer support
Plus when you're ready to upgrade, you might find exciting offers such as a free domain with annual plans and more.
How to Create a Site with GoDaddy One Month Free Hosting Trial?
First thing first, you have to sign up for GoDaddy
Then you will be asked to enter a domain name (In a free trial, the GoDaddy branding will be added to your domain)
Then you have to pick a template and finish the designing part.
Upload your content and finally publish it.
How to Upgrade from GoDaddy Free Trial?
After 30 days of free trial ends, simply navigate to Settings > Manage. Then choose a hosting plan as per your need. Finish up the payment processing and you'll be done.
Read: Best GoDaddy Hosting Alternatives for 2023
6. Shopify
Shopify Offers a 14 days straight web hosting free trial no credit card.
Shopify is one of the biggest brands in the eCommerce industry, which you can use to build an awesome eCommerce store to sell your products using their fantastic, easy tools and themes.
There are millions of businesses and individuals that use Shopify to run their stores and businesses online.
If you're looking for free trial web hosting to create an eCommerce website and store online, then Shopify is your go-to platform. Interestingly, Shopify allows you to check out its platform and features completely free of charge for a period of 14 days without paying a cent.
So even if you're on a low budget and want to test the Shopify platform first before making any payment, then you can leverage Shopify's free 14 days trial and enjoy its full features and options before finally starting your own business with them.
Features:
Free 14 days trial (no credit card required)
Unlimited Bandwidth
Free SSL certificate for your store domain name
Hassle-free Setup
Blazing Fast Servers
Daily Backups and Instant Updates
99.9% Uptime
How to Claim Shopify 14 days eCommerce Hosting Free Trial
Probably going through the Shopify 14 days trial is the easiest thing to do. Just navigate to Shopify from our special link, tap on the start free trial and you will be enrolled into the Shopify world.
And then this video will help you to proceed further:
7. AccuWebHosting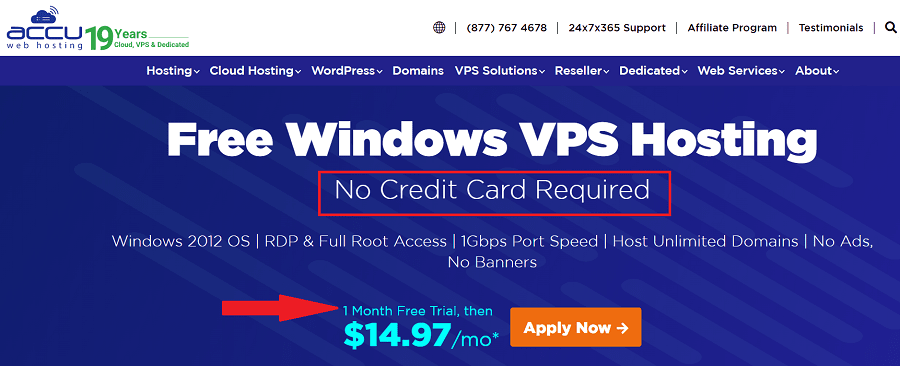 AccuWeb – Another web host offers 30 days free VPS hosting without credit card
With over 14 years of offering awesome shared, VPS, and dedicated hosting services, AccuWebHosting is a notable option for people looking for responsive support, specialized configurations, and scalable resources web hosting solutions.
AccuWebHosting offers new users a free VPS hosting service for a period of one month. And after the one-month free trial, and you decide to continue using their service, you'll start paying just $14.97 a month or, you simply cancel your account without paying a dime.
As for their hosting features, AccuWebHosting includes free database backups with most of its plans and perhaps more importantly, free and unlimited website restorations. Users can also upgrade to a premium database backup plan for daily backups that are maintained for 7 days.
Additionally, apart from the free site migrations, most of its shared hosting plans include 24×7 DDoS protection, monitoring, and free email hosting.
Customer support is equally available around the clock, with the hosting company averaging chat responses within 7 seconds and ticket responses in less than 15-minutes.
Finally, AccuWebHosting's technical expertise is pretty active and reliable with a minimum of 99.99% uptime guarantees, and lots of packages promising 100% availability.
Features:
Free 30 days VPS hosting trial
Top-notch customer support
Host unlimited domains
Weekly website backups
Unlimited SQL database
Fully Managed Support
Dedicated IP address
8. Webcentral
Webcentral is a world-class Australian-based hosting company. The hosting company has been around for years and is definitely one of the best web hosting providers in Australia.
Although the hosting company is pretty expensive compared to the other hosting providers, the good thing is that you can get them for free.
Webcentral allows you to test their world-class cPanel hosting for a period of 30 days for free with no financial commitment and no obligations whatsoever.
Within the first 30 days of registering with them, you can test-drive their services and then decide whether or not it's the right web hosting solution for your business.
Interestingly, Webcentral offers a bunch of fantastic features that are probably more than your usual hosts.
Features:
30 days free trial for a cPanel world-class hosting
Good customer support
Free website builder
Free website migration
9. Lithium Hosting
Lithium Hosting is another popular hosting provider amongst bloggers and business owners.
The hosting company now offers 30 days of free trial hosting with lots of amazing features that you will need if you are looking for a dependable and affordable web hosting solution.
Excitingly, Lithium Hosting gives you the first month hosting completely free of charge, and then you'll have to pay $4.95 per month for the Individual Hosting package after the free trial.
And if you decide to cancel your subscription during the trial period, you can do so and you won't be charged for the upcoming months.
Features:
Free 30 days hosting trial
Excellent hosting services and support
Affordable hosting solution
90 days money back guarantee
---
Important: What Should You Look for in a Website Hosting Free Trial
People get way more excited whenever they see hosting companies exciting free trials. And they generally start before checking on some essential things.
Here is the checklist of important things you should check before hitting the start trial button:
Quality Customer Support: Check if your hosting trial includes 24*7 customer support options.
No hidden policy: Such as mandatory payment after the trial ends.
Existing domain support: Especially for different hosting users.
Backup & Restore options: To restore website files in case you want to move forward after the trial ends.
Storage: Is it enough?
cPanel access: Not every hosting trial included this feature.
---
Done with Website Hosting Free Trial: What to Do Next?
What will you do when your web hosting free trial ends?
Generally, people set up a blog for business growth or to earn money.
If your goal is similar, there are a lot of things you have to take care of. We recommend you to read this blog which will guide you further on your journey: Starting a blog in 2023 & Beyond.
What Others are Reading:
---
FAQs: 1 Month Free Hosting
What is first month free hosting?
This is a special service offered by some of the web hosting providers that allow you to test their services risk-free even without a credit card. Generally, the trial period is 30 days but may vary from host to host.
What are the benefits of first month free hosting?
One can experience the different services (shared hosting, VPS, cloud), features (storage space, bandwidth, etc.), and performance (uptime, response time) offered by any company without paying anything actually.
What are the best first month free hosting providers?
Namecheap, Interserver, CloudWays, Liquid Web, Flywheel, GoDaddy, Shopify, AccuWebHosting, Webcentral, and Lithium Hosting are some of the best first month free hosting providers.
Which is free cloud hosting without a credit card?
Cloudways is one of the most reliable cloud hosting platforms for small, medium, and big businesses. You can try their services for 3 days without paying anything.
Do I need a registered domain to claim a web hosting free trial?
No, that's not mandatory at all. You can start with a temporary domain which will be upgraded later easily.
Is SSL certificate included in the free hosting trial?
Yes, the list of hosting services mentioned above offers SSL in their free trial period.
How is taking a free hosting trial different from a staging site?
The staging site is generally given when someone purchases a paid hosting plan. It is basically a clone version of your site and used for testing purposes. The free trial website version is actually a live or soon-to-be live version of the website.
Where can I get free hosting?
Free hosting is not a thing. However, you can claim a web hosting free trial which will end for sure.
Can you host a website without paying?
Yes, it is possible with those web hosting services which offer a free trial on paid hosting plans. But this will not remain forever and you have to pay someday.
Which eCommerce web hosting trial is best?
How does web hosting free trial no credit card work?
Hosting trials without credit card based plans generally allow users to sign up & set up free websites directly where credit card details aren't necessary. Example of such hosting providers is Namecheap, GoDaddy, Cloudways, etc.
How can I host a website without a credit card for free?
To host a website without a credit card, first, you have to find out which hosting companies support this benefit, then you can sign up for them. Eventually, you have to pay them one day or another when your trial ends.
Is Godadddy a free hosting?
GoDaddy hosting is absolutely free for the first 30 days. Then you can consider exploring the paid plans.
Which web hosting trial is best?
The free hosting trials of Bluehost, Namecheap, Interserver, GoDaddy, Shopify, etc are 100% worth it.
Where can I get a cloud hosting free trial?
CloudWays is giving a cloud hosting trial.
Where can I get 1 month free hosting?
Bluehost, NameCheap, GoDaddy, AccuWeb, Webcentral & Lithium Hosting providers are currently offering 1 month free hosting.
Is there any company that offers both free domain and hosting for 1 month?
The majority of hosting free trial packages include both domain and hosting. However, you might find the brand suffix attached to the domain name.
Where can I get a free domain and hosting for 1 year?
No such plans exist. However, top hosting service providers like Hostinger, GoDaddy, etc offer free domains on annual hosting plans.
Browse More:
---
Conclusion: First Month Free Hosting
No matter what industry you're in, make sure to pick a web host that's affordable and reliable.
All the web hosts mentioned here are really good, it all depends on your choice and what you're looking for. We made sure to suggest the BEST web hosts that offer first month free hosting.
So what are you going to pick? Have any questions? Let us know in the comments.