WordPress is both one of the most powerful Content Management Systems (CMS) on the internet and the easiest to use.
But to enjoy its full potential, you need a good and reliable web hosting provider. While Bluehost is a popular choice out there, it's likely not the best option for you.
In this post, we're going to look at the best Bluehost alternatives for 2023, and why you might want to try them.
But before that, let's first discuss a brief overview of Bluehost and explore its pros and cons. This will help you to fully understand if Bluehost is truly what you need and why you might instead, opt for its alternatives.
Best Bluehost Hosting Competitors
| Web Hosting | Pricing | Uptime | Load Time | Guarantee | Support | |
| --- | --- | --- | --- | --- | --- | --- |
| Hostinger | $0.80/mo. | 99.91% | 369ms | 30 days | 9/10 | |
| A2 Hosting | $2.94/mo. | 99.92% | 1280ms | 30 days | 9/10 | |
| HostPapa | $2.95/mo. | 99.96% | 886ms | 30 days | 9/10 | |
| HostGator | $2.75/mo. | 99.96% | 691ms | 45 days | 9/10 | |
| FastComet | $3.45/mo. | 99.98% | 887ms | 45 days | 9/10 | |
| GreenGeeks | $2.95/mo. | 99.95% | 493ms | 30 days | 9/10 | |
| WPX Hosting | $20.83/mo. | 99.95% | 147ms | 30 days | 10/10 | |
| NameCheap | $1.44/mo. | 99.83% | 830ms | 30 days | 7/10 | |
| InMotion Hosting | $6.39/mo. | 99.97% | 982ms | 90 days | 9/10 | |
A Brief Overview of Bluehost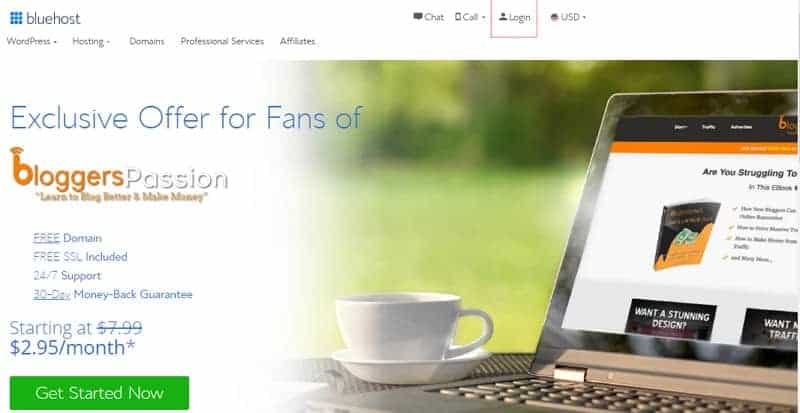 Bluehost used to be one of few web hosts recommended by WordPress.org to its users, and the reason is clear. It's one of the biggest hosting solutions in the world, and have been there for over a decade.
Notwithstanding some past controversies, Bluehost has maintained a great reputation among new users with their quality services.
They offer a wide range of services and are suitable for people that are just getting started with their site. It's also one of the cheapest web hosting solutions on the internet.
Sadly though, Bluehost is not the best option when it comes to WordPress optimization, customer support, and reliability. Now, you may be wondering why it's still so popular even when many of its users aren't happy.
Well, the answer may be connected to its famous affiliate program, which paid out a whopping $5 million to its participants last year alone. At $65/referral, that should be around 77,000 new users who discovered Bluehost via both organic and paid recommendations.
Additionally, since the company is incredibly popular among first-timers, it makes sense to assume that a good number of them are not conversant with what makes up a good hosting solution.
And even if they do, moving a site to another host can be quite tedious and exhausting, which is enough to dissuade unhappy customers from looking for Bluehost alternatives.
But regardless of its drawbacks, Bluehost still offers outstanding security options, a bunch of integrations with 3rd-party apps, and a whole lot of impressive features designed to help grow your business.
Pros of Bluehost
Free SSL certificate
Regular data backups
Free domain name
Free website builder
24×7 customer support
30 days money-back guarantee
It's pretty much affordable
Cons of Bluehost
Website migration is not free
Bluehost is relying on old infrastructure
Customer support needs improvements
Bluehost pricing starts at $2.95 per month for your first sign up.
That said, let's now look at the best 9 Bluehost WordPress alternatives that'll give you a better hosting experience.
Best Bluehost Alternatives for 2023
1. Hostinger
Hostinger is undeniably one of the cheapest hosting solutions today, costing less than $1 per month when going for their longest (48 months) subscription. Unlike GreenGeeks, their data centers and servers are scattered across the world in 7 different regions.
Interestingly, while being one of the cheapest providers out there, they are still able to achieve a "not so bad" uptime of 99.91%.
But if we choose to count only the last 15-months period rather than 16-months, then their uptime would be a rock-solid 99.97%. Their average loading time is also pretty fast, only 369ms though.
Databases and bandwidth are also unlimited except you go for the "Single Web Hosting" package. With the latter, you will be limited to 100GB of bandwidth, 10GB of disk space, one email account, and one MySQL database.
Regrettably, not everything is cheap in Hostinger. The vital add-ons which do not come with the basic hosting plans are priority support, as well as an SSL certificate which will cost you some more money.
And just like Bluehost, Hostinger equally offers a 30-day money-back guarantee on all their hosting packages.
Hostinger Pros:
Fast load time
Affordable hosting plans
Free domain name for the first year
Datacenters in 7 regions
30 days money-back guarantee
Hostinger Cons:
No SSL certificate
Uptime could be made better
Cheapest prices require a 4-year commitment
Hostinger pricing starts at $0.80 per month.
2. A2 Hosting
A2 Hosting is one of the few hosting companies that are really developer-friendly. A2 Hosting offers its users a variety of helpful tools and developer-friendly services necessary to grow their website. And it's designed for both small and already established websites.
They also give users the option of using either Linux or Windows hosting. That's not all, the company also offers top-notch, 24×7 support, super-fast hosting servers, and a 30-day money-back guarantee.
This means that if you're not satisfied with their services after the 30 days period, they'll instantly give you a prorated refund of your money for the time you didn't use.
Recommended Reading: WP Engine Hosting Alternatives
They can also scale their services to meet the unique needs of the user; however, its real strength is empowering developers that want to build a website specifically meant for their personal or business needs.
For the best security of your websites, A2 Hosting also uses a multi-pronged strategy that keeps both malicious codes and hackers away from your site. Firstly, they use server hardening and dual brute force detection to protect all your files from attacks
Then, the company further uses modern infrastructure like patch-man improved security tools and SSDs that make it insanely easy to detect threats and get rid of them.
This technology is important in keeping your accounts and data safe in the event that one of your sites in the server is affected. Therefore, if you're still looking for a viable alternative to Bluehost, you might want to give A2 Hosting a shot.
Pros of A2 Hosting:
They made it easy to install WordPress without any technical know-how
LiteSpeed for cache to enhance your blog's loading time
Multiple server locations and Free SSDs are their greatest advantages
They offer Let's Encrypt SSL as free which is a must
They offer free website migration service
Upgraded to latest PHP
Cheap discounted price and low renewal fee
Cons of A2 Hosting:
Restrictions on its cheapest hosting package
Uptime could be much better (99.92%)
A2 Hosting price starts at $2.94 per month.
3. HostPapa
Founded in 2006 by Jamie Opalchuck, HostPapa is an independent web hosting solution that has a few attractive features in its hosting packages and is most ideal for small businesses.
It has a low starting price, meaning that most people can easily afford its cheapest plans. Although it's worth mentioning that it has a pretty much pricey renewal costs – and while its small size appeals to some users, its limits may as well put others off.
HostPapa currently hosts more than 500,000 sites on its data centers in Canada and the United States. That's remarkable considering they've only been around for a few years
Additionally, one good explanation for their dramatic growth could be their different customer service options, they offer phone support in 18 different languages including English, Spanish, German, and French to both international and domestic clients. This is certainly the highest we've seen in the industry.
HostPapa also provides extensive support choices to help customers in a range of ways. You can browse through their massive library of self-help videos – and they also offer 24×7 support via mail, email and even fax.
Interestingly, their shared hosting packages come with Panda Cloud antispam protection, monitoring, and intrusion detection, and a server firewall all geared towards protecting your site from hackers.
In case you don't know, more than 37,000 sites get hacked on a daily basis, so HostPapa's hands-on security measures are pretty much reassuring. Indeed, they must be doing something great to have grown so rapidly within just a few years.
Pros of Hostpapa:
Extensive customer support options
Proactive security measures
Free website migration
Offers support in multiple languages
30-Day Money-Back Guarantee
Cons of Hostpapa:
Customer support could be better
Average loading speed
HostPapa hosting plans start at $2.95 per month.
4. HostGator
HostGator is another great Bluehost option. It's one of the oldest hosting solutions and very popular in shared hosting services. Their Cloud hosting plan offers its users unlimited storage space, bandwidth, and email accounts.
They not only provide good uptime server, but also great hosting experience, 24×7 rapid support services, and incredibly low-cost hosting packages.
Their last sixteen-month performance report isn't bad at all, having 99.98% uptime and 432ms load time. They're absolutely one of the best hosts for first-time marketers – and their servers are ideal for WordPress websites.
Apart from that, they'll also help you migrate your website free of charge from your current host. And each plan comes with a free SSL certificate. Another good aspect of HostGator is its fast and efficient live chat support.
While moving your site, HostGator's migrations team also makes it extremely easy to transfer content from your website onto their server, taking special care to make sure that all your files, databases, and scripts are intact and integrate smoothly after the migration. This is especially amazing if you already have a Bluehost account and are considering switching hosts.
But before you sign up for HostGator, make sure to check the higher renewal costs that start right after your introductory billing period ends. For instance, the $2.75 is for the first 36 months, after which the price skyrockets, which is somewhat disappointing.
Pros of HostGator:
Fast load speed
Great uptime guarantee (99.98%)
FREE website migration for one site
Unlimited bandwidth and storage
Unlimited email accounts
Free SSL certificate included
Cons of HostGator:
Higher renewal price
No daily backup
HostGator pricing starts at $2.75 per month.
5. FastComet
FastComet is yet another wonderful and budget-friendly Bluehost alternative. Basically, if great uptime, fast technical support, and superb performance is your cup of tea, then FastComet is much better than Bluehost. It is also a very stable and reliable option.
This innovative web hosting provider offers account isolation that leaves enough resources for each user. Always fortified with cloud SSD storage, FastComet offers enterprise-level solutions including LiteSpeed, free SSL certificate, RocketBooster, Firewall, BitNinja monitoring, and so on.
FastComet has tremendously proved its excellence with its remarkably dedicated service that is characterized by fantastic server reliability, quickest support, and fast speed.
Additionally, when it comes to pricing, the company offers great transparency and has no hidden charges attached to its products like most other hosting providers out there.
FastComet has been around for more than 9 years, but have been into the web hosting industry since 2013. Their headquarter is located in San Francisco, California, USA.
Somewhat a newer hosting company and had the advantage to learn and improve from the shortcomings of other hosting providers.
This is clearly one of the major reasons FastComet is growing rock solid and spreading across the industry. It currently caters to more than 45,000 customers spread over 83 countries.
Pros of FastComet:
Free domain forever
Free CDN
SSD storage
Stable pricing
Daily database backups
Exceptionally quick customer support
Fantastic uptime guarantee of 99.99%.
45 days money-back guarantee
Cons of FastComet:
Proprietary CDN doesn't work correctly
FastComet hosting price starts at $3.45 per month.
6. GreenGeeks
With 493ms load time and 99.95% uptimes, GreenGeeks offers a fast and dependable hosting solution at an incredibly cheap price of $2.95 per month.
Add this to their other impressive features, great customer support, and environmentally friendly system and it's easy to notice how GreenGeeks are quickly creating a name for themselves in a massively oversaturated market.
If you choose to go for their "Eco-site Starter" hosting package, you will be rewarded with unlimited storage, bandwidth, email accounts, a free domain name (for the first year, then $13.95 per year after), a free SSL certificate, and a free site migration from your existing host.
Recommended Reading: GoDaddy Hosting Alternatives
Their customer support is very responsive, helpful, and always available via live chat, phone, and email support.
Sadly, the $9.95 per month renewal cost, limited data centers (only located in the United States and the Netherlands) and dubious refund policy may discourage some people from choosing GreenGeeks over other hosting companies.
So you have to consider these drawbacks before making a choice of host.
GreenGeeks Pros:
Great uptime guarantee
Lightning-fast load time
Free domain name and website migration
Environment-friendly
GreenGeeks Cons:
Dubious refund policy
Limited data center
Higher renewal costs
GreenGeeks hosting pricing starts at $2.95 per month.
7. WPX Hosting
WPX is absolutely the best WordPress web hosting solution I've ever come across in the industry. This is why we currently host this website and some of our other important sites on the platform.
The primary reason why I moved my sites to WPX is that they offer excellent value for money than the other hosting providers I've used in the past. Your website speed, customer data, support, and security are of great importance to them.
The features like DDOS protection, free migrations of all your websites, and a lot more are the features that are lacking on most other alternatives like WP Engine despite charging much more than WPX Hosting.
That's not all, WPX support is also super-fast. I always get my problem resolved in less than 5 minutes by their support experts. I'm often surprised by their instant response – and they are even good at resolving WordPress specific problems.
But the most interesting thing about WPX is its fast loading servers. For instance, check the screenshot below of Hosting Monks loading time:
See what we're talking about?
Additionally, WPX hosting is also the hosting solution officially recommended by Shane from Thrive Themes, which is another big winner for me.

WPX hosting is designed to handle high traffic websites, because of their highly optimized SSD servers and excellent backend optimizations.
Finally, they recently introduced their WPX Cloud CDN, which is home-created by them keeping WordPress in mind. With their WPX Cloud and any caching plugin of your choice, such as WP Rocket, you'll achieve an incredibly fast page loading speed.
Pros of WPX Hosting:
Free website migration
Great customer support team
Fast loading speed
Daily database backup
Wonderful uptime guarantee
Free SSD and SSL Certificate
Top-notch security
Cons of WPX Hosting:
High starting price compared to other options here
WPX Hosting plans start at $20.83 per month.
8. NameCheap
NameCheap is one of the most popular hosting services on the internet, partially because of its impressive domain registration service. If you're looking for an affordable Bluehost competitor, then NameCheap is certainly one of the best options available for you.
They are much better than Bluehost – and undeniably one of the cheapest web-hosting providers in 2023.
Most people know NameCheap as a domain name registration and management company, but they also provide web hosting services. Founded in 2000, the company started by offering value-priced domains and awesome customer service.
Today, they boast of more than 3 million users and manage more than 7 million domains from around the world.
Apart from domains and full web hosting plans, NameCheap also offers privacy protection, SSL certificates, and other related services. Because NameCheap wants to make web presence available for all, they offer affordable access to all the things you need to run a successful website.
They have a good 4.6-star rating on "Shopper Reviewed." And that's from almost a million reviews.
Overall, NameCheap offers a fast and reliable hosting service with a good uptime guarantee. If you want to build a new website, you can do that using one of their free website builders – and if you have a website hosted on Bluehost, NameCheap will help you move it for free.
Pros of NameCheap:
Free website builder
Unmetered bandwidth
FREE domain name and website migration
24×7 customer support
30-day money-back guarantee
Cons of NameCheap:
Poor uptime at 99.82%
Dull customer support
NameCheap pricing plans start at $1.44 per month.
9. InMotion Hosting
You're probably familiar with InMotion Hosting. Maybe you've never used them before, but you've heard about them – and that's because they're also a big hosting company.
Launched in 2001, InMotion hosting has grown a user base of more than 300,000 domains with two data centers in Virginia Beach and Los Angeles.
As one of the more established and older names in the market, they equally boast pompous claims of being number one in customer support, transfers, and industry performance guarantee.
But unfortunately, the largest hosting companies are often the worst offenders. Leveraging their flashy ad campaigns or brand recognition while ignoring the things that contributed to their successful growth in the first place.
Interestingly, InMotion hosting is different. They have been a popular industry brand with dependable performance for business class hosting. With 99.9% uptime and award-winning technical support, they are a customer favorite. Their unrivaled U.S. based support is always there to help.
Overall, InMotion Hosting's WordPress Hosting is highly optimized for bloggers and provides excellent scalability for the growth of your blog.
Pros of InMotion Hosting:
90-day money-back guarantee
Average uptime at 99.95%
Great customer support
Premium Sucuri plugin for WordPress users
Free website migration
Google Apps integration
SSD drive storage
Fast server speed
You can choose your data center location
Free SSL Certificate
Cons of InMotion Hosting
Delayed verification process
Not the cheapest
No monthly billing
InMotion hosting plans start at $6.39 per month.
Browse More:
---
Which Bluehost Competitors Should You Go For?
If you've been struggling with your Bluehost account and planning to find an alternative hosting solution, then all the Bluehost alternatives listed here are reliable. I carefully tested every aspect of their hosting service and found them really great and dependable.
However, if you understand the importance of a high-quality hosting, then we would suggest you go with A2 Hosting or WPX Hosting. Their latest technology is truly worth it.
And if you can't afford WPX Hosting, then go with FastComet.
FastComet is far better compared to Bluehost in every aspect. You can buy hosting at $2.95 per month and still renew at the same price.
What Others are Reading:
DigitalOcean Alternatives for 2023
Best DreamHost Alternatives and its Competitors
Best SiteGround Alternatives for 2023 [Most Trusted]
Bluehost Affiliate Program Review: Earn $1200 Per Month
Bluehost Coupon India: Save Up To 67% Off
Conclusion
Even though Bluehost is a very popular hosting provider, the company is currently facing lots of issues and negative reviews after being acquired by EIG groups.
But regardless of all that, Bluehost still offers a decent hosting solution for WordPress users. It's moderately priced, stable, and comes with many useful features.
However, it fades in comparison to the quality of performance most of the Bluehost alternatives offer – so it's certainly worth revisiting your options.