Hostinger India Review
INR 62.10
Summary
After reviewing Hostinger India, I must appreciate their performance & service. With such affordable pricing, Hostinger's performance, customer support, and features are remarkable. If you are a beginner and your budget is a concern and you don't want to compromise on quality, then give it a try to Hostinger India in 2023.
If you are looking for one of the best hosts in India, your search ends here. We will deliver you the best Hostinger India review that introduces its features in detail.
Are you low on budget and still don't want to compromise with quality?
Then you must give a chance to the Hostinger.
In this review, we will show you how Hostinger India stacks up as one of the best web hosting in India. We will talk about:
Hostinger Pricing & Plans
Its Features, Pros & Cons
User Interface
Migration
Hostinger India Datacenter
Hostinger Performance
And more.
Hostinger is known for its CHEAPEST pricing, but is it worth it? Let's find out.
Quick Note: The Global Hostinger Black Friday Sale 2022 [UPTO 90% OFF] is currently running. Don't forget to check exciting deals in the "Pricing & Plans" Section of this article.
Announcement: The Hostinger Black Friday web hosting deals based pricing is updated all over this post.
Hostinger India Review 2023: Sharing the Honest Experience
Hostinger India Review 2023(Short & Summarized Version)
Pointers
Hostinger Review India
Pricing of Bluehost India
Starting from just ₹62.10/month [Black Friday]
Free Perks
Free Domain name, Free Email, Free Backups and Free SSL.
Hosting Types
Hostinger offers Shared, WordPress, Cloud and VPS hosting.
Performance & Uptime
Hostinger India's Performance is top-notch. Based on our test, here we found:

Average 30 days uptime: 99.99%
Average Server Response Time: 28 ms
Average Website Loading Speed: 917 ms (Pingdom)
Refund Policy
The 30 day money-back guarantee will always be there.
Security
Hostinger India offers a secure website hosting environment. Its security-related features are among the best available in the industry. 28 million customers can attest to Hostinger's reliability.
Backup
Weekly to daily automated backup options is available. 1 click restore benefit is included
Customer Care
We received a response from the Hostinger customer support agent in less than 2 minutes. This is acceptable.
Migration Facility
Free of Cost. Both automated & manual migration approaches are supported.
Data Centers & Server Locations
7 server locations across the globe. UK, USA, Singapore, India, Netherlands, Indonesia, and Lithuania.
Bandwidth and Storage
Bandwidth: Unlimited in all plans except the single shared.Storage: SSD based
Payment Options
All local + international payment methods would be accepted.
Hostinger Pros:
99.99% uptime guarantee, lots of free perks, free domain, Reliable customer support, free migration assistance, worldwide data centers, etc.
Hostinger Cons:
Phone support is missing
Hostinger India Review Verdict: Should We Recommend Hostinger?
Hostinger is a great hosting provider. Their customer support is responsive, efficient, and helpful. They have a wide range of options for all types of businesses, and their prices are the cheapest. I would recommend Hostinger to anyone looking for a solid web host.


Hostinger India Coupon Code
"BLACKFRIDAY" [Upto 90% OFF] Valid only for Black Friday duration
---
Introduction to Hostinger India: History and Journey
There are lots of hosting companies but why should one choose Hostinger as their hosting company? Let's figure it out.
Hostinger is a veteran web host that has served for 16 years since 2004.
Do you know? Hostinger is growing by 15000 new signups daily and has 29 million users in 178 countries.
Hostinger's Journey:
2007: Launched 000webhost.com [ad-free brand zero cost].
2008: Launched Hosting24.com a first-class cPanel web hosting brand.
2010: Crossed 1M users mark
2014: Completed 10 million users and reached 39 countries.
2016: A free cloud web was created.
2017: They acquired 29M users.
2020: Recognized as the fastest growing web hosting company.
So this is how Hostinger is growing and expanding its services across the globe.
Hostinger.com vs Hostinger.in
I did a deep analysis on both Hostinger.com vs Hostinger.in and found hardly any big difference in terms of features, pricing and data centers. Hostinger simply created a country-specific platform so that users are able to pay in their native currency and local payment methods.
No matter from where you sign up, you have given options to choose or change your data center.
One difference you might encounter in Hostinger.in vs Hostinger.com is a Discount percentage.
---
The Main Reasons or Benefits to Pick Hostinger India in 2023
Why should you choose Hostinger india? – Here are the main reasons:
A) Affordable Web Hosting Pricing & Plans [Started From ₹62.10]
A highly affordable product suite that starts at just ₹62.10. There are web hosts that offer you hosting at even cheaper rates. But their after-sales service, speed, and uptime are pathetic.
Compared to the popular hosting providers in India [Bluehost India, HostGator, MilesWeb] – Hostinger Beats them all in terms of pricing.
Plus for user welfare, Hostinger has been offering various offers & discounts throughout the year.
Hostinger is an exception here which offers superb performance at really affordable rates.
Note: Check Hostinger India latest pricing & exciting discount offer in the "Pricing & Plans Section"
B) Scalability
If you expect huge traffic in future but currently don't want to invest extra bucks, you can start with shared hosting and later update to better plans.
Their team ensures seamless upgrades with no downtime.
C) Choice of Plans
As your site traffic will increase, your requirement will also grow. But there is absolutely no need to worry as Hostinger India provides you with Shared, Cloud, and VPS hosting plans.
D) For Various Valuable Features :
Hostinger offers amazing hosting features at affordable rates. Here are some of the feature highlights you get with Hostinger India:
Free Domain Name [1 Year – ₹749.00 value]: Hostinger offers free domain registration, which you can take advantage of by signing up for any of the company's monthly hosting plans. Free domains are available with all the company's plans except the basic one.
SSD Powered Servers: SSD-enabled web hosting provides faster site speeds than those that use traditional HDD storage devices. Hostinger's SSD-enabled servers provide you with amazing site speeds.
Upto 100 Free Email Accounts: You'll also be able to create up to 100 email addresses with any of the company's hosting plans.
Other Features:
Unlimited Bandwidth
Free SSL certificate in all plans
99.9% Uptime Guarantee
Free Daily Backups
Free CDN to maximize reach & enhance performance
30 days money refund policy
Unlimited FTP accounts & databases
Quick Note: The features may vary as per the plan. Please refer to the Pricing and Plans section to learn more.
E) Security
Hostinger India is providing a free SSL certificate which is a good step. All its servers are Cloudflare protected and safeguard you from various attacks like DDOS.
F) Control Panel
With a control panel. you can do almost everything related to your website, domain, and even backups. Hostinger in-house hPanel is intuitive and beginner friendly.
G) Customer Support
Hostinger India's customer care support is available round the clock and throughout the year. You can reach out to them whenever you need any help. Instant live chat support is there to assist you always.
Here is the snapshot from TrustPilot which says a lot about its effectiveness.
H) 30 Days Refund Policy
Hostinger's money refund policy is one of the biggest satisfaction and a decision-maker for most of us. We are ready to take risks but it should be calculated. Here your hard-earned money will be returned to you if you are not satisfied with Hostinger's services.
All you need to do is to notify them within 30 days of purchase.
---
Reviewing the Hostinger India Speed, Uptime & Performance
Website loading speed, response time & uptime are the main factors responsible for delivering a good user experience and achieving a good core web vital score.
I ran various tests on Hostinger India based hosting websites using top website speed and performance testing tools. This site is running on a most basic Hostinger India plan and without any performance optimization plugin.
Here are the results:
Hostinger Website Loading Speed Test:
Using Pingdom & GTMetrix tools, I checked the website loading speed which runs on Hostinger without any caching plugin.
Pingdom Result – Less than 1 Second (Great loading time for the most basic plan)
GTMetrix Result – Passed the required LCP core web vital score
Hostinger Uptime Test:
Using Pingdom tool – Here is the snapshot of a test site that confirms that Hostinger servers were up for 99.99% of the time.
Hostinger Server Response Time Test:
Regarding the speed, we used the tool BitCatcha and checked Hostinger's server performance from all global locations. The servers are rated as A+ or Exceptionally quick by the tool.
Both these factors are critical for your website's rank, performance and thereby profitability.
Final Words on Hostinger India Performance:
We love the speed and performance of Hostinger's hosting service. The speed and performance of their basic plan are great for small businesses and those who don't need much more than a personal blog or micro niche website.
If you're trying to run a high-traffic website, however, you should consider their VPS solution instead of going completely in front of your hosting server limits on a shared hosting plan.
---
Words on Hostinger India Plans & Pricing [Get Upto 90% Discount]
Quick Note: The Global [Upto 90% Off] Hostinger Black Friday deal pricing is active now. The discount process is mentioned below. Scroll down to check.
We will now discuss the product range of Hostinger just to understand its offerings and suitability for your project.
From Hostinger India, you get:
Shared web hosting
Cloud web hosting,
WordPress hosting
VPS hosting
Which Hostinger India plan should you go for?
Here is the Hostinger Plans and Pricing Comparison table which help you to make a quick decision. All the pricing below is updated as per Hostinger Black Friday sale [Upto 90% OFF]
Hostinger Hosting Types
Our Verdict
Plans & Pricing (India)
Shared Hosting
If you are just starting a blog or website, you should consider Shared Hosting. It is a hosting where different users share a single server to host their websites.
Starts at ₹62.10/m
WordPress Hosting
Although you can choose a Shared hosting plan also for that, we still recommend WordPress hosting as it is a highly optimized version of traditional Shared hosting.

Plus being managed, Hostinger will be responsible for all updates & technical management.
Starts at ₹62.10/m
Cloud Hosting
Go for Cloud Hosting when you want to utilize the power of all servers within the cloud and not just the single cloud.
Starts with ₹629.10/m
VPS Hosting
For those who are not willing to share their CPU and RAM with others, this is the perfect solution. By gaining root access, any kind of web application can be installed here.
Starts with ₹224.10/m
Hostinger Plans & Pricing Comparison
How To Get Hostinger India with Discount? [Upto 90% Discount – Black Friday]
Just go through the process below where we have described the step-by-step actions to grab the Hostinger India deal.
Step 1: Visit Hostinger.in from our special link [The Black Friday coupon code will only work when you use our special link]

Step 2: Choose a relevant plan for you and Click on the Add to Cart button.
Note: We recommend Premium shared hosting (₹116.10/mo) because it offers a Free domain, Extra bandwidth & SSD storage at almost the same pricing.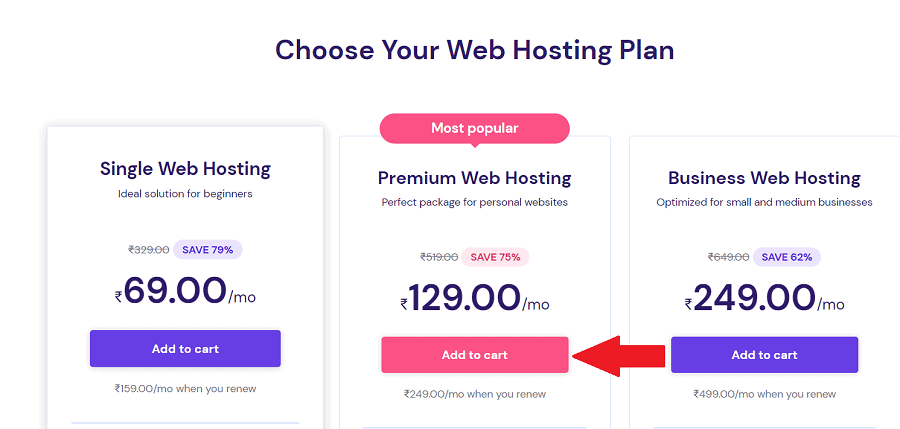 Step 3: Apply Hostinger Black Friday Coupon Code: BLACKFRIDAY
Step 4: Make the payment via your preferred payment gateway and you're done.
Quick Note: Our special Black Friday link as well as Coupon code will be applicable on all Hostinger India plans
Quick Note: Once you grab the Hostinger India coupon code, here is a Hostinger installation guide on WordPress which takes you further.
Interested in exploring its products and features? Let's dive in.
Hostinger Hosting Plans:
Since a shared server allows hundreds to thousands of sites under the same server, it helps you save costs. It is the best solution for newcomers because it is cheap hosting as compared to other plans.
From Hostinger, you get three options:
1. Single web hosting
It costs ₹62.10/m
It provides 1 website
Giving SSD storage of 50 GB
One Free Email account
Free SSL certificate
Bandwidth of 100 GB
Weekly Backup
2. Premium web hosting [Recommended]
It costs ₹116.10/m [Black Friday Special]
Allows 100 websites
Giving 100 GB of SSD storage
Providing 100 Free Email accounts
Free SSL certificate
Free Domain
Unlimited bandwidth
Unlimited databases
Weekly Backup
3. Business web hosting
It costs ₹224.10/m
100 websites
200 GB of SSD storage
Free Email accounts
Free SSL certificate
Free Domain
Unlimited bandwidth
Unlimited databases
Daily Backups
World's 39.5% sites are on WordPress as per industry estimates. Are you also planning to launch one for you?
Hostinger has bifurcated its WordPress hosting into 4 different plans:
1. Single WordPress
It costs ₹62.10/m
One website
50 GB SSD storage
10,000 monthly visit
One Email account
Free domain
Two databases
2. WordPress Starter
It costs ₹116.10/m
100 website
100 GB SSD storage
25,000 monthly visit
Free Email account
Free domain
Unlimited databases
WordPress multisite
Access SSH
3. Business WordPress
It costs ₹224.10/m
100 website
200 GB SSD storage
100,000 monthly visit
Free Email account
Free domain
Unlimited databases
Free jetpack
Free CDN
Access SSH
WordPress multisite
4. WordPress Pro
It costs ₹809.10/m
300 website
200 GB SSD storage
200,000 monthly visit
Free Email account
Free domain
Unlimited databases
Personal JetPack
Free CDN
Access SSH
It is a hybrid plan or the latest technology which is ultra-fast and reliable. The cloud allows us to spread our data across multiple interconnected servers. These servers exist virtually, that's why they are known as the cloud.
If one server acts up, another server takes the charge and ensures your site keeps sailing.
The plans for Cloud hosting of Hostinger are divided into three options:
1. Startup
It starts from ₹629.10/m
300 websites
200 GB of SSD storage
3 GB of RAM
2 CPU cores
Free Email account
Free SSL certificate
Free CDN
Daily backups
WordPress acceleration
Free migration
Dedicated IP address
Dedicated resources
Unlimited bandwidth
2. Professional
It starts from ₹899.10/m
300 websites
250 GB of SSD storage
6 GB of RAM
4 CPU core
Free Email account
Free SSL certificate
Free CDN
Daily backups
WordPress acceleration
Free migration
Dedicated IP address
Dedicated resources
Unlimited bandwidth
3. Cloud Enterprise
It starts from ₹4589.10/m
300 websites
300 GB of SSD storage
12 GB of RAM
6 CPU core
Free Email account
Free SSL certificate
Free CDN
Daily backups
WordPress acceleration
Free migration
Dedicated IP address
Dedicated resources
Unlimited bandwidth
Hostinger Domains Pricing
Did you know Hostinger India offers a free domain name along with its premium and business plans? Yes, you don't have to purchase an additional domain name. Just buy the hosting and you will get both. This will save you about ₹800-1600 domain charges a year.
However, if you're only interested in domains – You can purchase it too.
First use Hostinger domain checker to see the availability status of the domain name.
Then decide on the TLDs. Here is the pricing overview of Hostinger domain name:
.in costs you ₹149/year
.com costs you ₹299/year
.online costs you ₹75/year
.live costs you ₹272/year
.store costs you ₹75/year
.info costs you ₹299/year
Quick Note: 100% Domain Privacy would be provided by Hostinger. Plus you can transfer a domain name to Hostinger anytime. [See Migration Section]
---
Reviewing the Hostinger India Security Features & Backups
Hostinger Security Options:
A web host should be highly secured. Otherwise, you will get into BIG trouble. As per Sucuri report on website threats and hacks, lots of wordpress websites had been hacked in 2021. A weak unsecured web host environment could be responsible for this.
But this won't happen with Hostinger India. We are the proud customer of Hostinger and we should reveal that our site hasn't been hacked or been into security trouble a single time.
The Security Features you will be getting into Hostinger is:
Free Let's Encrypt SSL
Social Login to reduce the need for manual passwords
Auto updates – PHP version, plugins, themes, etc.
PatchStack Security: To detect vulnerabilities in theme/plugin
Cloudflare CDN Firewall: For DDoS attack protection and boost performance
Website malware scanner: For regular scanning & monitoring of threats
Domain [Whois] Privacy: To hide domain-related crucial information
IP Blacklisting: To block spam web traffic
Hostinger India Backup & Restoration Options:
Hostinger backups & restore options are straightforward. Hostinger runs daily to weekly automated backups. The last 7 (weekly/daily) backups will always be accessible from the Hostinger dashboard.
Plus, the restore will be done in a single click.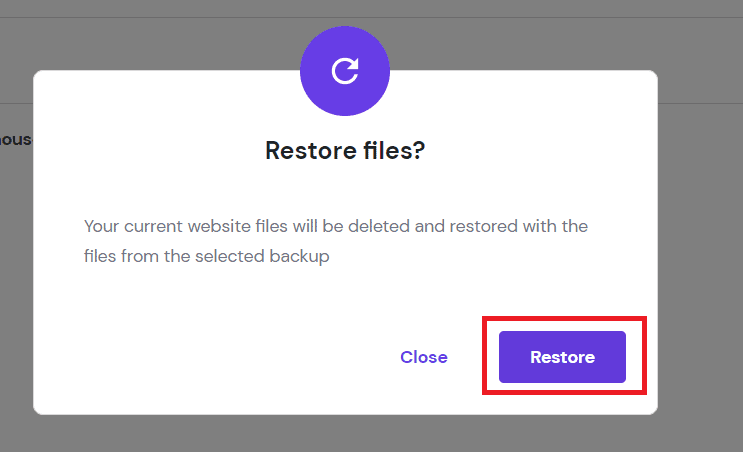 ---
Are Hostinger India Customer Support Options Reliable?
Before testing the reliability of Hostinger customer support team, let me tell you these are the customer support options available in Hostinger India:
Live Chat
Email/Ticket System: support@Hostinger.com
Knowledge Base: To find answers to any question related to Hostinger
Hostinger tutorials: Quality written & video-based tutorials related to WordPress, VPS, Website building & more.
The most common way to contact Hostinger customer support is Live Chat which is available 24*7. But is it reliable?
Let's test the Hostinger Live Chat Support:
Generally, pre-sales messages would be given priority by most web hosts. Being an existing Hostinger India customer, I still received a quick response from Hostinger (within 2 minutes).
In a nutshell, the Hostinger support system is reliable.
---
Hostinger India Migration Procedure – Is it Free & User Friendly?
Migration is always the first thing that comes to mind when an existing user is looking to migrate the website to a new web host.
Gladly, Hostinger allows a free migration (The number would depend on the plan you choose).
The migration process is hassle-free. Hostinger in-house migration team will migrate your website within 48 hours. All you have to do is buy a plan, create a migration request [From the Hostinger dashboard] and fill out the basic migration form.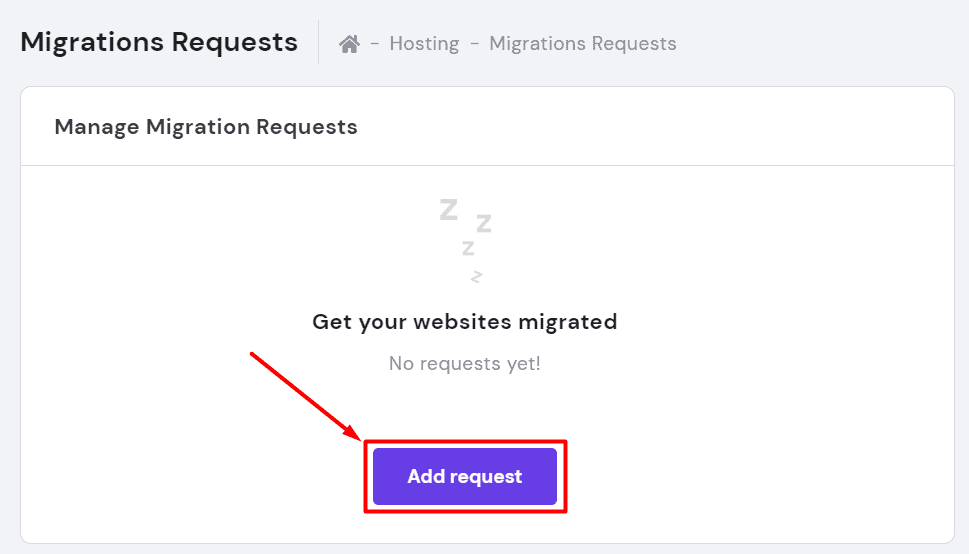 Love to do things manually? Well, here is a tutorial for you:
Quick Note: Migrate your website to Hostinger right now, because the 30 days money refund policy will have your back.
---
Reviewing the Hostinger India User Interface & cPanel
Hostinger India hPanel:
Yes, Hostinger offers hPanel, not cPanel. (hPanel is more awesome, user-friendly, and robust too). But If you need cPanel, then you can explore these top cPanel based web hosting services: ChemiCloud OR Bluehost India.
At this moment, hPanel can be accessible as "New dashboard" or "Old dashboard". I personally like the old dashboard not because the new dashboard is poor but because I am used to the old dashboard. You can toggle between the old and new dashboards in a single click.
The hPanel user interface is designed in a way even new users can access all the options with ease. Options such as backups, emails, security, databases, DNS zone editor, databases, malware scanner, etc are visible from the main dashboard.
The search box is extremely helpful to find any sort of option & configuration setting within the hPanel.
Hostinger hPanel [Old Dashboard]:
Hostinger hPanel [New Dashboard]:
---
Hostinger India CDN & Data Centers
Hostinger India Server Location:
As per the current situation, Hostinger allows users to select a data center for any of these locations: UK, USA, Singapore, India, Netherlands, Indonesia, and Lithuania.
Plus for the sake of Indian user demands, Hostinger recently added a new data center in Mumbai (India) which would result in a great performance boost for Indian traffic.
One more great thing I like about Hostinger is it will allow users to change server location once in a month right from the hPanel dashboard. And similar to Google Analytics, it will track the user location and let you know the preferred server location according to your audience.
Hostinger CDN:
Nowadays CDN is a must and Hostinger India also offers a way to connect with Cloudflare CDN in all their plans. There is no built-in CDN benefit available in Hostinger. The Built-in CDN feature is only seen in rare web hosting companies. Example WPX.
Cloudflare is a service that speeds up your website and protects it from intrusions and DDoS attacks, as well as ensures that users around the world have an optimal experience on your site.
---
Hostinger India Pros & Cons
Pros Of Hostinger India:
1. Local Payment Options:
There are a lot of web hosting companies in India offering great web hosting deals but you will find it really tough to own them. We get a lot of queries every day regarding payment options and alternatives as most of us do not have a credit card or Paypal account.
Hostinger has solved this problem and allows you to pay through Paytm, UPI, debit cards, net banking and various other options.
2. 99.9% Uptime Guarantee
Your audience expects your site to always be available. If you are investing your time in creating content, you will not want your audience to see 404 errors while accessing your site.
Especially, in the case of E-commerce sites, if your uptime is not close to 100%, your customers will start losing trust.
Availability builds trust and credibility. Hostinger offers a 99.9% uptime guarantee.
3. Free SSL
The secure socket layer commonly known as SSL certificate is a certificate that allows your site to move from HTTP to HTTPS.
HTTPS ensures data encryption and is secure. Hostinger offers you Free SSL.
4. It offers Free Domain
Do you know you will get a Free Domain (₹749.00 value) with most of the Hostinger plans? Yes, that pricing and discount were not everything that Hostinger had to offer.

You still save around ₹749 as you get a free domain with every plan except for the entry-level one.
Few companies provide free domains but their web hosting plans are not cheap. Hostinger is affordable and you just have to pay for hosting, not for the domain name.
5. More Features in Premium and Above Plans
If we talk about the features somewhere, features help our site to work properly and it gives a good performance. Hostinger premium web hosting provides:
100 of websites
Unlimited databases
Free Email
Unlimited Bandwidth
Backup
6. Easy Refund Policy
Hostinger allows you to test their products for 30 days. In case you don't find them suitable, you will get your money back.
7. Great Page Load Speed with Inbuilt Caching
We already discussed this point above but here is how?
Hostinger provides a LiteSpeed server along with server-level cache enabled.
At the website level, you can further use LSCache and CloudFlare which increases your speed by almost 10x.
Basically website building needs coding and design skills but Hostinger gives you a platform to build your own website with their template design.
You just have to choose a designer-made template and then customize your layout with images, videos, and any other content on it. This is called a website builder and it comes for free.
9. A Good Customer Support
Hostinger is quick, reliable, and fast when it comes to supporting.
Through chat, they are available 24×7.
10. Multiple Datacenters
Hostinger is one of the best and fastest web hosting providers in the world. Hostinger has its data centers in 7 different locations across the world that help to serve the best performance and user experience.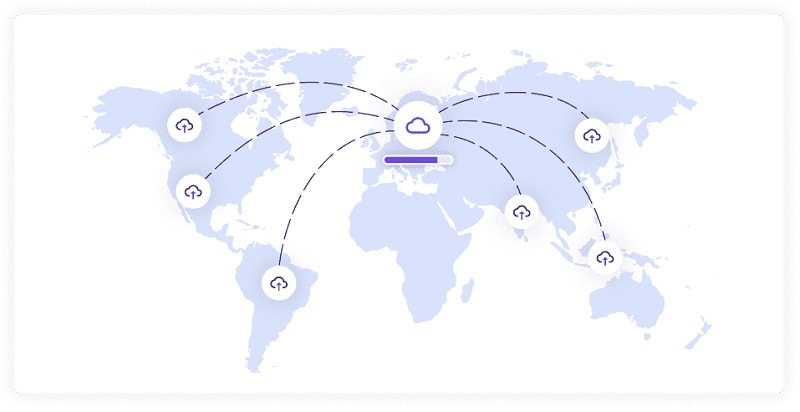 Hostinger's servers are located in the US, UK, Brazil, Indonesia, Singapore, Netherlands, and Lithuania. Plus the "Mumbai" (India) based new data center has recently been added to the list.
These 7 data centers are enough to provide you with great speed and availability near your audience.
Cons Of Hostinger India
1. No Phone Support
Hostinger does not provide phone support currently. However, you will get 24×7 live chat support which is really helpful.
2. Unavailability of a Dedicated Server
Hostinger is a great solution for you if you need Shared hosting, Cloud, or VPS plans. If you are particularly looking for Dedicated servers, Hostinger is not for you. Check Bluehost India for Dedicated hosting.
---
Hostinger India Reviews: What Others are Saying About Hostinger
To help you choose the right web host, we've created this section to show you what other real users are saying about Hostinger.
Hostinger India User Reviews – 2023
Trustpilot is one of the widely trusted communities of public reviews. Here is what we found on TrustPilot:
Out of 10,000 reviews, more than 80% gave 5 stars to Hostinger India which is enough to prove the reliability of the platform.
On G2 Hostinger India is also rated 4.1 out of 5 stars rating which is great.
Still not satisfied? Read Hostinger customer success stories provided by existing Hostinger users.
---
Alternatives to Hostinger India
Hostinger is a go-to solution for Indian blogs and websites. Their 29 million customer base vouch for that.
You will get great service and features with quick customer service at really affordable rates.
Still, if you want to explore more options, you can consider the Hostinger alternatives mentioned below.
Bluehost India
Bluehost is a WordPress recommended web host that was started in 2003. Its plans are available from ₹169 onwards. Go through the Bluehost vs Hostinger post to learn all the differences between these web hosts.
Hostgator India
HostGator India is also a global brand serving millions of customers worldwide. An experienced organization that was started in 2002 is also known for its prompt customer service and pro features. The plans started from ₹79 onwards.
Namecheap India
Namecheap is the world's leading Domain Registrar that was started in 2001 and now entered into the web hosting industry as well. Their products are also priced really well.
---
FAQs About Hostinger Review India
Is Hostinger really good?
Yes, it is indeed a great hosting company. There are thousands of web hosts available today but Hostinger is a great brand that provides you with good features at affordable rates. Go for it if you are looking for great speed and uptime along with quick service.
Why is Hostinger good in India?
Hostinger is good for India as it provides you with excellent features like Free domain, SSL, and Backup at pocket-friendly rates. You are getting a combo deal that includes everything you need for your website.
There is hardly any scope for upselling anymore and hence saves a lot of costs. Multiple data centers' choice is the cherry on the cake.
How is Hostinger India so cheap?
This is a question that is asked by a lot of users. A simple answer to this question may be the scale at which Hostinger operates. It is a brand that caters to 29 million customers and this helps them achieve economies of scale. Moreover, they have developed their own control panel [hPanel] and hence they don't have to buy external cPanel.
Who is the best Hostinger or Bluehost?
Both companies are known for superb performance however they have their pros and cons. For example, you don't get phone support with Hostinger but Bluehost provides that. On the other hand, Bluehost starts at ₹169 whereas Hostinger is available for just ₹62.10. Depending upon the budget and features required, you can pick any one of them.
Does Hostinger India provide cPanel or not?
Hostinger does not provide cPanel. Hostinger is using its own panel known as hPanel that is developed in-house. We tried it on a test site and found it easy to use.
Does Hostinger India have servers in India?
Yes. Hostinger has recently added its new data center in Mumbai, India.
Can we trust the Hostinger Brand?
Yes, definitely because Hostinger is not a new brand today. As we discussed, it is trusted by millions of customers worldwide. We have personally tested their speed and uptime and found them bankable
Who is better among GoDaddy and Hostinger?
GoDaddy is a good choice if you wish to purchase only a Domain. However, they are not the best web hosts. For hosting, you should choose Hostinger
What is the Hostinger India customer care number?
Hostinger doesn't offer support assistance by phone. The best way to contact them is through their live chat support system.
Where is the Hostinger India office situated?
There is no Hostinger physical office located in india.
Can we use Hostinger for free?
Hostinger does not provide free web hosting. Its group company 000webhost offers free hosting but we don't recommend it due to its features and limited options.
Is WordPress free or not with Hostinger?
WordPress is an open-source CMS. You can use it for free with Hostinger. Also, installing WordPress is just a one-click job from Hostinger's hPanel.
Is Hostinger Indian company?
What Others are Reading:
Final Words on Hostinger India:
This is one of the best reviews you will find on the internet about Hostinger. We have taken into account a lot of factors that a user should know before choosing the right web host.
In our study, we found Hostinger India a great choice for blogs and websites as they are offering an uptime guarantee of 99.9% along with A+ server response from multiple locations.
You must focus on after-sales service as, throughout the year, you need a supporting hand for various issues. With Hostinger, you will get expert and courteous staff to solve your day-to-day issues.
With 30 days of money-back guarantee and up to 93% discount on most of its products, it is worth giving a try.