If you are looking for hosting a blog or website, or want to migrate the existing one, at very affordable prices, then it is the right time for you.
Namecheap is a very popular and cost-effective domain registration and hosting service provider among the top hosting service providers.
And if we talk about current Namecheap discounts, it's like "Icing on the Cake".
Note: Click on this link to check out the current Namecheap coupon codes that give you huge savings across all the product range including domains, hosting packages and security services.
In this post, we will get in-depth knowledge about Namecheap services, features, pricing along with Namecheap promo codes for 2021 that you can use to save more money on their domain name registration, web hosting, email hosting, SSL certificates, etc.
Namecheap Coupon codes are updated every month – you can use them to register domains or purchase other services at lower prices. Be sure to come back and check regularly, as the coupon codes change every month and are valid only during the specified tenure.
50% OFF
Click to Claim It Now
It works.
100% Success
It doesn't!
Namecheap Coupon Codes for April 2021
Domain Registration and Transfer Discounts
Namecheap coupon code SPINETINGL entitles you to register or transfer your .com, .net, .org, .biz, .info at the following discounted rates:
COM Registration $8.88
COM Transfer $8.84
NET Registration $12.09
NET Transfer $10.88
ORG Registration $9.98
ORG Transfer $10.21
INFO Transfer $12.21
BIZ Registration $8.48
BIZ Transfer $13.12
Note: There is a mandatory $0.18 ICANN Fee for every domain registration, renewal, and transfer service. ICANN stands for the Internet Corporation for Assigned Names and Numbers that charges a mandatory annual fee of $0.18 for each domain registration, renewal or transfer and this will be added to the basic list price at the time of purchase.
Hurry up, this is a limited period offer and is also restricted to 30 uses per account!
Conditions
This coupon can be applied to one-year domain registrations only.
It cannot be used with the premium domain names.
Email Hosting Discounts
Namecheap coupon code TREATMAIL entitles you a 25% discount on all packages of private email service.
Conditions
Available on the annual billing cycle only.
Available on new purchases only.
Let's check out the Namecheap current discounts for 2021? Let's go into the details.
Current Namecheap Discounts and Promo Codes
1. Managed WordPress from $1:
EasyWP is the true Managed WordPress Hosting solution for everyone.
You can either opt for the Monthly services or Annual services which are starting at only $1 and $22.88 respectively.
Have you ever imagined to go live in minutes at $1? No? So what are you waiting for, choose one among the packages available which suit you the best.
Click here to host your WordPress website or blog at only $1.
2. Namecheap VPN for $1.88/mo.
Now you can get a 68% off to enjoy super-fast, safer browsing with Virtual Private Network (VPN) from just $1.88/mo. for 3 years.
Namecheap's VPN service is a secure, reliable VPN solution for your everyday Internet use. By using a VPN you can stay safe on public Wi-Fi networks, keep your data hidden, and change your virtual location to unlock the Internet wherever you travel.
The Monthly plan starts from $2.99/month, One Year and Three Year plan starts from $2.88/month, &1.88/month respectively and you can get 68% discount.
Along with the discounted price some other features of Namecheap VPN are:
Secure and Fast browsing
30-Day Money-back guarantee
24/7 Namecheap support
No traffic logs (Browsing History)
Connect up to 5 devices at once
1000+ Servers in 75+ Locations
Click here to avail 68% off on VPN to enjoy faster and safer browsing.
3. 50% off Shared Hosting Plans
There are three plans called Stellar, Stellar Plus, and Stellar Business for shared hosting starting from $1.44/month to $3.88/month and on each plan, you can enjoy 50% off.
All plans also include these benefits:
Unmetered bandwidth
Free website builder
Free .website domain name and privacy protection
50 Positive SSL certificates
30-day money-back guarantee
Apart from these features, in the Stellar Business plan, customers can enjoy the benefits of Cloud Storage as well.
Click here to avail 50% off on shared hosting plans.
4. KingCom is Back!
The .COM domain is the most recognizable top-level domains (TLDs) on the web and so-known as King of domains. There is no point in thinking twice if you are going to choose a .com domain name as it inspires trust and confidence on the web.
Registration for a .com domain starts from $8.28 for one year and $10.58 for five years which is a huge discount. Renewal for a .com domain starts from $12.98 for one year and $12.58 for five years. Transfer for a .com domain starts from $8.88 only.
Some of Add-on features:
Free lifetime WhoisGuard privacy protection
Free Basic DNS and DNSSEC (Domain Name System Security Extensions)
Private Email packages free for two months.
Click here to start a most recognizable domain website at a huge discounted price
5. Lowest Price for Your .AI
.AI stands for Artificial Intelligence. If you are into artificial intelligence or going to show something innovative to the world, then .ai is the best domain for you. It will make a huge impact on your brand value on the web.
.AI registration starts from $60.88 for two years and just $68.88 for four years.
Click here to register .AI website at a discounted price to make a huge difference in this competitive world.
6. Essential SSL for 39% Off
SSL is Secure Sockets Layer that are protocols for establishing an authenticated and encrypted links between networked computers.
Now you can get a 39% discount on SSL certificates, which helps to build trust between your site and the customers.
You can get an SSL certificate at $16.88/yr. Along with an SSL certificate, you will also get unlimited reissues, mobile browser support, and a free Comodo Site Seal.
The Comodo Site Seal is extremely useful for businesses to make its customers understand how trustworthy they are. Comodo has been a major player in web security for more than twenty years. Moreover, it can help your site's performance in search engines, as user security is now a ranking factor in their algorithms.
You will also get some benefits along with the SSL Certificate:
Domain Validation for ownership.
$10000 warranty in case of any customer incur a loss ever.
Static site seal that is a reminder to the customers that shopping on your site is safe and secure.
There is a 15-day refund policy.
And the best part is, it is issued within 15 minutes and no paperwork is involved. This is great for personal websites.
Click here to avail 39% off on essential SSL.
7. A Whopping 50% off on EV SSL
EV SSL is extended validation SSL which is basically a green address bar that assures your site visitors that their data is being transmitted on a highly secured, trustworthy domain.
Now you can get 50% off on purchasing an EV SSL certificate.
Warranty worth $1,000,000 and 15 days refund policy.
Dynamic site seal that you can display anywhere on the website.
This is great for E-Commerce websites.
Click here to avail 50% off on EV SSL.
Namecheap Domain Pricing
Here's a quick overview of the Top Level Domains (TLD's) pricing offered by Namecheap:
.COM: The most popular and recognizable extension.COM starts at $8.28/year with free WhoisGuard.
Apart from these discounted prices, you will also get the following benefits:
24/7 Customer Support: Expert help and advice
Personal Data Privacy: Free WhoisGuard privacy protection for life
Extra Reliability and Security: Free BasicDNS and DNSSEC for more peace of mind
Free Email Address: Free 2 Months Trial
Namecheap Hosting Plans and Pricing
Namecheap provides a huge range of hosting services like Shared Hosting, WordPress Hosting, Reseller Hosting, VPS Hosting, Dedicated Servers, and Private Email Hosting, etc.
Here's a quick overview of the hosting plans offered by Namecheap:
Shared Hosting Plans
You can pay either monthly or yearly. If you opt for a yearly plan, you will get a 50% Namecheap discount for first-year without using any promo code.
Stellar: The initial plan gives you unmetered bandwidth for up to three websites, 20GB in disk space, 50 databases and 30 email accounts for $1.44/month in the first year.
Stellar Plus: The second plan increases disk space to Unmetered, unlimited websites, Unlimited domains, Unmetered databases and email accounts with auto backup for $2.44/month in the first year.
Stellar Business: It will additionally allow personal name servers, priority support, and guaranteed 50GB in disk space.
Every plan comes with some additional features like:
Unmetered bandwidth
Free website builder
Backup twice a week at least
Minimum 50 MySQL Databases
100% uptime
cPanel (Control Panel)
cPanel 2FA (Two-Factor Authentication)
Free .website domain name and privacy protection
Positive SSL certificates
30-day money-back guarantee
Click here to host your blog or website now.
WordPress Hosting Plans
Same goes for WordPress hosting, you can pay either monthly or yearly. Up to 50% discounts are available while paying yearly without using any promo code.
EasyWP Starter: The initial plan gives you 10GB SSD storage and 50000 visitors/month for $22.88 in the first year.
EasyWP Turbo: The second plan gives you 50GB SSD storage and 200000 visitors/month for $44.88 in the first year.
EasyWP Supersonic: The top plan gives you 100GB SSD storage and 500000 visitors/month for $49.88.88 in the first year.
All plans also include:
Blazingly fast WordPress website installed and ready to go
Powered by Namecheap Cloud
Easy Backups and Restores
SFTP (Secure File Transfer Protocol) & Database Access
Temporary EasyWP free domain
Support for your Namecheap domains
30-days money-back guarantee
24/7 Namecheap Support included
Click here to host your WordPress blog or website now.
Which Plan Should You Buy from Namecheap
Domain Registration
Currently, one should go for a 1 year plan as on most of the TLDs, there is huge discount for the first year only.
You will get a 25% discount on registering for the most recognizable domain .Com which is starting at only $8.28 for the first year by using default Namecheap promo code BIRTHDAY.
On .Co extension, there is a limited time huge 65% discount for the first year by using default Namecheap promo code LIMITED.
On .Club extension, there is an enormous 88% discount for the first year by using default Namecheap promo code SPECIAL.
Along with these extensions, there is a huge discount available on other top-level domains like .net, .org, .io, etc. if you opt for a one year plan.
Web Hosting
Shared Hosting: You should go for the Stellar Plus plan as it gives you unmetered SSD and Unlimited websites with an auto backup facility at a 50% discount on the first year without using any Namecheap promo code.
Managed WordPress Hosting: Though it depends on the traffic on your website or blog, we would recommend you for the EasyWP Turbo plan as it gives you 50GB SSD storage with 200000 visitors/month and 35% discount on the first year without using any Namecheap promo code.
Why Should You Buy from Namecheap
Namecheap is a privately-owned independent hosting company that's a rare case in the hosting world where some corporations own nearly all hosting brands. Namecheap provides high performance at affordable prices with tight security and 24*7 customer support to make their customers happy.
Namecheap uses the latest, fastest web servers available from Dell, HP, Supermicro, etc. Every server has at least two processors, 16GB of RAM and four hard drives with RAID protection (Redundant Array of Independent Disks) is a way of storing the same data on multiple locations to protect data in the case of a drive failure.
They place a lighter load on their machines than the other service providers, so your site has breathing room during busy periods and you can run more complex scripts. They also use Cloud Linux to optimize.
All the domain and hosting plans are available at comparatively best prices.
Namecheap uses the latest hardware and software firewalls to protect its infrastructure. They constantly scan probe, test their defense systems and operating systems to ensure that you are on one of the most secure hosts around.
Namecheap has been building a service reputation since 2001. They are dedicated to making their customers happy. If you have any questions or concerns, Namecheap is the right place. Chat with a live human, submit a ticket for review, or consult their vast Knowledge Base for a little self-study. Resources are available 24/7.
Pros of Namecheap
Namecheap starts strong with a free domain name, easy migrations, affordable hosting and extra features like backups.
Here are the full details.
FREE Domain and Migration
Namecheap dominates at domain names. The Primary advantage of Namecheap is its pricing.
If you already have a website set up somewhere else, they'll also help you migrate it for free.
Namecheap offered unmetered bandwidth on their cheapest plan.
They also give you access to standard features like cPanel access and apps like WordPress.
Their cheapest plan also includes a free SSL certificate for the first year.
You also get twice-a-week backups, just in case things go haywire while updating your new site.
The best part about their cheapest offer is that you get 50 MySQL databases which are way more than what most companies offer on a similar tier.
Plus, you can set up three websites on this plan. Most base-level hosting plans only allow you to host one single website. This is a great value if you have several sites, like a business and a personal one.
They also give you 30 email accounts right away, too.
This can add up to huge cost savings over time.
30 Day's Money-Back Guarantee
Namecheap offers a rock-solid 30 days money-back guarantee. You will get a full month to see whether their service is right for you. In case of services you opted for are not satisfying, it is not too late to back out and try for something better.
Now you can replace your existing SSL with the Comodo SSL absolutely free.
Yes, you heard it right, you don't need to pay even a single penny.
To make sure that your site is secured with the Google, Namecheap will issue a free Comodo SSL Certificate. This SSL coverage is free for the remaining time of your original, non-Comodo existing certificate.
Top-notch Customer Support
They have 24*7 customer support.
Knowledgebase: Consult their vast Knowledge Base for a little self-study section wise.
Submit a ticket: If you are unable to find a solution to your problem in the knowledgebase, you can easily submit a ticket by selecting the appropriate department.
Live Chat: Select a department and Chat with a live human.
Cons of Namecheap
Lack of Phone Support: The first disadvantage we have found is that they don't have support over the phone which is only a minor drawback.As their live chat works fantastically along with the knowledgebase and ticket system so this is not a big issue.But some people like to talk over the phone and you will miss that with Namecheap.
15-30 Days Refund Policy: Namecheap gives a maximum of 30 days refund policy on their primary services including domain, hosting, and security.While some other top hosting service providers give up to 90 days refund policy.
Expert and Featured Reviews
You will be pleasantly surprised by looking at Namecheap reviews and ratings.
Namecheap has an overall 4.6 satisfaction ratings based on over one million ratings.
In every category, whether it is product satisfaction, price satisfaction or customer service, it has solid ratings.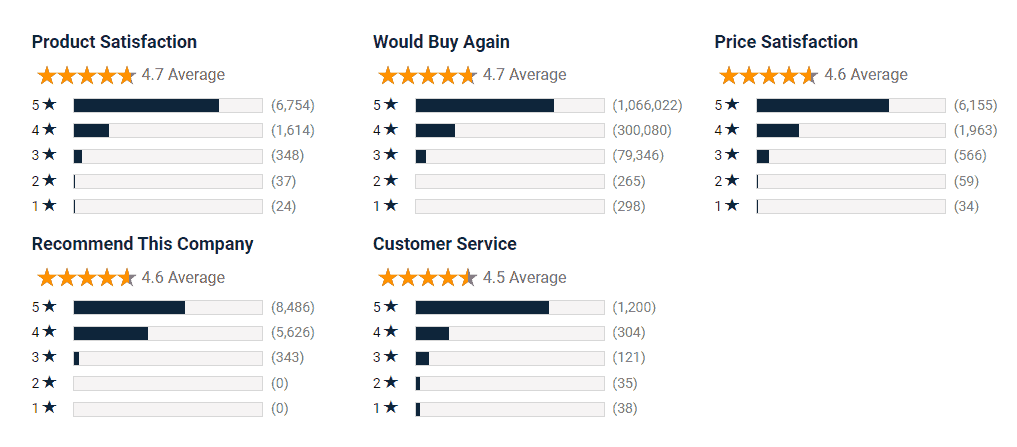 Have a look at the recent Namecheap reviews.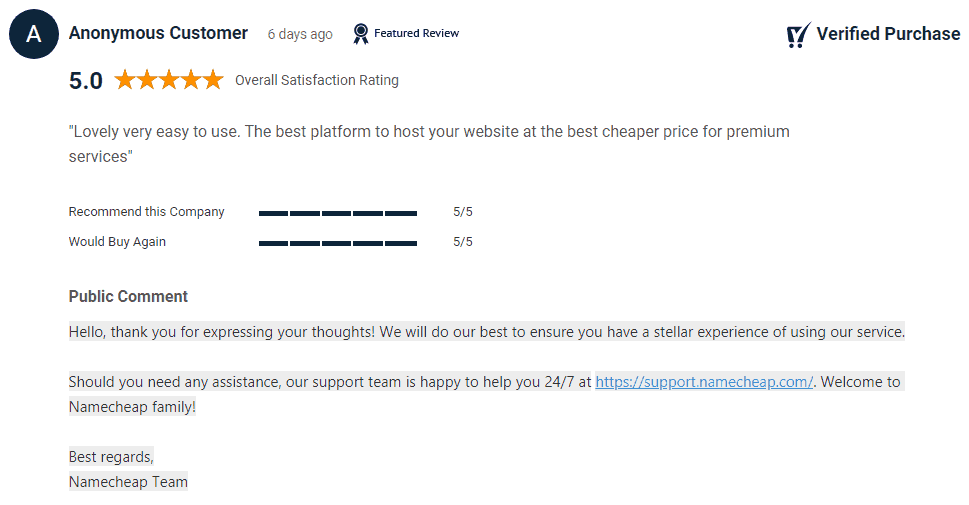 To know more about Namecheap ratings and reviews, visit Shopper Approved today.
Namecheap Comparison with Other Hosts
Have a quick look at the Namecheap Shared Hosting comparison among the top Hosting Service Providers.
| Host Name | NameCheap | SiteGround | Bluehost | Dreamhost |
| --- | --- | --- | --- | --- |
| Plan Name | Stellar | StartUp | Basic | Shared Starter |
| Price | $1.44/mo. | $3.95/mo. | $3.95/mo. | $2.59/mo. |
| Storage | 20GB SSD | 10GB SSD | 50GB SSD | Unlimited Traffic |
| Website | 3 Websites | 1 Website | 1 Website | 1 Website |
Namecheap has the lowest fees and the best part is you can host three websites while others have one website option only.
FAQs
How to apply the Namecheap coupon code?
Just click on this exclusive link and you'll be navigated to Namecheap website where you can choose from the top services related to the domain, hosting, security, etc. Enter the promo code and you will get an instant discount.
How to migrate to Namecheap Hosting?
Migration or transfer your existing hosting to Namecheap is very simple. You just need to share very basic details like the name of the current hosting provider and account credentials.
How much time, Namecheap domain migration takes?
It depends on the domain's TLD and the time required for your current registrar to complete the process.
Typically it takes 30 minutes to 8 days to complete.
What is WhoisGuard privacy protection service?
It hides your contact information from spammers, marketing firms, and online fraudsters.
Is Namecheap trustworthy?
Absolutely, Yes! Namecheap is an established company with a long track record and a solid industry reputation. Like any other company, they have strengths, weaknesses, and tradeoffs but they have a founder-driven culture and brand built on transparency and trust.
What Others are Reading:
Final Thoughts
I must say, it's a pretty great budget hosting option with Namecheap promo codes.
Namecheap is an independent company for your domain name needs along with the hosting and security services.
If you are going to launch a website or blog, Namecheap will work like a charm.