Looking for an honest comparison of HostGator vs Hostinger 2023? You're in the right place
In today's comparison of HostGator and Hostinger, we will share our deep study covering all major aspects including speed, performance, uptime, customer support, pros & cons, pricing, and more.
Without any delay, let's get started.
HostGator vs Hostinger 2023: A Quick Comparison Table with Verdict
| Factors | Hostinger | HostGator |
| --- | --- | --- |
| Supported Hosting Types | Shared, WordPress, VPS, Cloud, cPanel, Email and Minecraft hosting. | Shared, VPS, Cloud, WordPress and Dedicated server hosting |
| Pricing | Starts from $1.79/month or INR 62.10 | Starts from $2.75/month or INR 79/month |
| Server Locations | UK, USA, Brazil, Netherlands, Singapore, India, Indonesia, Lithuania | US (Provo, Utah, and Atlanta, Georgia) |
| Cloudflare integration | ✓ | ✓ |
| Backups | Weekly-Daily | Not mentioned any information regarding the backup schedule |
| Speed | Average 608 MS (last 30 days) | Average 1250 MS (last 30 days) |
| Uptime | 99.699% (last 30 days) | 99.792% (last 30 days) |
| Customer support options | 24/7 live chat & email | 24/7 live chat & phone |
| Free Domain | Included in all plans except a single web hosting plan | Included in all plans |
| Money Refund Policy | 30 days | 45 days |
| cPanel & User interface | More user-friendly. Offering hPanel which is more cleaned and customizable. | Less user friendly, and offers a traditional user interface approach |
| Migration | Free | Free |
| Security | Highly secure hPanel environment | Highly secure cPanel environment |
| Pros | Pocket friendly, Better performance, Free SSL, Cloudflare integration | Free domain in all plans, unmetered bandwidth & storage, 45 money refund policy |
| Cons | Doesn't offer cPanel. (But it has a modern hPanel), Phone support is absent. | Backup facilities should be improved, Prices are higher. |
| Other Customer Ratings | 4.5/5 - Trustpilot | 4.2/5 - Trustpilot |
| Discount & Offers | HI10 coupon code - Up to 90% discount on Domains. Up to 80%  + 10% + Free SSL and Domain on all Hosting Plans | Get up to 60% off on HostGator plans from our special link |
Verdict: Hostgator vs Hostinger 2023: Who is the Winner?

Hostinger is the real winner – After comparing various parameters of Hostinger and HostGator It has been found that Hostinger offers more real value to users – in terms of money, list of features, efficient free backup facility, a vast network of servers across the globe, and overall performance.
In a nutshell, one should definitely go for Hostinger when affordable pricing and higher speed are a priority. However, if you're looking for the best customer support, free domain benefit in a starter plan, and unmetered storage then HostGator should be considered
Click Here to Grab Hostinger Black Friday Deal (save up to 90% using our exclusive coupon code: BLACKFRIDAY)
Resources: Hostinger Review 2023 | Hostinger Coupon Code 2023
---
HostGator vs Hostinger: Who Wins The Pricing Battle
Winner: Hostinger
Note: Hostinger Black Friday Sale 2023 is live now. Bookmark our Black Friday Web Hosting deals page to stay updated about all exciting deals.
Comparing each and every plan of HostGator and Hostinger, it has been concluded that Hostinger offers more affordable and pocket-friendly web hosting services than HostGator.
The Hostinger plans started from $1.79/month or INR 62.10/month while HostGator plans started from $2.75/month or INR 79/month.
The basic HostGator plan would charge you for hosting a single website for $2.75/month or INR 79/month while Hostinger charges you only $1.79/month or INR 62.10.
The most valuable Hostgator Baby plan is priced at $3.50/month and offers unlimited website support. But Hostinger's most recommended premium hosting plan starts from $2.24/mo OR ₹116.10/mo including support for 100 websites.
HostGator beats Hostinger in cloud hosting pricing. However, it should be noted that the HostGator Cloud Hosting (Hatchling Cloud Plan – $4.95/month) would only include a single website. While the Hostinger Cloud Startup plan seems more valuable (starting from $8.99/month – 300 websites hosting).
We will also like to highlight that HostGator's entry-level plan gives you a Free Domain worth around $9/- a year which Hostinger doesn't provide in its cheapest plan.
Considering bandwidth and storage options, HostGator marked them as "unmetered" while Hostinger clearly mentioned the number you will get in bandwidth (100 GB- Unlimited) and SSD storage (50 GB – 200 GB). Personally, we give importance to numbers. But you can consult HostGator support to clear things before giving it a final shot.
Considering backups options, Hostinger is ahead of HostGator. Hostinger plans included the benefit of weekly to daily backups, while HostGator runs backup randomly on any weekday. Plus restoring backup charges is separate in the case of HostGator.
HostGator vs Hostinger Pricing Comparison Table:
Quick Note: The pricing mentioned below will only be applicable when you use our special discount link.
| Hosting Type | Hostinger Pricing | HostGator Pricing | Winner |
| --- | --- | --- | --- |
| Shared Hosting | $1.79/mo or INR 62.10/mo | $2.75/mo or INR 79/mo | Hostinger |
| WordPress Hosting | $1.79/mo or INR 62.10/mo | $5.95/mo or INR 249/mo | Hostinger |
| Cloud Hosting | $8.99/mo or INR 629.10/mo | $4.95/mo or INR 639/mo | HostGator |
| VPS Hosting | $3.14/mo or INR 224.10/mo | $23.95/mo or INR 699/mo | Hostinger |
Hostinger Pricing vs HostGator Pricing
Here is the breakdown of Hostinger Plans:
Save up to 90% on Hostinger Products [Use our Hostinger coupon: BLACKFRIDAY] – For Special Black Friday Pricing
You can easily start with any of its plans like Shared hosting, VPS, and Cloud as all of them are available at affordable rates. Depending upon the features and requirements, you can pick the one which is suitable for your project.
The common free benefits that can be found in all Hostinger plans are Free email accounts, Unlimited database, Free SSL, weekly to daily backups, 24*7*365 live chat support, 30 days money refund policy, etc.
Important: This November, Hostinger has released its Black Friday sale [up to 90% off]. We recommend the premium shared hosting deal which starts from ₹116.10/mo OR $2.24/mo.

The premium plan is almost equal to the single shared plan (₹62.10/mo OR $1.79) and offers additional perks including: A free domain name, additional storage, and 100 websites support.
Hostinger is known for affordable rates especially in shared hosting services, making it possible to go online spending just $1.79 OR INR 62.10 per month (our special pricing – accessible through the above button).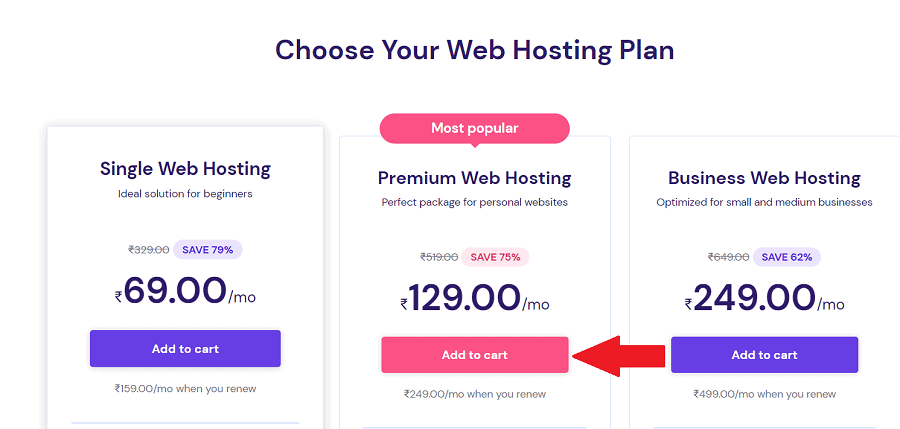 Here is the breakdown of HostGator Plans:
[Get up to 60% OFF on HostGator Now]
HostGator.com offers you the Shared hosting plan at $2.75 per month. Still, if you compare $1.80 with $2.75, Hostinger's offerings sound more pocket friendly.
The common free perks associated with HostGator plans are 1 Click WP installs, a 30-day money-back policy, free email accounts, cPanel access, Unlimited FTP accounts, and 24*7 phone & chat support.
Here is a glimpse of HostGator's hosting options along with starting price.
---
HostGator vs Hostinger: Speed, Uptime & Performance Comparison
Uptime Winner: Tie
Speed Winner: Hostinger
Page load speed is the critical ranking factor. Google's core web vitals if followed, ensure the user experience of your site and hence will be the key ranking factor in 2023.
While both web hosts are optimized for faster page load, it is still important to find the best out of the two.
Examining Hostinger Web Hosting Speed & Uptime:
We have conducted the uptime and speed test on both HostGator and Hostinger using hrank tool – A popular website performance website testing tool
Here is the uptime and response time of Hostinger recorded in the last 30 days.
The average speed of Hostinger is exceptionally well (608 MS).
Examining HostGator Web Hosting Speed & Uptime:
Uptime is directly related to the number of hours your site is down or unavailable to visitors.
As per the test analysis, the HostGator uptime is remarkably good. However, the speed (response time 1250 MS) is slightly more than Hostinger's. Sometimes, even a small margin can make it or break it.
---
Hostinger vs HostGator: Any Features Difference
Winner: Hostinger
We always recommend a host where the pricing and list of features are user-friendly with a minimum scope of any up-sell by the company.
Once a purchase is made, it should have all the necessary features and you shouldn't be asked to pay extra for any of them.
Let's compare:
Feature
Hostinger
HostGator
Free SSL
Yes
Yes
Bandwidth
* 100 GB in Entry-level plan
* Unlimited in all other plans
Unmetered
Storage
10 GB to 100 GB
Unmetered
WordPress Optimized
Yes
Yes
Professional Email
Yes
Yes
Uptime Guarantee
99.9%
99.9%
Control Panel
Inhouse hPanel
cPanel
Who is best if Extra Features is your priority?
HostGator offers a Free domain with its basic plan but the pricing starts from $2.75. Hostinger, on the other hand, is the cheapest hosting at just $1.79 but the Free domain is not there in the basic plan [available in all other plans].
Talking about Bandwidth and Storage, while it's capped in Hostinger's most of the plan, HostGator provides unlimited use of storage and no cap on data transfer.
Confusing?
Don't worry. It is actually not that tough to understand the plans the features are mostly driven by the marketing strategy of the company.
Now the Crux: Even if the bandwidth and storage are unmetered in HostGator's entry-level plan, it is almost 2.5x the cost. Hostinger's "Premium" and "Business" plans come with more than the required storage and unlimited bandwidth.
All other features like :
WordPress one-click install
Free SSL
24×7 Chat Support
Google Ads Credit, are common to both.
Easy backups and multiple server locations are the edges that Hostinger has above HostGator at much cheaper rates.
---
HostGator vs Hostinger: Words on Customer Support, Security & Backup
Security & Backups Winner: Hostinger
Customer Support Winner: Tie
Security & Backup Comparison Table: HostGator vs Hostinger:
To understand the picture clearly, Have a look at this security features table for both web hosts.
| Security Features | Hostinger | HostGator |
| --- | --- | --- |
| Free SSL | ✓ | ✓ |
| DDoS Protection | ✓ | ✓ |
| Automated Backups | ✓ | ✓ |
| Backup Schedule | Weekly-Daily | Not fixed |
| Backup Restore | Free | Paid |
| 2FA | ✓ | X |
| 24/7 Server monitoring using mod_security and PHP open_basedir modules | ✓ | Custom firewall rule supported which does the same thing |
| Paid Addons (Positive SSL, Sitelock, CodeGuard) | X | ✓ |
| Cloudflare Nameserver Protection | ✓ | ✓ |
| SSH Access | ✓ | ✓ |
| Password protected directories | ✓ | ✓ |
| Hotlink protection for images | ✓ | ✓ |
| IP Blocking | ✓ | ✓ |
By reviewing all the security features of both web hosts, we must say Hostinger is one level ahead of HostGator because of its effective backup policy. Rest security features are almost the same in both web hosting services.
Backup Options: HostGator vs Hostinger:
Do you know? Almost 30000 websites are hacked every day as per the study.
Not only this, but If you are a new blogger, you might also delete a file erroneously.
All this can be reversed if you have a last known good backup.
Now that we know how critical a backup is, let us understand the Backup related policy of both the hosts.
Hostinger's Backup Policy:
Hostinger mentioned its backup policy on its product page without any disclaimers.
Free Daily Backup is available with "Business" and both entry-level plans like "Single" and "Premium" plans are offering Free Weekly Backup.
Daily backup is also available in entry-level plans but at extra cost. Weekly backup however is sufficient if the site is new. The backup copies created by Hostinger can be accessed from HPanel and can be restored easily without paying any extra charges.
So, it's plain and simple here. We will now have a look at what HostGator has to offer.
HostGator's Backup Policy:
HostGator's backup policy is very confusing. We will not recommend relying upon the free automated backup service of HostGator due to our finding shared below.
We scrolled through their entire plan details and didn't find anything about the backup. On its product feature page, you will not get any information regarding backups.
After spending a lot of time, we finally found this backup policy, some excerpts of which are as follows:
"HostGator backups are provided as a courtesy and are not guaranteed. Customers are responsible for their own backups and web content and should make their own backups for extra protection. For additional information, please refer to our Terms of Service."
HostGator creates daily, weekly, and monthly backups based on cycles set within the server for accounts that are under 20 GB and 100,000 inodes.
HostGator requires a $25 fee to complete a restore request or to provide a copy of the courtesy backup.
If you will check on their site, there is a field called "Level Up" which advocates the benefits of Daily Backups but takes you to a "CodeGuard" page which costs you an extra $2 per month.
Who is best if Daily Backup is your priority?
Automated backups are free and easy to access with Hostinger.
HostGator's backup doesn't sound user-friendly here as the company itself requests you not to rely on their backups.
HostGator stops automatic backup if the number of files or storage exceeds a certain limit. Moreover, for full backup restore, there is an extra fee of $25.
We will vote in favor of Hostinger as backup is available free of cost you can restore easily without any hassle.
Customer Support Comparison: Hostinger vs HostGator
If you are a beginner or a first-timer, you cannot afford sluggish customer service.
You might need the help any time during the day as a blog or website is an online business that is open 24×7.
Whenever there is a need, you should get an instant response and help round the clock.
Hostinger's Customer Service Policy:
Hostinger offers 24×7 chat support. There is also an option to continue the follow-up over email if instant closure is not possible.
The company's chat team is really helpful and is available round the clock.
You may however experience a 15-20 minutes queue when you try reaching out to the chat support representative. That's not common but worth mentioning here.
Once the chat is started, you will get your resolution quickly.
HostGator's Customer Service Policy:
HostGator is also a great host when it comes to the resolution of its customer's problems. HostGator offers 24×7 support over the phone and chat.
HostGator's service team is also equally helpful and knowledgeable.
Who is best if Customer Service is your priority?
With personal experience using the customer service of both hosts, we will rate them equally good.
Both are available round the clock and provide a quick solution to your problem.
Knowledgebase of both companies is strong and the answer to half of the problems can be found there itself.
---
HostGator vs Hostinger: Views on User Interface, cPanel & Usability
Winner: Hostinger
Which web host is easier to use? Which has a more robust cPanel? In this comparison section of HostGator vs Hostinger, we will address these queries.
Well, during the Hostinger review, we found Hostinger user interface (hPanel) is more beginner friendly, and feature-rich than HostGator. Here is why:
Upon setup, Hostinger welcomes you with the setup wizard which helps you to install SSL, domain registration, email, and other configuration at ease. In HostGator, you have to manually review the cPanel options and move gradually.
The Hostinger hPanel is modern and looks more cleaned & organized. HostGator is still running their old & native traditional cPanel which looks outdated.
Hostinger hPanel is more customizable than HostGator native cPanel.
Hostinger hPanel user interface screenshot:
HostGator user interface screenshot:
Learn more about Hostinger hPanel & user interface:
Learn more about HostGator cPanel & user interface:
---
HostGator and Hostinger: Feedback & Reviews from Other Users
Winner: Hostinger
A single comparison isn't enough to make a decision on Hostinger or HostGator. That's why we should not skip what other users are saying about these web hosting services.
Hostinger's Customer Reviews on TrustPilot – 4.5/5
Total Reviews: 10,030
5-Star: 83%
4-Star: 6%
3-Star: 2%
2-Star: 1%
1-Star: 8%
4.5 Rating out of 5 is a great number to quote and that too when you have 10,030+ participants. Trustpilot is a neutral platform and we can expect unbiased reviews there coming directly from actual customers.
Read: Hostinger India Review with Features, Pros and Cons
HostGator Customer Reviews on TrustPilot – 4.2/5
Here are the results :
Total Reviews: 2,733
5-Star: 53%
4-Star: 8%
3-Star: 4%
2-Star: 3%
1-Star: 32%
If you will see the stats above, you will find the scores on the negative side. 32% of customers rated 1 star to HostGator which should not be forgettable at any cost.
Read: Hostinger vs Bluehost: Which Hosting Is Better & Why?
---
FAQs: HostGator OR Hostinger
Here are some of the frequently asked questions about HostGator and Hostinger.
Which one is better HostGator or Hostinger?
Both HostGator and Hostinger are reliable web hosts but for the sake of comparison, we will rate Hostinger ahead of HostGator. Both of them provide great customer service, uptime, speed but the if pricing and features are your priority, you should choose Hostinger.
How good is Hostinger?
Hostinger is one of the cheapest hosts that offers fantastic speed, uptime, and customer service. All Hostinger servers are located strategically in seven different geographies making it possible to reach your audience faster.
Is Hostinger safe and legit?
Hostinger is a 100% legit organization that caters to over 29 million customers. Its servers are firewall protected and monitored round the clock by the dedicated technical team. All websites hosted on its servers are scanned regularly for malware. The company also provides you with daily or weekly backup to help you reverse any unforeseen event.
Which one is better HostGator or GoDaddy?
Out of the two, we will recommend HostGator if you are looking for an overall package of hosting and domain. HostGator offers better hosting plans. GoDaddy is however a great domain registrar and is recommended if you are looking for only Domains.
What are the alternatives to HostGator and Hostinger?
Bluehost, Namecheap, SiteGround, and Kinsta are the popular web hosting companies you can consider as an alternative to HostGator and Hostinger.
What are the cons of Hostinger?
Lack of phone support and availability of free domain in a single web hosting plan are the only cons of Hostinger.
Who has more customers Hostinger and HostGator?
Hostinger owns more users worldwide compared to HostGator.
How to migrate to Hostinger?
What Others Are Reading:
---
HostGator vs Hostinger 2023: Which is the Ultimate Winner
Honestly, both Hostinger and HostGator are affordable web hosts that offer exceptional features.
HostGator is a great choice if you're looking to host your site on a popular web hosting company (and it also offers great features).
If you're looking for an affordable yet reliable hosting choice, go with Hostinger. Hostinger is also extremely cheap when compared to HostGator as its pricing starts only at $1.79/mo (with coupon BLACKFRIDAY).
So which web host are you going to choose? Have any questions? Let us know in the comments.