No doubt, WP Engine is hands down, an excellent choice for WordPress hosting, although a pricey one, which is why most people are always searching for good WPEngine alternatives.
They were the leading pioneer of the managed WordPress hosting service and set the pace for the others. Due to their high-quality managed WordPress hosting service with strong security and performance, it's always an attractive choice for developers, designers, and bloggers alike.
Unfortunately, not everyone can afford to spend such amount on a hosting service, especially for beginners, which is why they're often compelled to look elsewhere for a cheaper alternative.
Now, the good news is that WordPress hosting is indeed a competitive playground, and low price doesn't necessarily amount to low-quality service. There are lots of cheaper alternatives to WPEngine that don't economize on functionality, performance, or customer support.
In this post, we're going to look at eight fantastic and more affordable WPEngine alternatives, and see how they measure against each other; this will help you make an informed decision towards picking a cheaper and reliable hosting for your websites.
WPEngine Alternatives 2023| Why You Need Them
| Web Hosting | Basic Pricing | Exclusive WordPress support | Hosting Link |
| --- | --- | --- | --- |
| WPX Hosting (50% OFF) | $20.83 per month | Yes | |
| Kinsta | $30 per month | Yes | |
| Hostinger | $1.39 per month | No | |
| Bluehost (60% OFF) | $2.95 per month | Yes | |
| A2 Hosting (72% OFF) | $2.99 per month | Yes | |
| FlyWheel | $13 per month | Yes | |
| HostPapa | $2.95 per month | No | |
| iPage | $1.99 per month | No | |
Let's get it straight, WP Engine is a powerful WordPress hosting, and we're not going to say otherwise here. However, their pricing plans are somewhat out of reach for many users.
On average, WP Engine's users typically spend $184 per month for their hosting services; that amount alone is more enough to shrink your wallet! Apparently, a lot of people would love to migrate their site to WP Engine but are often scared away by the high price.
Apart from the price, WP Engine is also known for restricting the use of certain plugins and CMS softwares (such as Drupal, Joomla, etc.), which could potentially stress the hell out of you if your favorite picks are among that list.
As it stands, WP Engine is an excellent choice for managed WordPress hosting, but because of their high pricing plans, there'll always be a need to look for reasonable alternatives.
However, if you can afford their price, then I still recommend WPEngine as it's apparently a dependable hosting solution.
---
Top 8 WPEngine Competitors (Cheap Alternatives)
Now, if you've made up your mind to get an excellent alternative to WPEngine, then check out the following options and pick the one that best suits your needs:
1. WPX Hosting (50% OFF)
Some of my websites including BloggersPassion.com are currently hosted on the WPX Hosting server, and this is simply the best WordPress hosting solution I've ever used.
NOTE: WPX Hosting is currently offering a whopping 50% DISCOUNT on their premium hosting plans. You can avail your own WPX hosting discount today using our personal promo code "BloggersPassion" (caps matter), and you'll enjoy 50% OFF for your first month on WPX hosting packages.
WPX was formally known as Traffic Planet hosting until they recently rebranded it to WPX, and since then, they've been nothing but a fantastic and dependable web hosting provider.
The primary reason why I moved my websites to WPX is that they offer great value for money. The security, site speed, customer data, and support is of significant importance to them.
Additionally, in spite of charging hundreds of dollars, WP Engine has failed to include some wonderful features like DDOS protection, free website migrations, and a lot more offered by WPX Hosting.
WPX also has a remarkable and super-fast customer support team. Whenever I have an issue with my websites or hosting account, it often takes them less than 5 minutes to get it resolved. Interestingly, they are even good at tackling WordPress specific problems.
The most exciting thing about WPX hosting is their fast loading servers, my websites loads at an incredibly super-fast speed. For example, check the screenshot below of our BloggersPassion.com blog loading time:
Furthermore, it may also interest you to know that WPX hosting is highly recommended officially by Thrive Themes, which is one of the most prominent WordPress themes and plugins providers on the web.
Due to their much-optimized SSD servers and substantial backend optimizations, WPX hosting solution can also handle any amount of traffic, so even if you're getting thousands of traffic per month, you'll be on a safe side.
Finally, WPX recently introduced Cloud CDN, which is home-built by them with WordPress in mind. I'm personally using WP Rocket together with their WPX Cloud for the best page speed.
WPX Hosting Features:
Custom Hosting Dashboard
WPX Cloud (Their Own CDN Service)
Very easy to set up and enable
Free Enterprise Level DDoS Protection and Malware Scans
WPX Hosting Fixed for You Guarantee
95% Uptime Guarantee!
24×7 customer support
1-Click WordPress Installations
Automatic Backups (with 28-Day Storage)
WPX Hosting is FULLY Secured
WPX Staging Sites (Safely test new designs or updates)
Choose between USA + UK Hosting locations
Staging area
HTTPS/2 and PHP 7.X enabled
Pricing starts at $20.83 per month
What we like
Great customer service team
Free website migration
Daily database backup
Top-notch security
Free SSD and SSL Certificate
Fast loading times
What we don't like
---
2. Kinsta Premium Hosting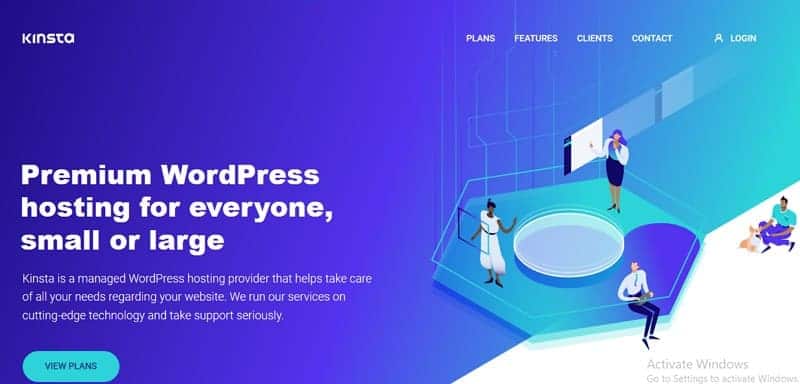 Kinsta is a popular and one of the newest managed WordPress hosting provider on the internet. Good enough, their hosting plan is also very affordable, and it's a great alternative to WPEngine.
There's a lot to love about this hosting company, starting from its custom and a sleek hosting dashboard that makes it super easy to leverage functionalities such as easy one-click staging sites and automatic updates.
Aside from the dashboard, Kinsta is also more focused on performance optimization. They'll host your website on the premium level of the Google Cloud Platform, the same infrastructure that powers Google's own products.
Apart from that, you'll equally get PHP 7.2+, NGINX, server-level caching, and a bunch of other performance-focused technologies.
They even offer free CDN from KeyCDN and free premium DNS from Amazon Route 53. Now, if these mouth-watering features didn't wow you, I wonder what else will.
Features and Specifications of Kinsta Hosting:
Easy WordPress staging sites set up
Fantastic custom hosting dashboard
Built-in security mechanism optimized for WordPress
Uses the premium level of the Google Cloud Platform
Free CDN, SSL certificate, and premium DNS
Automatic daily backups and easy restores
Pricing starts at $30 per month
What we like
Daily automatic backups
Free website migration
Real-time malware monitoring
Strong security
Advanced developer features
Performance optimized
What we don't like
No domain purchase
No email hosting provided
Limits usage of certain WordPress plugins
---
3. Hostinger Web Host (Enjoy up to 90% OFF Today)
Hostinger came into existence in 2004 and has grown to become a popular web hosting solution with over 29 million users, and offices worldwide.
What will amaze you more about Hostinger is their crazy pricing plans, which starts at $1.39 per month for their basic hosting plan, this is because they're currently offering up to 85% DISCOUNT on their hosting packages.
However, regardless of the affordability, Hostinger is known for quality hosting service and has a relatively fast loading servers.
Although the hosting company cannot compete much with WPEngine and most of the other hosting solutions mentioned here, it's still a suitable alternative for beginners with a lean hosting budget.
They also feature a website builder as well as one-click installers for WordPress and other popular apps, which will make it easy to get started with your first website. Their basic hosting package is perhaps enough to power a simple personal website.
However, if you have a bigger hosting desire, then their "business shared hosting" package might be a perfect option for you. It's currently available at $3.99 per month but has lots of excellent features that you'll find really handy.
Finally, one thing that separates Hostinger from other hosting solutions is that they also allow you to pay for your hosting needs with cryptocurrency such as Bitcoin.
Hostinger Features and Specifications:
Automatic weekly backups (daily backups are a paid add-on)
24×7 customer support system
Free website migrations
Auto (one-click) installer for popular apps
PHP 7.2 support
You can easily pay with cryptocurrencies
Simple drag-and-drop page builder
Pricing starts at $1.39 per month
What we like
Fast loading server
Great 24×7 customer support
Accepts cryptocurrency payment
Very affordable
What we don't like
3 Months minimum billing cycle
No let's encrypt Installer
Limited customization
---
4. Bluehost Hosting (66% OFF)
Bluehost is a wonderful web hosting solution that has been up and running since 2003 with lots of happy customers.
The company offers a wide variety of services and is an ideal option for those who are just getting started with their WordPress site, and is one of the most affordable web hosting providers on the internet.
From a simple basic site to a full-fledged business website with thousands of visitors daily, Bluehost is a fantastic option.
Their servers offer robust stability because of their quality equipment, and there are low chances of getting stuck with them as they also have a reasonably active customer support team that'll always be there to render a helping hand.
If you are looking for simplicity, affordability, stability, and great support, then Bluehost is a good option, and I bet you'll be happy with their service.
Finally, Bluehost is giving out a massive 66% DISCOUNT on their WordPress hosting plans. Now, grab this great offer now while you still can.
Bluehost Features and Specifications:
Impressive customer support team
It's pretty much affordable
Free SSD and SSL certificate
Relatively fast loading server
Simple control panel (cPanel)
Pricing starts at $2.95 per month
What we like
Very affordable
All round the clock support system
You'll have access to up to five free email accounts on the basic plan
Regular backup (daily, weekly, and monthly)
What we don't like
Limited email storage
High renewal cost
---
5. A2 Hosting (72% OFF)
A2 Hosting is yet another reputable hosting provider that's indeed an excellent substitute to WPEngine.
In terms of page speed, it may interest you to know that A2 Hosting beat most of the other popular hosting solutions out there like Hostgator and Bluehost hands down.
Their Turbo Boost plan (which currently costs $6.99 per month) is the fastest of all their hosting plans. With this great hosting solution, you'll also enjoy free SSL certificate for all your websites as well as anytime money-back guarantee (which is pretty much amazing).
The most exciting thing is that they're currently offering a massive 72% DISCOUNT on all their hosting plans, this means that if you choose to use them right now, you'll be paying just $2.99 per month instead of the regular $10.99 per month for the basic (LITE) plan.
Even with the basic plan, you'll still enjoy the WordPress staging feature, which is needed for testing and modifying your websites.
Furthermore, their hosting plans come with 24×7/x65 guru crew support, and you can equally call them via their multiple toll-free numbers located throughout the world. Another exciting thing about A2 Hosting is that you can choose your preferred currency for payment.
Now, if you're searching for a good managed shared web hosting solution that you can choose in place of WPEngine, you can't go wrong with A2 Hosting.
A2 Hosting Features and Specifications:
Unlimited storage
Anytime Money Back Guarantee
Instant response from 24/7 customer support
9% Server Uptime Commitment
Free Account Migration
Best discount for all plans
Reliability with cloud hosting
Free website speed boosting CDN
FREE SSD & SSL Certificate
Unmetered Disk Space
1-CLICK 150+ Script Installs
WordPress extra built-in tools
Free premium page builders for WordPress
Pricing starts at $2.99 per month
What we like
Choose your preferred currency
Free SSL certificate on all plans
Excellent support system via email, support tickets, and phone
Money back guarantee for all packages or plan
What we don't like
High renewable cost
Offers Linux hosting only
---
6. FlyWheel Hosting (Enjoy 2 Months Free Hosting)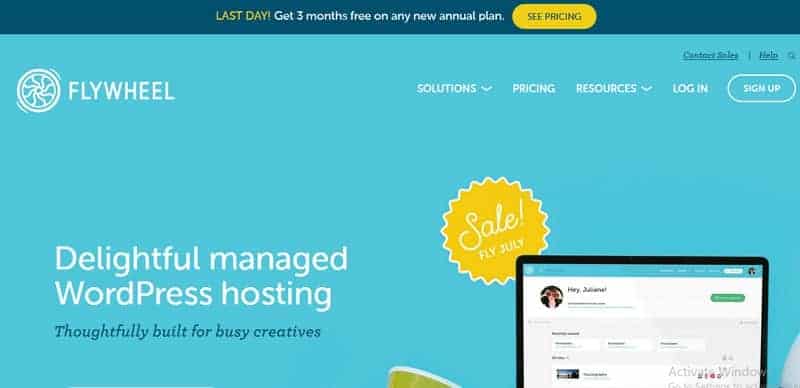 Flywheel is one of the web hosting solutions on the web that deliver swift support, fast loading speed, and overall solid performance for smooth functioning of websites.
With its free demo sites and ease of use features, it allows users to build a site from the ground up. In short, it is a reliable network that is highly optimized for speed, scale, and security.
Flywheel is a major WPEngine competitor, and all the plans come with free website migrations, free CDN and SSL certificates, etc.
Just like Kinsta and WPX, they equally offer great offsite backups, so you don't have to worry about regularly backing up your website.
Additionally, as a managed hosting solution, you need not border yourself about all the technical stuff involved in creating a website. The company will take care of all the security and updates, so you can run your online business without stress.
Flywheel also provides incredible customer support via email, live chat, and a helpline number that you can call via Hangouts or Skype for fast assistance.
Finally, Flywheel is an excellent alternative to WP Engine, and they offer much more value for money.
Flywheel Features and Specifications:
Free site migrations
Nightly database backups
One-click staging sites available on all plans
Free CDN
Free SSD and SSL certificate
Auto-healing technology offers instant fixes
Ability to white label services
Fast loading servers
Free malware clean up
Specifically designed for WordPress
Collaboration tools
Pricing starts at $13 per month (paid annually), or $15 per month (paid monthly)
What we like
Free Flywh​eel demo sites
Excellent customer support team
Clean and user-friendly interface
Great uptime
Free nightly backup
Easy client collaboration and billing options
What we don't like
They do not sell domains; you must always get your domains separately
Doesn't offer email hosting
---
7. HostPapa Web Host (Get 70% OFF Today)
Unlike all the already mentioned hosting solutions above, HostPapa is different because it is niche-oriented, and is more focused on dominating its niche with excellent service.
Basically, HostPapa is an American hosting company that provides quality hosting services for startups and small business owners within the United States.
They typically offer shared hosting, reseller hosting, and VPS hosting and a bunch powerful features designed to attract small business owners easily.
Judging by their cheap hosting prices, Hostpapa is indeed a perfect substitute to WPEngine, just give them a try and see for yourself.
Finally, Hostpapa is currently offering a 70% DISCOUNT on their hosting plans so you can save more on hosting.
Hostpapa Features and Specifications
24/7 customer support
Free website migration
cPanel (Control Panel)
Free domain privacy
SiteLock detect
Free Cloudflare CDN
30-day money back guarantee
Hosting pricing starts at $2.95 per month
What we like
Free SSL certificate
Free site migration on all plans
Free domain after registration
24×7 customer support via live chat, email, and phone
What we don't like
Browse More:
---
8. iPage Hosting (Enjoy 75% DISCOUNT Today)
Founded by Thomas Gorny in 1998, iPage's initial goal was to be a complete web hosting solution. But the company put its business on hold in 2000 and was later re-introduced in 2007 as a 100% web hosting provider with its office in Burlington and 2 data centers in Boston, MA.
iPage is an awesome web hosting solution that's mainly targeted at small business owners who want to venture into the e-commerce industry.
Apart from offering customers unlimited disk space, unlimited email addresses, and a free domain name, iPage also has a bunch of good features that will help you to easily develop your website without any experience.
They have hundreds of pre-built website templates and themes which you can choose from, and you can also decide to use their mobile-optimized website builder.
Furthermore, another great feature that's really appealing to small businesses is the ability to seamlessly implement e-commerce add-ons such as shopping carts, PayPal integration, etc.
iPage also works very well with any of the commonly used Content Management Systems such as WordPress, Joomla, and Drupal.
iPage is also one of the numerous web hosting solutions owned by the EIG group, and is now a recognized web hosting brand, and is currently hosting over one million websites across the world.
Finally, iPage is also giving out up to 75% DISCOUNT on their hosting plans today, and you wouldn't want to miss this crazy offer.
iPage Features and Specifications:
Unlimited disk space
Unlimited email accounts
Free domain name
Free website building tools and templates
100% powered by wind energy
Scalable bandwidth
Daily spam and malware scans
Easy installation of apps such as WordPress and b2evolution
Great uptime
Pricing starts at $1.99 per month
What we like
Responsive support systems via chat, email, and phone calls
Cheap hosting solution
Free SSL Certificate
Security suite with marketing tools
What we don't like
Read More Hosting Alternatives:
Best GoDaddy Hosting Alternatives for 2023
Best Bluehost Hosting Alternatives for 2023
DigitalOcean Alternatives for 2023
Best DreamHost Alternatives and its Competitors
Best SiteGround Alternatives for 2023
---
Summary of WPEngine Competitors
WPEngine is undoubtedly a dominant and robust web hosting provider. However, their pricing plans are pretty much expensive and are obviously not a good option for many people.
Now, whether you are turned off due to their high cost or because of their various restrictions, you still have lots of wonderful alternatives to look at. All the most potential competitors of WP Engine listed on this post are indeed great, you just have to check their individual features and then pick the one that's most suitable for your needs.
The question now is, can you enjoy similar features of WPEngine from the other managed hosting services here at cheaper rates? And the answer is YES! There are plenty of cheap WPEngine alternatives that offer nearly all the features.
Carefully examine all these alternatives and then choose the one that's best for you. However, I highly recommend WPX hosting, Kinsta, and Hostiner as the closest alternatives to WPEngine among the list.