Bluehost India Review
INR 169
Review Summary
Bluehost India is a local arm of Bluehost International that offers affordable hosting products. Its pricing starts at just ₹169 with Free Domain. You will get excellent customer service and a risk-free 30 days money-back guarantee. In our review, we found it an excellent player that delivers great speed and uptime.
Have you ever heard about Bluehost India?
Yes, Bluehost has launched its Indian arm and we are going to cover everything about it in this Bluehost India Review.
In this review, we are going to talk about:
Bluehost India,
Its pros and cons,
Bluehost India Plans ,
Bluehost Performance & Speed,
Bluehost Alternatives,
Bluehost India Customer Care
And Many Other Things
If you are from India and looking forward to a reliable host that is affordable and comes with a lot of local payment options, this article is for you.
Bluehost India Review 2023 – A Quick Summarized Version with Pros & Cons
Quick Note: We have compiled a "Bluehost India Review 2023 Table" for your convenience.

In it, you will find our thoughts on Bluehost summarized in an easy-to-read format. The table has been updated with the latest pricing, discounts, coupons, and other crucial information.

We hope this saves you some time and provides you with the information you need to make an informed decision about Bluehost.
Bluehost India Review 2023:
Pointers
Bluehost India Review
Pricing of Bluehost India
Starting from just ₹169/month.
Free Perks
30 days free hosting, Free Domain name, and Free SSL.
Hosting Types
Bluehost India provides different web hosting plans like Shared, VPS, Dedicated, and WordPress hosting. So whether you need basic shared hosting or powerful dedicated server-based hosting, Bluehost won't disappoint you.
Performance & Uptime
Bluehost India's Performance is top-notch. Based on our test, here we found:
Average 30 days uptime: 99.98%
Average Server Response Time: 16ms (GTMetrix)
Average Website Loading Speed: 427 ms (Pingdom)
Refund Policy
The 30 day money-back guarantee is totally risk-free.
Security
Bluehost India is secure. We have found almost all essential security-related features here. 2 million customers are proof of Bluehost's reliability.
Backup
Daily automated backups through third-party tools ensure website speed won't be affected at any cost.
Customer Care
We have received a response from the Bluehost India customer support agent in less than 1 minute. No problems here.
Migration Facility
Simple & free through WordPress plugin
Data Centers & Server Locations
India-based data centers are available. The major benefit of Bluehost India for Indian website traffic.
Bandwidth and Storage
Unmetered
Payment Options
Apart from the common payment option, Bluehost Supported UPI – Perfect for Indian users. Competitors like GoDaddy & Hostinger lack here.
Bluehost Pros: Why Should you choose Bluehost India
A few reasons why you should choose Bluehost India:30 Days Money Back Guarantee, Affordable hosting plans, India located Data center, Beginners Friendly, and Extremely fast customer support.
Bluehost Cons: Things Which Bluehost India has to Improve
Bluehost doesn't support Windows servers, Migration of more than 1 site involves charges.
Bluehost India Review Verdict: Should We Recommend Bluehost?
Yes, we definitely recommend Bluehost India.

The thing that I like most about Bluehost is that they have a very user-friendly interface. You can easily install WordPress on your website without any problems.

Another thing that I like about Bluehost is that it's one of the cheapest hosting companies out there, so it's great if you're on a tight budget. Plus these guys are offering a 30-day free trial on web hosting. So no risk at all.

Finally, their strong backup system (through code guard) excites us the most. Most web hosts use their own server resources for performing backup which impacts the loading speed badly. However, with Bluehost India, this won't be a concern.

Overall, I would say Bluehost is a good choice for anyone looking for an affordable web host!
---
What is Bluehost India – Overview
Bluehost India has been a leading hosting company in the world since 2003. Founded by Matt Heaton, today it is on the list of the 20 largest web hosting companies. In 2010, EIG Group acquired Bluehost. And currently, Bluehost is dealing with all kinds of hosting servers.
There are more than 2 million users of this company and this company provides some comprehensive tools to their new clients by which they can host the web easily.
Bluehost is one of the best choices for WordPress blogs and is recommended by WordPress itself.
It is one of the few brands which always takes care of their clients with best-in-class 24×7 customer support.
There are more than 750 employees who are helping the customers over the call or chat as and when it is needed.
Bluehost.in vs Bluehost.com
There are a few key differences between Bluehost.in and Bluehost.com.
First, Bluehost.in is geared towards customers in India, while Bluehost.com is geared towards customers in the United States. In other words, if your audience mainly belongs to India, Then Bluehost India would give your visitors a better loading time and response time.

Second, Bluehost.in offers a slightly cheaper price point than Bluehost.com.

Finally, Bluehost.in provides 24/7 customer support in Hindi and other local languages, while Bluehost.com only provides 24/7 customer support in English.
Bluehost India Features Breakdown:
Bluehost India is one of the most popular web hosting providers on the market. They offer a wide range of features that make them a great choice for any website owner. Some of their most popular features include:
Upto 99% Uptime
Inbuilt drag and drop builder for website design
Free Migration for 1 website
Free domain name for 1 year
Unmetered bandwidth & storage benefit
24*7 Customer support in Indian popular local languages
30 days money refund policy
eCommerce website-friendly web hosting is also available
Cloudflare CDN is inbuilt
Malware scanning, Spam protection & other security features are inbuilt
Daily backups benefit.
Excited? Let us discover more about its plans, advantages, performance, etc in this Bluehost review India.
---
Bluehost India Speed and Uptime Test
To check the speed and uptime of the Bluehost, we used several renowned tools like Pingdom and GTMetrix.
We tested the test website that is hosted on Bluehost.
How We Checked The Bluehost's Uptime?
We used a tool called Pingdom and checked HTTP resolution every minute. As you can see in the snapshot below, the latest uptime report of last month shows 99.98% Uptime.
As per the industry, this is one of the best performances you can expect practically.
How We Checked Bluehost's Page Load Speed?
Page load speed is a critical factor in your search engine rankings. Not only that, but it also affects your user experience.
We tested a live site hosted on Bluehost using Pingdom.
Pingdom is one of the best tools to test the speed of your website from multiple server locations and gives you an accurate result.
So, when we tested our site from Washington's server locations, we saw that the full page, which is around 1.3MB, was loaded in just 427ms (response time), which is really very fast.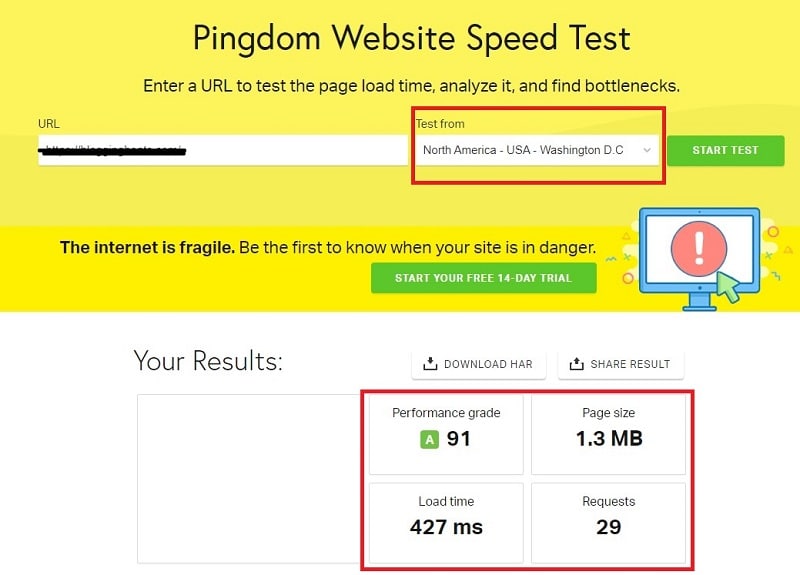 Quick Note: We have tested the page speed without using any caching plugins on our Bluehost India hosted website. Bluehost performed extremely well without caching plugins. The results will be better if we plug in caching plugins like WP Rocket or W3 Total Cache on our WordPress site.
And when we tested the same site using GTMetrix from Canada, the result was A Grade, and the performance was 94%, LCP 1.1s, which is amazing.
So, by performing these speed and uptime tests of Bluehost, we can say for sure that it is really one of the best web hosting providers in India in terms of Speed and Uptime.
---
Words on Bluehost Hosting Plans & Pricing (India)
Bluehost India is one of the largest web hosting platforms that offer a full bouquet of plans for its clients, be they a newbie or a pro bloggers.
Bluehost India offers web hosting plans for all user needs, starting from Shared, VPS, Dedicated, Woocommerce, and WordPress hosting.
Here is the overview of Bluehost India pricing:
| Bluehost Hosting Types | Our Verdict | Pricing & Plans (India) |
| --- | --- | --- |
| Bluehost Shared Web Hosting | Go for Shared web hosting especially when the budget is concerned and web traffic is low. Perfect for beginners. | Starts with ₹169/m. Bluehost India is giving a 30 days trial on shared web hosting. Claim it now |
| Bluehost WordPress Hosting | Perfect for WordPress starters. Here WordPress will be installed automatically – The only main difference compared to shared hosting | Starts with ₹169/m |
| Bluehost Managed WordPress Hosting | Perfect for Big websites. The SSD based server & disk servers are major perks here. Plus the backend part will be managed by the Bluehost team. | Starts with ₹1,259/m |
| Bluehost VPS Web Hosting | Perfect for those who are not willing to share CPU and Ram with others. Plus by getting root access, any kind of web application can be installed here. | Starts with ₹1,649/m |
| Bluehost Dedicated Server Hosting | Here, The complete server resources will be allocated to one website. So if your website hits enormous traffic monthly and high performance is your goal, then Bluehost India dedicated servers should be your first pick. | Starts with ₹8,499/m |
| Bluehost WooCommerce Hosting | Perfect for starters shop owners who are willing to build their online store with a WordPress WooCommerce plugin. The WooCommerce plugin will come pre-installed in this Bluehost hosting type. | Starts with ₹449/m |
Bluehost India Plans – The Comparison
---
Bluehost India Shared Web Hosting
Do you know what is shared hosting? Shared hosting is a type of web hosting in which users are provided with a server that is used by multiple users or websites. Hence, this is one of the cost-effective solutions for new or low-traffic sites.
Shared hosting is good for those people who are beginners, or who just own a small business with fewer visitors.
If your resource requirement is low, you should begin with this plan and consider an upgrade later.
Bluehost India divided its shared hosting offers into four variants:
Basic Shared Web Hosting
Plus Shared Web Hosting
Choice Plus Shared Web Hosting
Pro Shared Web Hosting
For your ease, Let's just compare them in a table together with the price.
| Bluehost India Shared Hosting Plans Features | Basic | Plus | Choice Plus | Pro |
| --- | --- | --- | --- | --- |
| Price | ₹169/m | ₹279/m | ₹279/m | ₹479/m |
| Website | 1 | Unlimited | Unlimited | Unlimited |
| SSD storage | 50GB | Unlimited | Unlimited | Unlimited |
| Bandwidth | Unmetered | Unlimited | Unlimited | Unlimited |
| SSL certificate | Free | Free | Free | Free |
| Domain | 1 | Unlimited | Unlimited | Unlimited |
| Parked domain | 5 | Unlimited | Unlimited | Unlimited |
| Subdomain | 25 | Unlimited | Unlimited | Unlimited |
| Free Domain | Yes | Yes | Yes | Yes |
| Malware Scanning | Yes | Yes | Yes | Yes |
| Cloudflare Free CDN | Yes | Yes | Yes | Yes |
| Yoast SEO Optimizer | No | Yes | Yes | Yes |
| Free Domain Privacy | No | No | Yes | Yes |
| Free Daily Backup (Codeguard) | No | No | Yes | Yes |
What did we find in Bluehost India's Shared Hosting Review?
There are 4 variants starting at just ₹169. All of these plans are available with Free Domain, SSL, and no Bandwidth cap. Except for the entry level plan, all plans allow you to host multiple websites.
Bluehost ensures that your sites are scanned for malware daily by "SiteLock".
Also, all shared hosting plans are scalable, which means you can easily switch to higher plans without any downtime.
---
Bluehost India VPS Web Hosting
VPS (Virtual Private Server) provides you with servers that are virtually dedicated to you. In this type of server, you will get a virtually split slice of RAM and CPU for better performance.
As the name says, Private, all the resources in the VPS servers are used by you exclusively and no other user can use your resources.
In other words, You will have your dedicated RAM, CPU, and your operating system.
Bluehost India offers you three categories for VPS Web Hosting:
Standard VPS Web Hosting
Enhanced VPS Web Hosting
Ultimate VPS Web Hosting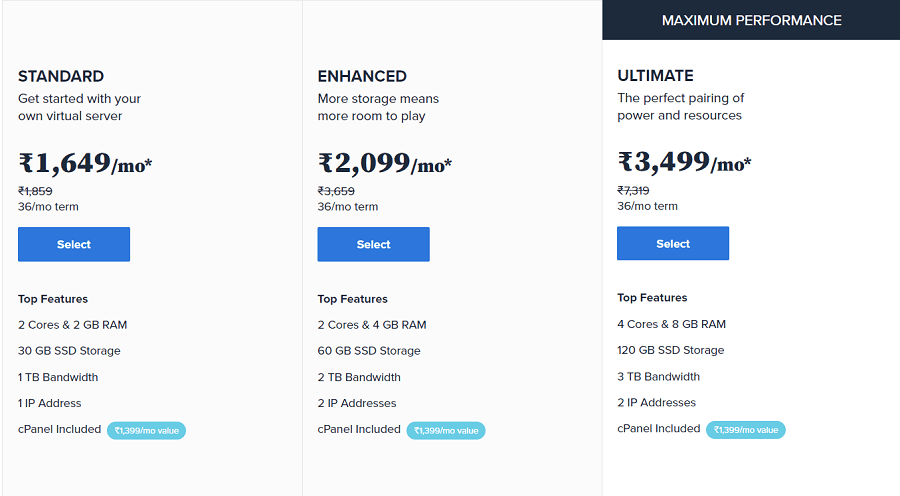 Want a quick comparison? Here is the comparison table for all three VPS plans of Bluehost India:
| Bluehost India VPS Hosting Plans Features | Standard VPS | Enhanced VPS | Ultimate VPS |
| --- | --- | --- | --- |
| Cost | ₹1,649/m | ₹2,099/m | ₹3,499/m |
| Cores | 2 | 2 | 4 |
| SSD storage | 30GB | 60GB | 120GB |
| Bandwidth | 1 TB | 2 TB | 3 TB |
| IP address | 1 | 2 | 2 |
| RAM | 2GB | 4GB | 8GB |
What did we find in Bluehost India's VPS Hosting Review?
Bluehost VPS plans start from ₹1,649 per month and offer you Free Domain as well. You will get either 1 or 2 Dedicated IPs as well depending upon the plan. A Dedicated IP means better security and site stability.
One of the few hosting that is giving you a 30 days money-back guarantee. If you want to buy more servers, then with the help of multi-server management you can manage all the servers from one place.
---
Bluehost Dedicated Web Hosting
It is web hosting where you buy a dedicated physical server. In this type of web hosting, you have your own physical server, you don't have to share RAM, CPU, and Storage. It's yours completely and you have full root access.
Having your personal dedicated server means high speed, the fastest performance, great security, and premium customer support.
Bluehost India offers three Dedicated Server plans:
Standard Dedicated Web Hosting
Enhanced Dedicated Web Hosting
Premium Dedicated Web Hosting
| Bluehost India Dedicated Hosting Plans Features | Standard | Enhanced | Premium |
| --- | --- | --- | --- |
| Cost | ₹8,499/m | ₹10,499/m | ₹11,999/m |
| Cores | 8 | 8 | 8 |
| SSD storage | 500GB | 1 TB | 1.5 TB |
| RAM | 8GB | 16GB | 30GB |
| Bandwidth | 5 TB | 10 TB | 15 TB |
| IP address | 3 | 4 | 5 |
| cPanel | Yes | Yes | Yes |
What did we find in Bluehost India's Dedicated Hosting Review?
Dedicated Hosting is the best solution for heavy-traffic sites. You can handle any type of workload with the help of powerful configurations which include the power of DDR4 memory, SSD storage, and Xeon D processor.
Openstack is the latest open-source technology that is used by each server. It helps the server in improving their performance and provides extreme speed.
Improved cPanel allows you to manage all of your websites, domains, Emails, resources, and more from one central location.
If you are an advanced user and you know how to operate a server, this hosting is highly recommended. Full root access with a choice of Operating system is an added advantage with this hosting type.
---
Bluehost India Managed WordPress Hosting
If you are running a WordPress-powered blog, then Bluehost India can be the best option to choose for WordPress hosting.
Bluehost has a powerful WordPress solution that is known as "Managed WordPress Hosting" and they call it "WP Pro".
It includes daily scheduled Backups, a marketing center, 100+ WordPress themes along with Free malware removal.
A Few of the features of WordPress hosting (WP Pro) by Bluehost are:
Bluehost's WordPress hosting itself installs the latest and most secure version of WordPress automatically and also makes your account up to date.
Provide Free Domain for 1 year.
Daily Backups
Jetpack Site Analytics
Bluehost Reviews and SEO Tools
Now we will look into the plans for WP Pro or Managed WordPress hosting.
Bluehost India divided its Managed WordPress hosting into three different plans:
Build Managed WordPress hosting
Grow Managed WordPress hosting
Scale Managed WordPress hosting
| | | | |
| --- | --- | --- | --- |
| Bluehost India Managed WordPress Hosting Plans Features | Build | Grow | Scale |
| Cost | ₹1,259/m | ₹1,859/m | ₹3,059/m |
| JetPack | Basic | Premium | Pro |
| SSD storage | Unlimited | Unlimited | Unlimited |
| Domain | Free | Free | Free |
| Free SSL | Enabled | Enabled | Enabled |
| Daily Scheduled Backups | Yes | Yes | Yes |
| Free SEO Tools | No | Yes | Yes |
| Video Compression | No | 10GB | Unlimited |
What did we find in Bluehost India's Managed WordPress Hosting Review?
Marketing Center is like a monitor that checks your performance quickly and allows you to see your traffic.
Providing Unlimited Domains, Unlimited Websites, Unlimited Sub-domains, Unlimited Web storage, and provides No-traffic limits.
Provide you Staging (testing environment), through which you can test your site before going online and you can remove the bugs and errors. Not only this, you can change the limitations of your site.
Advanced features like daily backups, Jetpack ads, and analytics, SEO tools, and WordPress optimized platform.
---
Bluehost India Security & Backup Review
Bluehost India Security:
Bluehost is one of the most popular web hosting providers in the world. But is it really secure? Let's take a look at Bluehost's security features to find out:
SSL
2FA
IP Addresses removal
Regular Automated Malware Scanning using SiteLock
Spam Protection
More
First of all, Bluehost uses a powerful security protocol called SSL (Secure Sockets Layer). This protocol encrypts all data that is transmitted between your browser and the Bluehost servers. So, even if someone were to intercept your data, they would not be able to read it.
In addition to SSL, Bluehost also uses a number of other security measures to keep your data safe. For example, they have a strict policy of not sharing your personal information with any third party. They also have firewalls in place to protect their servers from hackers.
Overall, Bluehost is a very secure web hosting provider. They have multiple layers of security to protect your data, and they have a good track record of keeping their customers' data safe.
Bluehost India Backup:
Bluehost India has integrated with Codeguard to enable users a daily backup functionality. However, the daily automated backup benefit is only available in Choice Plus & Pro Plans.
Quick Note: Because of Codeguard integration, the backups will be made externally and there won't be a load on the website. Hence no effect on website loading speed – A major plus point of Bluehost India.
For basic and plus plan users, Users have to create their own backup from the cPanel – We have verified this from Bluehost India Customer Support.
---
How Good is Bluehost India Customer Support & Migration Service
Bluehost Support India Options:
24*7 Live Chat in multiple India local languages (Hindi, Kannada, etc)
Phone Support (24*7)
Quick Note: The Bluehost India Customer Care Number is 1800-419-4426
Quick Note: We have tested Bluehost India Chat support. The response rate is extremely fast. Their customer support team replied back to us in a few seconds.
Bluehost India Migration Service:
As per the current Bluehost policy, users can migrate 1 website to Bluehost absolutely free of cost. All can be done with the help of Bluehost free migration plugin – No technical hassle involved.
For any migration-related assistance, you can contact these numbers:
1800-419-4426
+912271221644.
Or, you can chat with Bluehost India agent.
---
Review of Bluehost India User Interface, Website Builder
Bluehost.in User Interface (cPANEL)
Well, the Bluehost user interface has divided into 2 sections: Basic and advanced (cPanel)
In the basic or main dashboard, options like marketplace, Emails & Office, domains, etc are accessible. This is the dashboard designed especially for beginners who don't want to mess with cPanel and advanced hosting configuration.
In a nutshell, an overview of the number of sites, updates, plugins installed and other basic information can be accessed from here.
The cPanel is accessed by tapping the advanced button:
Bluehost cPanel is a powerful web hosting control panel that allows you to manage your website and server from one place. It has a number of features such as:
Security – Bluehost's security layer protects you from hackers, viruses, malware, and other threats.
Ease of Use – With Bluehost's cPanel, you can add new websites in minutes.
Features – The cPanel comes with many features such as FTP access, MySQL database management, email accounts, domain names, and more.
Bluehost Builder Review
The Bluehost website builder used to be included in shared hosting and other plans. But now, the website builder is included in a separate Bluehost hosting called "WordPress Builder" (Started from ₹169/mo).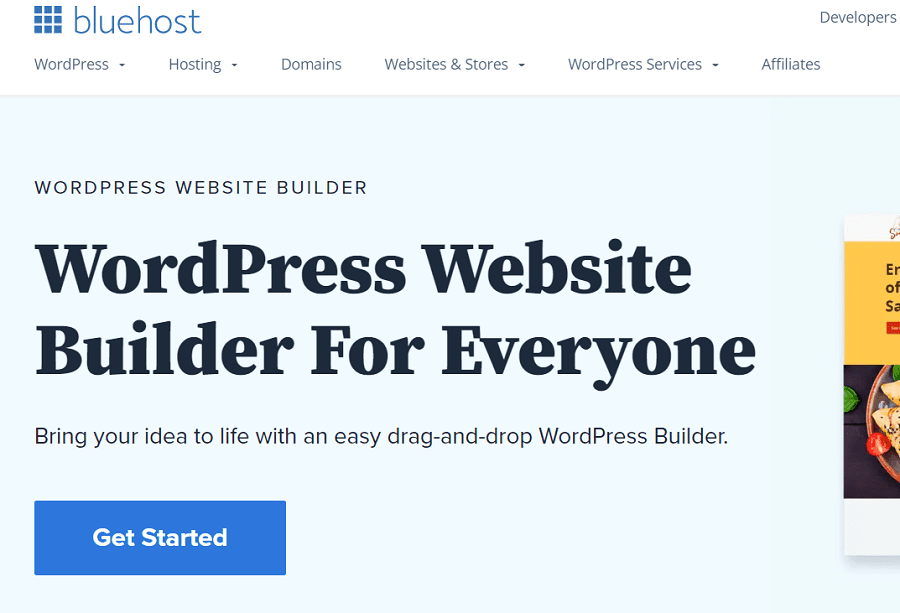 Basically, Bluehost WordPress Website Builder helps you create eye-catching websites faster and easier than traditional website tools. Some of the best features are:
AI-Based themes included.
Drag & Drop editing.
Mobile editing support.
1- Click WordPress access – Directly editing through the WordPress admin panel
Custom CSS
Access to premium stock images
More…
---
Bluehost India Data Centers & CDN Review
Does Bluehost have a data center located in india? – A Big Yes.
So if your audience is located in India, then hosting a website with Bluehost India will provide them an extra speed boost. High website loading speed leads to high core web vitals score – Meaning Top Rankings in SERP.
But what about the USA or other countries audiences?
Well, if you own the Bluehost India based data center hosting, then speed will affect other countries. But not anymore. Because Bluehost has a Cloudflare CDN inbuilt integration which ensures maximum performance regardless of the location of your reader.
---
How to Start a Blog with Bluehost India in 2023
Starting a blog or website with WordPress is as easy as purchasing a product from a shop.
When you are going to start a blog with Bluehost, there are a few steps that you need to follow with Bluehost India:
Step 1: Click This Link to Visit Bluehost India Website.
Step 2: Choose a web hosting and select a particular plan for you.
Step 3: Next, when you select a plan for yourself, then click on the "Select" button and go ahead.
Step 4: Next step is to select a domain, if you already have a domain, then you can choose that one, or else you can purchase a new domain.
Step 5: When your searched domain is available you will see a success message that your domain is available, and then you have to login or signup.
Step 6: After this, you will be asked for the Account Information or you can say the billing information, you have to fill in all required details.
Step 7: Here is the time to choose the time period of the plan. [See image below].
Step 8: Now, Bluehost India offers you some addons that may help you. You can choose the selected extras and package that you want to buy with your hosting.
Step 9: Here, you have to agree with the Terms and Conditions of Bluehost India and click on Submit button.
Step 10: Now, you have to choose the Payment Method, and go ahead.
So you will be paying INR 7603.92 for the Basic Hosting Plan where you can host one website and will also get a free domain for one year.
So this is how you successfully purchased Bluehost India's web hosting.
---
Alternatives to Bluehost India
If you are still confused or looking forward to exploring more options, then here we are recommending some of the best alternatives to Bluehost India. (The complete list of Bluehost alternatives is mentioned on our separate blog.)
1. Namecheap
Namecheap is a reliable host that starts at just ₹179.41/m only.
Namecheap is providing Unlimited bandwidth, a Website Builder, a free domain, SSL installation, 30 days Refund Policy, and 24/7 support.
2. Hostinger
Hostinger is a well-known web host that is offering its web hosting services at just ₹63/month (use coupon ANILAGARWAL). Learn more in Hostinger Review.
It provides you a Business Email account, a free SSL certificate, managed WordPress, and MySQL Databases, 30 days of the money-back guarantee, and 24/7 customer support.
3. Hostgator
Hostgator is the third best alternative to Bluehost which starts offering its services at just ₹79/month.
Hostgator is providing Unmetered Disk Space, Lightening-fast Indian servers, 24*7 Customer Support, Unmetered Bandwidth, Guaranteed 99.9% Uptime, 45-days of a money-back guarantee, provides Free Domain, Unlimited Databases, Free SSL, etc.
Read More:
---
FAQs About Bluehost India
Does Bluehost have servers in India?
Yes, Bluehost has a dedicated data center in Mumbai, India.
Can you register a domain name through Bluehost India?
Yes, Bluehost India also deals with domains. Either you can purchase a domain separately or claim it for free by purchasing any of the web hosting plans.
Is Bluehost good for beginners?
Yes, Bluehost is a web hosting company that allows beginners to install WordPress with just one click. All their hosting plans are affordable for new sites, starting pricing is just ₹169. Bluehost is providing a free SSL, domain name, and 24/7 customer support.
Is Bluehost good for India?
Bluehost offers the best website security, the fastest server, and great uptime. When we tested our dummy site (which is hosted on Bluehost), we found great results on critical parameters like speed and uptime [99.97%]. So yes, Bluehost is the best option for India.
Can Bluehost be trusted?
Bluehost exists since 2003 and caters to over 2 million sites. Excellent customer service record with easy-to-use platforms, knowledgebase, and options for third-party integrations makes it a go-to solution. Its products are made for beginner as well as a pro users.
If you don't like their services and features, then you can claim your money-back guarantee within 30 Days.
Do other people recommend Bluehost?
Based on the Bluehost India reviews available on popular sites including trustpilot, G2, etc it can be concluded that Bluehost is popular on the internet and a lot of existing users are recommending it.
Which Bluehost India Plans are the best?
Choice plus & pro plans are the best because they included free automated daily backup benefits.
Where can you learn more about Bluehost cPanel & configuration?
Bluehost India has hundreds of videos + written tutorials on its site. You can access them anytime for free.
Browse More:
Conclusion: Bluehost Review India
There are a few reputed and trusted web hosting companies in this world and Bluehost is one of them. It is good for both newbies and pros.
Bluehost needs no other recommendation as it is recommended by WordPress itself. Talking about the level of trust, it is used by over 2 million customers worldwide.
If pricing is a consideration, we found it a great value for money with all essentials as freebies.
Bluehost is a brand that is recognized for its customer service round the clock, you can connect through chat or call.
In the end, We hope you will find this Bluehost India review 2023 a useful guide in choosing the right host for you. If you have any queries or suggestions regarding this article, please feel free to ask using the comments section below.