HostArmada Review 2023
Summary
Though HostArmada is a new name in the hosting industry, still they are doing a commendable job with their web hosting services. Fully featured innovative cloud web hosting solutions that facilitate you with enhanced speed, security, and stability are available at just $2.99/mo. We found HostAramda beyond our expectations in every segment whether it's pricing, performance, or support. So, you can grab their services without thinking twice!!
Being a pioneer in web hosting solutions we always remain curious to know what's happening in the world of web hosting.
So today, we have decided to present you with the latest HostArmada Review 2023.
HostArmada is a fairly new face in the web hosting industry, founded at the end of 2019.
As there are a lot of reliable web hosting service providers in the market, it becomes pretty tough for a start-up company to get noticed in such a vast field.
But, HostArmada is doing exceptionally well and managed to show a strong presence for being a reliable provider already.
Their strong reputation made us hands-on with the services they offer so that we can help you to analyze how good they are for an end-user.
So hereby, presenting you with a detailed review of HostArmada, revealing all the positive and negative aspects associated with its web hosting services.
Without further ado, let's dive in.
HostArmada Overview
HostArmada is the US based independently funded, privately owned web hosting company run by experienced captains.
It was launched in the last quarter of 2019 with the sole purpose to provide fast, secure, and reliable web hosting services.
Now they are one of the fastest-growing companies in the web hosting universe.
Their innovative and creative approach to web hosting solutions made them achieve all this.
Customer satisfaction is their topmost priority and that is the reason their every service goes through the 10 levels of QA before being released to its customers.
Before going into the details of the hosting services they offer I want to let you know a few Guarantees for Every Product they provide.
At HostArmada, It does not matter which web hosting package you would go with, you will be facilitated with a few necessary guarantees to ensure their reliability!
1. No Cancellation fees
In case you don't like their services for any reason, you can cancel your subscription at any time and you will not be charged any fee for doing so.
2. Free Website Migration Service
A FREE one-time transfer service for your website is also included with HostArmada's every package.
So if you already have a website running on any other host, you can move it to the HostArmada servers hassle-free.
3. Up to 45 Days Money Back Guarantee
HostArmada has an extended money-back period of 45 days while most of the other web hosts offer 30 days money-back guarantee.
So you can test and explore their services in no hurry.
4. 99.9% Uptime Guarantee
Here at HostArmada, they ensure that all their customers' websites get an optimal uptime of 99.9%.
For me, all these features (especially no cancellation fees) make HostAramda a perfect choice for a novice to start its online venture.
So now let's explore what services do they provide?
---
HostArmada Web Hosting Services
HostArmada offers a vast range of feature-loaded, fast, reliable, and stable hosting services.
Whether you are a beginner looking for affordable hosting solutions or one who is looking for a scalable solution for your fast-expanding business, they have got you covered.
Their hosting services are divided into three broad categories.
1. SSD Shared Hosting On the Cloud
2. SSD VPS Hosting On the Cloud
3. Dedicated CPU Server Hosting
Though, you will see a number of other hosting listed (WordPress Hosting, Open Source Hosting, Development Hosting) on their official website.
All of them are almost the same as the shared hosting, just optimized for specific web applications.
So here, we will be talking about the three broad categories in detail.
Shared hosting is the most affordable and widely used type of web hosting.
HostArmada's shared hosting is full of features and assembled with attention to the very last detail.
HostArmada Shared Web Hosting Plans
Like most of the other web hosts, HostArmada also offers 3 standard plans for its shared hosting.
1. Start Dock ($2.99/mo)
This is the entry-level plan where you can host 1 website allocated with 15 GB cloud SSD storage and unmetered bandwidth, starting at only $2.99 per month.
That makes it the best plan for those who are going to start their brand new online journey.
Features:
1 Website
15 GB Cloud SSD Storage
2 Cores CPU
2 GB RAM
Unmetered Bandwidth
FREE Domain Register/Transfer
~10 000 Unique Visitors
7 Daily Backups
Default Hosting Perks
Launch Perks
2. Web Wrap ($4.49/mo)
This is the mid-level plan, well suited for those who are looking forward to extending their website availability.
It will cost you $4.49 per month that allows you to host unlimited websites with 35 GB cloud SSD storage and unmetered bandwidth.
Features:
Unlimited Websites
30 GB Cloud SSD Storage
4 Cores CPU
4 GB RAM
Unmetered Bandwidth
FREE Domain Register/Transfer
~60 000 Unique Visitors
14 Daily Backups
Default Hosting Perks
Launch Perks
Warp Features Perks
3. Speed Reaper ($5.39/mo)
This is the most advanced plan, best for established web geeks who want to improve the loading speed of their website.
In this plan, you will get 40 GB cloud SSD storage and unmetered bandwidth that will cost you $5.39 per month.
Features:
Unlimited Websites
40 GB Cloud SSD Storage
6 Cores CPU
6 GB RAM
Unmetered Bandwidth
FREE Domain Register/Transfer
~120 000 Unique Visitors
21 Daily Backups
Default Hosting Perks
Launch Perks
Warp Features Perks
Speed Reaper Perks
Dynamic Caching
Apart from HostArmada shared hosting, you may also subscribe to –
Managed WordPress Hosting (Fast, reliable and secure Cloud SSD Web Hosting Packages for your WordPress website)
Open Source Hosting (Optimized for the most used Open Source scripts)
Development Hosting (Enhanced website development environment with rich tools like PHP Dev Tools, NodeJS Dev Tools, Python Dev Tools, and other Dev tools)
Plans for these web hosting types are the same as the plans we covered for the shared hosting.
So you can subscribe to any of these web hosting plans.
We cannot go ahead without highlighting some of the reasons which make their Managed Shared Cloud SSD Hosting awesome?
Benefits of using HostArmada Cloud Shared Hosting
1. 1-click Application Installer
2. Automatic Daily Backups
3. Web Server Cache
4. Managed Web Hosting Service
5. SSD Cloud Storage
6. Easy to pilot service with cPanel
7. 24/7 Technical Support
8. Tight Website Security
Now let's discuss the advanced type of hosting services you can get at HostArmada.
---
2. Managed Cloud SSD VPS Hosting
VPS hosting is an advanced type of web hosting that offers better control over the hosting server.
With HostArmada VPS hosting, you will get unlimited control and redundant Cloud powering one scalable solution that will help you to take your online business to the next heights.
HostArmada VPS Hosting Plans
For VPS hosting, HostArmada offers four Innovative, powerful, and reliable plans you can choose from based on your needs.
1. Web Shuttle ($41.21)
This is the basic plan that will give you access to VPS with 50 GB SSD Storage and 2 TB Bandwidth.
Features:
50 GB SSD Storage
1 Cores CPU
2 GB RAM
Network Specifications
2 TB Bandwidth
40 Gbps Speed In
2000 Mbps Speed Out
2. Web Voyager ($48.71)
This is the little upper plan that will give you access to VPS with 80 GB SSD Storage and 4 TB Bandwidth.
Features:
80 GB SSD Storage
2 Cores CPU
4 GB RAM
Network Specifications
4 TB Bandwidth
40 Gbps Speed In
4000 Mbps Speed Out
3. Web Raider ($63.71)
This plan will give you access to VPS with 160 GB SSD Storage and 5 TB Bandwidth.
Features:
160 GB SSD Storage
4 Cores CPU
8 GB RAM
Network Specifications
5 TB Bandwidth
40 Gbps Speed In
5000 Mbps Speed Out
4. Site Carrier ($101.21)
This is the most advanced plan where you can enjoy VPS with 320 GB SSD Storage and 8 TB Bandwidth.
Features:
320 GB SSD Storage
6 Cores CPU
16 GB RAM
Network Specifications
8 TB Bandwidth
40 Gbps Speed In
6000 Mbps Speed Out
Every VPS plan also includes the following utilities
Daily Backups
cPanel
Nginx Web Service
Benefits of using HostArmada Cloud VPS Hosting
Full ROOT Level of access on demand
Cloud SSD Technology for 99.9% Uptime
24×7 Technical Support
---
3. Dedicated CPU Cloud Servers
This is the most advanced type of hosting type that allows you to host your site on an individual server dedicated especially to your site.
HostArmada dedicated hosting is based on a redundant Cloud SSD platform where you can enjoy unmatched website performance!
HostArmada Dedicated Hosting Plans
1. Armada DS – LIFT OFF ($111.75/mo)
In this plan, you will get 4 Cores CPU, 160 GB Cloud SSD Storage, 8 GB RAM, and 5 TB Bandwidth.
2. Armada DS – Low Orbit ($156.75/mo)
This plan will facilitate you with 8 Cores CPU, 320 GB Cloud SSD Storage, 16 GB RAM, and 6 TB Bandwidth.
3. Armada DS – Low Orbit ($246.75/mo)
In this plan, you will get 16 Cores CPU, 640 GB Cloud SSD Storage, 32 GB RAM, and 7 TB Bandwidth.
Along with HostArmada Dedicated hosting, you will also get the following FREE Goodies
cPanel/WHM Control Panel
NGINX Web Server
Benefits of using HostArmada Dedicated CPU Servers
Full control with ROOT Access
SSD Technology for Faster websites
24×7 Technical Support
Their every plan (Shared Hosting, VPS Hosting, and Dedicated Hosting) also included with:
Free control panel (cPanel)
Free SSL for all sites
Web Server Cache
Daily Backups
Cloud SSD Storage
Support 24/7/365
---
So this is all about HostArmada's hosting services.
In addition to the hosting services, they also have an armada of domain names ready to kickstart your online presence.
So hereby, presenting you with HostArmada domain services.
Domain Services
Here at HostArmada, you can register the most widely used TLD (.com) at just only $11.99 for 1 year.
Moreover, you can grab some of the promotional extensions available at much cheaper prices.
With every domain you book with HostArmada, you will also get
Simple and Intuitive Domain Management Panel
DNS Management (Create, Edit, and Delete DNS records)
Domain Forwarding to any URL, any Social page, or any 3rd party service providers
Domain Locking
Subdomains Management
Domain Support 24/7/365
Some of the most important reasons why you should trust them as your Domain Name Registrar!
1. Vast Selection of Domain Names
2. Carefree renewal with flat pricing
3. Domain Notifications
4. 24/7/365 Domain Name Support
---
So far, we are done with knowing the different web services HostArmada offers, their pricing, and plans.
Now we will go deep into their technology so that we can conclude whether opting for the services they offer is really worth it or not?
So let's get started.
HostArmada Review: Speed
Website loading speed is the utmost important factor for making a successful business site.
A fast-loading website will not only make your site visitors' overall experience good but also help in better SEO ranking, more conversion, and reduced bounce rate.
And with the HostArmada Speed Reaper service, you can experience the richness of speed.
Some of the HostArmada features that enhance the loading speed of your website.
Cloud SSD Platform
CloudFlare® CDN
LiteSpeed Cache
Brotli Compression
Memcached Cache
APCu PHP Cache
LiteSpeed Web Server
Latest PHP & MySQL
Stable CentOS
Latest cPanel
To analyze their speed actually, we subscribed to their shared hosting plan and got the following results.
Have a look at the image above.
These are the results we got from GTmetrix, one of the reliable tools for measuring website speed and performance optimization.
Another one;
This is what we got from the Pingdom Website Speed Test.
Isn't it amazing?
---
HostArmada Review: Data Centers
Data Centers are key components for making your website loads fast.
The closer the datacenter would be to your site visitors, the faster response they would be getting.
HostArmada gets a thumbs up in this segment also.
They offer 9 data centers on 4 continents which is just amazing.
North America
1. Fremont (California, USA)
2. Dallas (Texas, USA)
3. Newark (New Jersey, USA)
4. Toronto (Ontario, CA)
Europe
5. London (United Kingdom)
6. Frankfurt (Germany)
Asia
7. Bangalore (India)
8. Singapore (Singapore)
Australia
9. Sydney (Australia)

You can choose an appropriate location based on your target audience location while ordering a new web hosting package with HostArmada!
This will result in fast connectivity and unmatched availability!
Furthermore, they use KVM® virtualization to provide up to 99.9% uptime for all the websites hosted on their servers. This also prevents data loss due to failures in the hardware components.
---
HostArmada Review: Security
Website security is another one of the most important aspects but is often neglected.
You know, thousands of sites get attacked on a daily basis and you never know your site could be the next one.
So to have peace of mind, your web hosting service provider should be capable of handling all the vulnerabilities at their end as soon as possible.
With HostArmada, you will get protection beyond your expectations!
HostArmada Security Features
Connections Level Limits
Requests Checking Service
Web Application Firewall
Static Files Checking
DDoS Protection Service
Some of the benefits of HostArmada Security Solutions
1. Fast Patching
Any security vulnerability they found on their server level is resolved as soon as it gets reported.
2. Daily Backups
Their every plan even shared hosting, is included with complimentary daily backups as standard.
3. User Account Isolation
This feature prevents the users of shared hosting plans from interacting with each other.
---
HostArmada Review: Customer Support
Customer support is the backbone of any company and peace of mind for its customers.
And we talk about the level of customer support services HostArmada offer, trust me they are just beyond your imagination.
They have a crew of experienced professionals that are ready to leave a smile on their customers 24/7/365.
Let's see, what are the different ways to connect with the HostArmada support team?
1. Instant Chat Support
Live chat is treated as the most convenient way to get connected with the support team for any help.
Here at HostArmada, you will get an instant response over chat support. Instant here I mean, as soon as you send your first message to them you will receive a quick reply spontaneously.
Have a look at the above picture. We contacted them for SSL certificate installation and they were fast enough to reply us back within a few seconds.
2. 24/7 Phone Support
Unlike other web hosts, their support is not limited to chat support only.
If you feel comfortable talking with their support crew, you can call them day or night any time and you will be acknowledged with an instant response.
3. E-Tickets
Added to that, if you need any technical help or have any Billing related inquiries, you can also generate e-tickets having an average response time of 10 minutes.
4. Email Support
Not only that, but you also have an option of the most professional way of online communication.
They have dedicated email accounts for different departments as mentioned below.
sales@hostarmada.com
billing@hostarmada.com
abuse@hostarmada.com
clients@hostarmada.com
5. Blog
Lastly, they have a live blog on their website where you can discover the latest web hosting news and useful information.
---
HostArmada Review: Interface
In addition to other features, HostArmada has done a fantastic job with its dashboard as well.
It is very convenient and super user-friendly even for beginners.
One can log in to its account by visiting the HostArmada client area.
As soon as you log in, you will be welcomed by an intuitive dashboard where you can manage everything at your fingertips.
Quick access to cPanel is also provided which makes your job much easier.
Look at the screen above, you can easily manage everything without actually accessing your cPanel.
---
HostArmada Pros
Competitive pricing (starts at $2.99 only)
Free domain name registration or transfer
Free Website Migration
Top-notch website speed
Worldwide Data Centers
99.9% Uptime guarantee with KVM® virtualization
All-in-one Security Solutions
Automatic daily backups
Free automatic SSL installation for all sites
Free Cpanel with each hosting account
User-friendly dashboard
Unlimited custom email addresses
Extended 45 Days money-back guarantee
No cancellation fees
24/7/365 Technical support crew
HostArmada Cons
1. Higher Renewal Rates
The only genuine limitation that we found with HostArmada is their higher renewal pricing for their shared hosting services.
The plans that start from $2.99/mo will be renewed for $8.95/mo. This is more than three times the initial cost.
That being said, this is the case with almost every hosting provider.
2. No Monthly Subscription
HostArmada does not offer a monthly plan, you have to subscribe for their 12 months plan at least.
However, you can take advantage of their 45 days money-back policy.
---
Building a WordPress Website on HostArmada
Starting a WordPress blog or website is as easy as on other web hosts.
All you need to select an appropriate hosting plan, domain name based on your needs and pay via a suitable payment method.
Still, if you are doing it for the first time, it may seem a challenging job for you.
So hereby, presenting you with a step-by-step guide to building a WordPress site with HostArmada.
Step 1: Choosing a Hosting Plan
Click on this exclusive link to visit HostArmada's official website.
By clicking the above link, you will be landing on their managed WordPress hosting page which looks like this;
Click on the Get Started button!
You will be displayed 3 different plans which start from $2.99/mo for HostArmada's WordPress hosting.
If you are looking forward to starting a single blog or website then START DOCK is the perfect plan for you.
Click on Order Now button!
Step 2: Domain Name Selection
You know, a website cannot be built without a Domain name.
Either you can register for a new domain or you can move your existing one.
In both cases, you will not be charged a single penny as a free domain name registration and transfer are available with every plan on HostArmada.
New domain registration is restricted to domain name availability. You can easily check any domain availability within their integrated domain tool.
So, if you are going to book a new domain, simply enter the domain name you want to register and click on the check domain button.
If the domain name is available, then you will see a message like this;
Click on the Continue button!
Step 3: Choose the Billing Cycle and Datacenter
Once you are done with the domain name, you need to select a billing cycle (12 months, 24 months, or 36 months)
12 months plan will cost you only $43.02. If you are a beginner, you may go with a 36 months plan to save huge on your purchase.
Next, you need to choose the appropriate data center.
Again, with HostArmada, you are allowed to select a data center from 9 available data centers.
Datacenter plays a crucial role in your site speed. So to facilitate your site visitors maximum speed and the overall best experience, choose a relevant data center that is near to your audience.
Let say, most of the traffic you are getting is from India, then you can select Mumbai as your website datacenter.
Step 4: Preview your Order and Checkout
The next step is to double-check your order and proceed further. We have selected a shared hosting Start Dock plan for 3 years.
You may toggle domain privacy protection off which will be an additional cost of $3.95 for a year.
Click on the continue button to proceed further.
Here you will see the actual amount you will be paying for hosting services and domain names.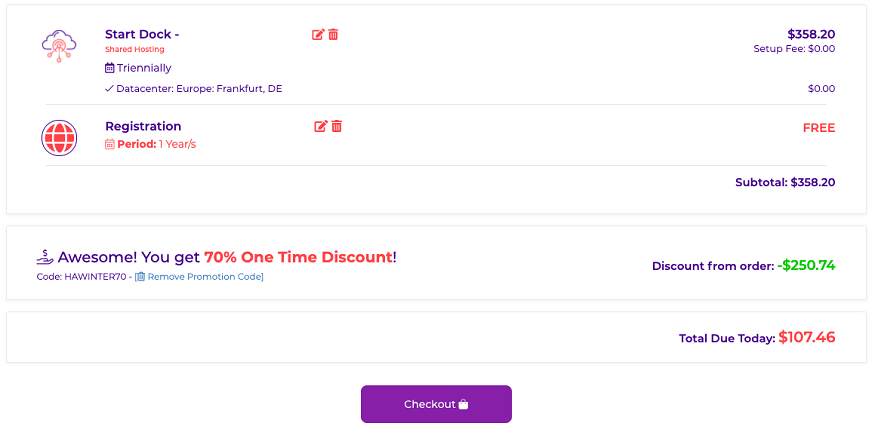 As you can see, it will cost you only $107.46 for 3 years. You don't need to enter any HostArmada coupon from your end to avail the 70% discount.
Now click on the checkout button.
Step 5: Contact Information and Payment Details
In the last step, you need to provide some basic details like name, email address, and billing information.
After that, you can choose a relevant payment method (credit card or PayPal) to pay for hosting charges.
If you want to be a part of their mailing list, keep the option yes, checkmark you have read and agree to the terms of service, select I'm not a robot, and finally click on the checkout button.
So here you are done with subscribing to their shared hosting plan.
You will also receive a mail having all the details regarding your hosting plan and login details.
What Others are Reading:
---
FAQs
What is HostArmada?
HostArmada is the US-based new web hosting company that offers scalable Cloud SSD hosting services at affordable prices. 
What are the services available on HostAramda?
They have an armada of fully-featured web related services that include Shared hosting, VPS hosting, Dedicated Hosting, and Domain name services.
How much does it cost to start a blog on HostArmada?
You can start a blog with HostArmada shared hosting Start Dock plan just by paying $43.02 for a year. 
Is a free domain name included with HostArmada Hosting services?
Yes, a free domain name (including .com) registration and transfer are available even with the basic plan for complete one year.
How to make a blog on HostArmada?
To make a blog on HostArmada, simply visit HostArmada official website, select WordPress hosting under the Hosting menu, choose a plan, enter the domain name, select billing cycle, datacenter, provide some basic information, and pay using a credit card or PayPal.  
Browse More:
---
Final Thoughts On HostArmada
This is all from our end related to the HostArmada Review 2023.
We have tried our level best to present you with an in-depth and unbiased review of HostArmada including its pricing & plans, features, performance, support, and much more.
At last, we can conclude, HostArmada hosting services are far better than our expectations.
So, if you're looking forward to starting a blog or website with high-performance web hosting at affordable prices, HostArmada could be the best option choice for you.
We hope you got the points you were looking for.
Still, need any help?
Do let us know in the comment section!!