MilesWeb Review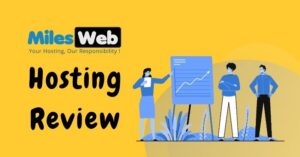 MilesWeb Review Summary
Good budget host for new websites, medium traffic sites where cost is the key consideration. MilesWeb provides good speed and uptime with 24×7 customer support. If you are not satisfied, you can claim your refund with in 30 days of purchase.
Are you searching for the best MilesWeb Review for 2023? Well, that means you are considering this host for your next project but still not sure about its offerings.
A proud Indian should always invest in local products. If you're also willing to do the same then MilesWeb Hosting is waiting for you. Over 3,000 Indians have invested in it already.
In this article, we are going to discuss everything about MilesWeb Hosting including:
MilesWeb hosting types
Their pros and cons
About customer support options
MilesWeb Performance
And more…
MilesWeb Review 2023 – With Pros & Cons
MilesWeb India Review 2023 – A Quick Summarized Version:
Pointers
MilesWeb India Review
Pricing of MilesWeb India
Starts from just ₹50/month
Free Perks
Free SSL, Free Backup, Free Domain, Unlimited Bandwidth, Free CDN.
Supported Web Hosting Types
From highly optimized Shared Hosting to high-performance Dedicated servers – everything is available here. The primary MilesWeb hosting types one can grab are Shared Hosting, WordPress, Managed WordPress, VPS, WooCommerce, and Dedicated Server Hosting.
Performance & Uptime
MilesWeb India's Performance is 100%. Here is what we found through our test results:
Average 30 days uptime: 100.00%
Average Server Response Time: 2 ms
Average Website Loading Speed: 1.2 s
MilesWeb Refund Policy
30 Days
Security
No security-related issues were reported by existing users.
Backup
Free daily backups feature is given.
Customer Care
MilesWeb customer support system is pretty reliable. We have word with their team a couple of times through the live chat system and always received a response within 1 min
Migration Facility
Free of Cost
Data Centers & Server Locations
USA, Canada, UK, India, Singapore, and Australia
Bandwidth and Storage
Unlimited Bandwidth. The storage is SSD based. Storage size may vary depending on the plans.
Payment Options
PayPal, Credit Cards, Debit Cards, etc
MilesWeb Pros
Multiple data centers, Free malware scanner & removal tool, 30 days refund policy, free daily backups, SSD-based servers, 24*7 chat support, etc.
MilesWeb Cons
Daily backups are absent from starter plans
MilesWeb India Review Verdict: Is MilesWeb good for hosting?
MilesWeb is an Indian web hosting company that offers you several web hosting services like Shared, WordPress, VPS, Dedicated, and Reseller hosting. The company has been operational since 2012 and it is growing since. If you are searching for the best and cheap web hosting with freebies like SSL, Domain, and SSD Disk Space, then MilesWeb is the best option you have.

For someone hunting for the cheapest host with excellent features, MilesWeb which starts at just Rs 50, is the perfect deal.
Quick Note: MilesWeb India is currently offering up to 75% discount on all its web hosting plans. Grab it via using our special link below.
---
About MilesWeb – Overview
MilesWeb is an India-based web hosting company that was established in 2012 by Deepak Kori, Chetan Mahale & Chinmay Dingore.
The very first aim of MilesWeb is to deliver quality services at affordable prices. And by keeping in mind this thing, today MilesWeb has more than 28,000+ happy customers.
There are currently six data centers of MilesWeb that are strategically located in the USA, Canada, UK, India, Singapore, and Australia.
We really liked the product range of MilesWeb, as very few companies are providing a long list of plans that include Shared, WordPress, VPS Servers, Dedicated Server, and Reseller Server Hosting.
MilesWeb Features: Why Should You Choose MilesWeb in 2023?
Before we discuss each and every product of MilesWeb, let's have a look at the features and the main reasons for getting MilesWeb hosting.
All these features will define performance, security, and overall cost-effectiveness. Buying a cheap host will not make any sense if some or all of these basic features are being sold as upselling.
With MilesWeb, these features are bundled for free and you need not buy them separately.
1. Free SSL and Free Domain
SSL is a security feature that is recommended by Google itself. We have personally observed that sites with SSL get priority over non-SSL sites in search rankings. Even Google has mentioned SSL (HTTPS) and its correlation with the ranking algorithm.
SSL helps your website's data to encrypt while fetching from one location to another and hence a 'must-have feature.
Similarly, a top-level domain like ".Com" is preferred by both users and search engines. Now, to get both of them, you need to pay anywhere between ₹600 to ₹900 a year. If you want free SSL and a free domain for your websites, MilesWeb can offer the same to you.
2. Great Speed And Response Time
Because of the lightning-fast SSD-based servers, MilesWeb is able to deliver a 1.20 s loading time which is enough to achieve a good core web vital score. We have performed a speed and performance test on a MilesWeb hosted website and it showed great results.
Quick Note: The detailed performance test is mentioned in the next section.
3. Free Security Perks: Malware Removing Tool:
Reviewing security-related customer reviews is one of the important tasks one should do before investing in any web host. Gladly MilesWeb hasn't been flagged by any customer yet. As per Sucuri 2021 website threat research report, 61.65% of the websites were infected with Malware.
Milesweb's free malware scanning & removal tool is one of the primary security features which is responsible for monitoring and keeping your website secure from hackers and web-based threats.
4. cPanel Support
cPanel is the world's most renowned and widely used control panel. But it has increased its pricing recently.
This is the reason why most companies are not offering you traditional cPanel to control your web hosting.MilesWeb seems to be an exception here, which offers you cPanel even in its cheapest plan which starts for just ₹50.
While it is possible to manage your site using other dashboards also, still, we see a lot of geeks searching only for cPanel. That's maybe because of its simplicity and utility.
Quick Note: MilesWeb has a dedicated cPanel tutorial playlist on their YT channel which will help you to understand the functionalities and configuration of cPanel
5. Free Website Builder
Don't know how to code? Don't even want to use WordPress?
Don't worry, MilesWeb offers you a free website builder, where you can create and design your website easily.
There are hundreds of free templates that you can pick and easily customize with drag-and-drop functionality.
6. Offers Free Website Migration and 100% Money-Back Guarantee Service
For every new service, we purchase we lookout for guarantees and a level of commitment. Although, MilesWeb is one of the best web hosting in India that offers you different web hosting plans and amazing services, what if it doesn't deliver?
In case you don't like the services and overall experience of MilesWeb, then you are covered with a money-back guarantee of 30 days. You can get all your money refunded within 30 days of purchase from MilesWeb
---
MilesWeb Hosting Uptime and Performance Test
Do you know that page load speed is one of the critical core web vital ranking factors today? Hence, To check the performance of the MilesWeb Hosted website, we have used popular website performance testing tools: Pingdom and BitCatcha.
MilesWeb Website Loading Speed Test: 1.20 Seconds
This site is hosted on MilesWeb web hosting and here is the Pingdom result we got when we tested it using Asia's server location:
As you can see from the snapshot above, our page was loaded completely in just 1.20 seconds. Since the server location of this site is in India, the results from Asia are fantastic.
MilesWeb Server Response Time Test:
Just to reconfirm, our team decided to use another tool – BitCatcha that checks the server response time from 10 different locations.
We tested the same site that is hosted on MilesWeb and got amazing results.
As we said, the site is hosted on an Indian server, it just took 2ms to respond from Bangalore. In all other locations, including the USA, the response time was concluded as A+ by this tool.
MilesWeb Hosting Uptime Test:
Can you afford your website to go down every day? No for sure.
Uptime tests help us understand the quality of technology used by particular web hosts. If its equipment is reliable, you will get 99.9% uptime at least. .01% downtime can still be ignored as it is required for period server level updates.
However, the lower, the better.MilesWeb's uptime is in our continuous tracking for almost 43 hours and we observed no downtime. We will continue to update this metric on a monthly basis.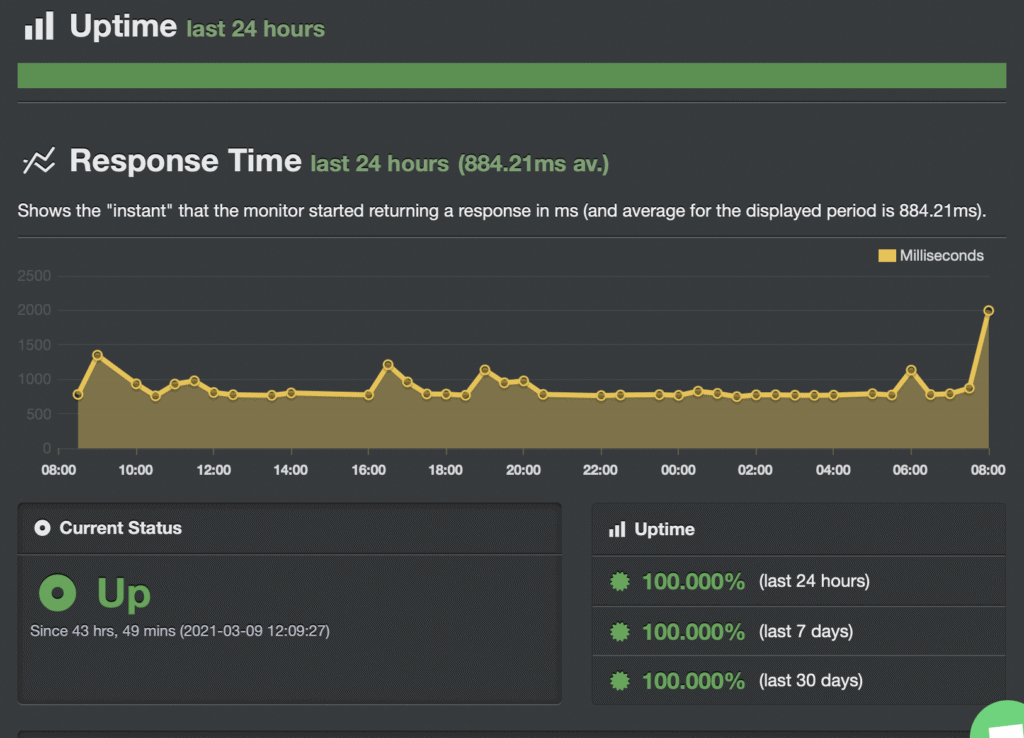 ---
MilesWeb Hosting Plans and Pricing Review
We already discussed above that it is one of the cheapest hosts that starts at just ₹50. Now, once we know that the list of features is solid, now is the time to introduce you to the plans and pricing of MilesWeb.
MilesWeb offers hosting types for everyone's needs. Whether you need a shared hosting or a dedicated server to meet high-traffic requirements, it will get you covered.
Here is the overview of MilesWeb Hosting Types:
| | | |
| --- | --- | --- |
| MilesWeb Hosting Types | Which MilesWeb Plan is Best For You | Pricing & Plans (India) |
| MilesWeb Shared Web Hosting | When you're just getting started, a shared web hosting plan is a great option. It's perfect for beginners because it offers low prices and better performance. Free SSL, Unlimited Bandwidth, and Free Backups are the main highlights. | Starts at ₹50/m. Windows shared hosting is also available – Starts with ₹100/m |
| MilesWeb WordPress Hosting | If you're looking for a WordPress host with a simple, easy-to-use interface, this is the best option. MilesWeb will install WordPress on your site automatically. | Starts at ₹50/m. |
| MilesWeb Managed WordPress Hosting | If you're looking to utilize the power of high-speed cloud-based servers and also expect more than 15k monthly users then Managed WP hosting will be the best option. The cloud-based servers always produce a higher uptime ratio. | Starts with ₹1,800/m |
| MilesWeb VPS Web Hosting | If you're looking to get the most out of your device but don't want to share CPU and Ram with others, VPS hosting is the perfect solution for you. By getting root access, any kind of web application can be installed here. | Starts at ₹630/m |
| MilesWeb Dedicated Server Review | If you want to optimize your website for high performance, then dedicated servers are for you. Dedicated servers are designed for one website and therefore receive all of their resources from the same pool. If your website is hit with enormous traffic monthly, then dedicated servers should be your first choice. | Starts with ₹6,999/m |
| MilesWeb WooCommerce Hosting | Perfect for those who are looking to set up a WooCommerce based store. A separate team of WooCommerce professionals will be assigned to manage every technical aspect. | Starts with ₹1800/m |
| MilesWeb Reseller Hosting | Perfect for those who want to become a hosting reseller. | Starts with ₹270/m – Host unlimited websites |
MilesWeb Hosting Types – The Comparison
Quick Note: The specialty of MilesWeb Hosting pricing plans is – The same charge for renewals. Usually, other web hosts charge more at the time of renewals but this won't be the case with MilesWeb.
---
MilesWeb Shared Web Hosting
Shared Web Hosting, a perfect fit for new or low traffic sites, is web hosting where you are provided with a single shared server that is used by multiple users.
In short, as a shared hosting customer, you have to share a single server and its resources (RAM, CPU, Storage) with other users.
For this reason, Shared hosting is the cheapest, and is the best option for beginners and small projects to build and scale.
What's Free?
Free Domain, Free SSL, Unlimited Bandwidth, and Free Backups.
MilesWeb Shared Hosting Features:
Free Domain
Free SSL
Unlimited SSD Disk Space
Unmetered Bandwidth
One-Click Installer
Includes cPanel
Includes malware scanner & removal tool
Free Site Builder
Unlimited Sub-Domains and Parked Domains
Automated Backup
Unlimited MySQL Databases, etc.
MilesWeb Shared Hosting Plans:
MilesWeb offers you 4 plans under its shared hosting:
Solo
Geeky
Rapid
Turbo – The free domain is only included in this plan
Solo: This plan is best for beginners to start their first blog or website. If you don't want to invest much initially, this one's for you. – Host 1 website.
Geeky: The additional storage space would be allocated in this plan. The rest are the same.
Rapid: Option to host upto 5 websites.Turbo: Unlimited websites, Unlimited storage SSD space, and a free domain are the main highlights of the Turbo plan.
---
MilesWeb WordPress Hosting:
WordPress hosting is a highly optimized solution for WordPress websites that provides better speed, enhanced performance, and a great experience.
MilesWeb WordPress hosting offers the same pricing for its WordPress hosting as its Shared hosting.
The only difference is that your site will be hosted on a server that is optimized for WordPress in a better way. There will be no site that is running on any other CMS except for WordPress and due to this, the processing speed of the server increases automatically.
What's Free?
Free Domain, Free SSL, Free Website Builder, Free Backups Unlimited Bandwidth.
MilesWeb WordPress Hosting Features:
Free SSL
Free Domain
Unlimited Bandwidth
Includes cPanel
Free Website Builder
WordPress Optimized
Unlimited MySQL Databases
Unlimited Email Accounts
One-Click Software Installer, etc.
MilesWeb WordPress Hosting Plans & Pricing:
Milesweb WordPress hosting provides you with four different plans:
Solo
Geeky
Rapid
Turbo
---
MilesWeb VPS Server Hosting:
This web hosting is basically for professional websites where you need guaranteed resources. In layman's terms, VPS Server hosting is a mid path between Shared and Dedicated hosting.
You get a virtually split server that guarantees RAM and CPU per the plan so that your site is always consistent. Needless to say, in terms of security also, it is a better option if compared with Shared hosting.
VPS Servers are recommended for those users who are having a good traffic website and want to upgrade the site's speed and performance.
MilesWeb offers you Managed as well as Unmanaged VPS solutions.
If you buy this hosting option this month, you will get the same price renewal guarantee. That is obviously an extra comfort you look for as the discounts are always on first-term purchases.
What's Free?
Free SSL, 24/7 Premium Customer Support.
MilesWeb VPS Hosting Features:
India-Based VPS
Managed and Unmanaged solutions
100Mb/s Network
Full Root Access
SSD Disk Space
Choose your cPanel (WHM, Plesk, and more)
Custom Operating System
Unlimited Domains
Spam Protection and Malware Removal
Unlimited Email Accounts, etc.
MilesWeb VPS Hosting Plans & Pricing: MilesWeb offers you eight Managed VPS plans: V1, V2, V3, V4, V5, V6, V7, and V8.
Quick Note: We have indicated the pricing of Managed solutions as it is easy to manage for beginners. If you are a professional, you can choose their Unmanaged VPS plans as well that start from ₹630/month.
---
MilesWeb Dedicated Server Hosting:
Dedicated Server hosting, as the name suggests, provides you with a physical dedicated server where you have full control and access. No other website is there to trouble your project, which means the best security, reliability, performance but obviously high cost too.
With the MilesWeb Dedicated Server, you have the option to choose your favorite operating system and control panel.
What's Free?
Free SSL.
MilesWeb Dedicated Server Hosting Features:
Intel-Powered Processor
100% Guaranteed Resources
High Performance
Up to 128GB of RAM
Choice for cPanel
Custom Operating System
Full Root/SSH Access
Highly Secure
Premium Bandwidth
Robust Network, etc.
MilesWeb Dedicated Server Hosting Plans:
MilesWeb offers you 19 different Dedicated Server plans, as you can see in the below image, you can check the available specifications and prices of them.
You can try their Dedicated Server hosting with Zero Setup Fees and Zero Cancellation Charges today.
---
MilesWeb Reseller Server Hosting:
Reseller Plans are the best choice for those users who want to earn by selling web hosting.
You can earn a good amount of income by selling web hosting to users at your price.
Choosing the MilesWeb for Reseller Server hosting provides you with a lot of premium features like Malware and Protection, 100% White Labeled, etc.
What's Free?
Free SSL, Unlimited Domains.
MilesWeb Reseller Web Hosting Features:
Highly Affordable
SSD Disk Storage
Unlimited Accounts and Bandwidth
Free Migration
Free SSL Certificate
Cpanel Included
Choice of DataCenters
Free Setup
Professional Emails
MilesWeb Reseller Hosting Plans and Pricing:
MilesWeb offers you four different Reseller plans currently:
Micro
Startup
Grow
Expand
As you can see in the above image, it clearly shows all the required specifications of each plan.
If you are looking forward to starting your own web hosting business, MilesWeb's Reseller hosting can be the cheapest option for you. With their 100% white-label solution, you can use your own brand name wherever you want.
---
Words on MilesWeb Security & Backup
MilesWeb Security Features:
We mentioned the MilesWeb malware scanner tool earlier, but there are dozen more security features left to cover. All of these make a MilesWeb a highly secure web host.
Free SSL certificate layer
CageFS: A protective system that blocks the root access
2FA: An extra layer of protection above username and password
Firewalls: Blocks malicious traffic and restrict IP addresses
Brute-force protection
MilesWeb Backup Policy:
MilesWeb offers NO FREE BACKUPS – This was in the past.
Now MilesWeb is offering free backups (daily).
However in some plans for example: Shared hosting plans – it is mentioned that website content will be backed up once every 7 days and the frequency for database backup will be daily. But this limitation won't be a trouble in high-end plans (for Example WordPress managed, VPS, etc)
Quick Note: Please refer to the MilesWeb pricing and plans section to learn more about Backup frequency for the specific plan.
---
MilesWeb Hosting Review: Customer Support & Migration Service
MilesWeb Customer Support Options: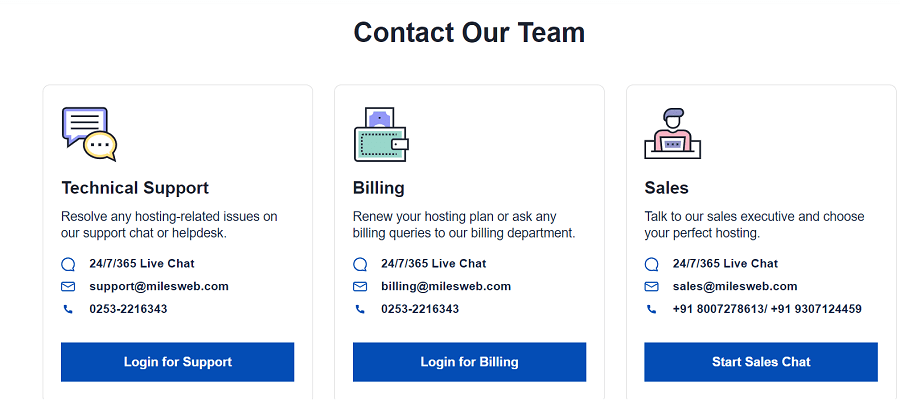 For every new project, you need a lot of support to set up things. For example, SSL configuration, setting up redirects, backups, and various day-to-day issues need someone there to support you.
If you are a new blogger or a small business, you would need the help even more frequently. You may face several issues and would probably not know how to fix them.
So, during our review, we found that MilesWeb has a dedicated customer service team that is available 24/7 and provides assistance through the:
You just need to raise a ticket or contact them through live chat, their 24/7/365 technical support team will help you for sure.
MilesWeb Migration:
Don't worry, MilesWeb will charge nothing for migrating your site from your existing host to MilesWeb.

Here are a few tutorials you can refer to learn how migration can be done without any hassle:
---
MilesWeb Pros and Cons
Like every web hosting company, there are a few good things and bad things about MilesWeb as well. We will like to bring them up for you so that you can make an informed decision.
MilesWeb Pros:
It provides you with Free SSL and Free Domain.
Have several data centers including India.
Quick Setup and Installation.
Gives a money-back guarantee of 30 days.
There are no charges for Website Migration.
All web hosting plans include SSD disk storage.
Awesome 24/7 Customer Support via chat, email, and phone.
Provides affordable solutions for every budget
MilesWeb Cons:
Free backups are available. However, the frequency totally depends on the plan the user opted for. Daily backups should be available in all plans.
---
MilesWeb User Reviews – What others are saying about MilesWeb
As we told you above in this article, MilesWeb is one of the best web hosting providers for customers on a budget. You get a full bouquet of amazing features and services that are generally offered by expensive web hosts.
We checked our facts and scrolled the internet for over 48 hours before writing this review. To make any review meaningful, a reviewer must account for the voice of actual users.
MilesWeb Customer Reviews on TrustPilot: To find what their actual users are saying, we visited TrustPilot (one of the best websites to see actual customer reviews) and collected the following information about MilesWeb's reviews and ratings.
As you can see in the above image, MilesWeb is rated as 4.8 out of 5 stars, and around 96% of people are completely satisfied with the experience of MilesWeb services. 89% of them have rated MilesWeb as an Excellent service provider.
And here we also picked a user review from TrustPilot about MilesWeb Hosting. Let's see what this customer is saying about their service and overall experience.

This review clearly shows that you cannot get this level of customer support from any web host with this level of pricing.
MilesWeb Google Reviews:
These days, Google reviews matter the most and MilesWeb has a great history of google reviews. Rated 4.2 among 3,772 users.
---
How to Start a Blog with MilesWeb Hosting
If you have found this review of MilesWeb helpful, and are clear with all your questions, it is now the perfect time to have a look at the steps to buying it.
As this guide is prepared for all levels of readers including beginners, we will discuss and let you know how you can start a blog with MilesWeb hosting.
Just follow each of the simple steps that we are going to mention below:
Quick Note: Grab up to 75% discount on MilesWeb by using our special link mentioned in the first step.
Step 1: Open MilesWeb.com.
Step 2: Select a relevant hosting for you, and choose a plan that suits you.
Step 3: Next, select a plan duration for your website [1 month, 12 months, and 36 months], and go ahead.
Step 4: Now, if you have your domain, then you can use that, else you can get a Free new domain from MilesWeb.
Step 5: Once you have done all the above steps, check out your order summary and complete your order.
Step 6: Next, select a payment option, as you can see in the above image, MilesWeb provides you with different payment methods like UPI, GPay, PhonePe, Net Banking, PayTM, Debit/Credit Card, etc.
After completing the payment successfully you just have to install WordPress and can start creating your new blog. Don't worry, their customer service team will set up everything for you once you are done with the purchase.
So, this is how you start a blog with MilesWeb hosting. Isn't it easy?
---
Alternatives to MilesWeb Hosting
We all love options. The process of choosing one starts with comparing a few. So here we share with you the best three alternatives to MilesWeb.
Frankly speaking, if budget is not a constraint, there are in fact better hosts also that you can go for.
So, here is the list of our handpicked three alternatives to MilesWeb Hosting are:
Bluehost
Hostinger
Namecheap
Let's know about these alternatives in detail below.
1. Bluehost
Bluehost is a well-known web hosting brand in the world that offers you several web hosting services.
For WordPress Hosting, if you can increase your budget slightly, we will recommend you Bluehost that starts with just ₹169.
Why? This company is recommended by WordPress itself and hosts over 2 million websites today. They will provide you with phone support if you are looking for that.
Regarding hosting options, Bluehost offers you solutions like Shared, VPS, Dedicated, and WordPress hosting.
Quick Note: To know more about Bluehost, Read our Bluehost India Review in detail.
2. Hostinger
Hostinger is a global brand that needs no introduction today. It is one of the best solutions for Shared, Cloud, WordPress, VPS, and Minecraft Server hosting.
It was started in 2004 as Hosting Media, and later on, in 2011, it was renamed Hostinger. Regarding its pricing, you can start with it for as low as ₹69 per month, with free weekly backup.
Quick Note: To learn more about Hostinger, read our detailed Hostinger India Review.
Namecheap
Namecheap is a domain registrar and web hosting providing company that was founded in 2004 by CEO Richard Kirkendall.
It is one of our favorite budget web hosts that offers to host three websites in its entry-level plan.
Namecheap starts offering its web hosting services at ₹180.51 per month.
---
What Others are Reading:
FAQs About MilesWeb Hosting
How to start with MilesWeb?
Starting a website with MilesWeb hosting is so easy and simple, follow the below steps and start your new website in just 2 minutes:
1. Visit MilesWeb.com. [Get up to 75% Off with our special link]2. Select a relevant plan.
3. Choose a domain.
4. Pay for your billing.
5. Start designing your website.
How much does MilesWeb charge for renewals?
MilesWeb has similar pricing for renewals meaning the pricing would be the same you pay for the first year.
Can I buy a domain name with MilesWeb?
MilesWeb domain registration facilities are always available. You can purchase either hosting and domain name at the same time or only domain name registration also works.
Is MilesWeb a good web host?
Yes, MilesWeb is one of the best web hosting providers for users looking at affordable solutions. It offers several web hosting options at affordable prices. MilesWeb's Shared hosting starts at just ₹50 per month.
What if I don't like MilesWeb?
If you are not happy with the MilesWeb features and services, you can ask for a refund within 30 days of purchase.
What are some best MilesWeb alternative web hosting providers?
Here are some of the best web hosting providers where you get excellent speed, uptime, and performance:
1. Hostinger
2. Bluehost
3. HostArmada
4. WPX
5. GreenGeeks
6. HostGator
7. Namecheap
8. MilesWeb
9. GoDaddy
10. SiteGround
Browse More:
Conclusion: Our Verdict on Miles Web Review
In this MilesWeb hosting review, we have covered all the important aspects related to MilesWeb.
We found that MilesWeb is a great option if you are looking for a cost-effective solution. We compared it with a lot of similar web hosts ranging at the same pricing and found that MilesWeb was one of the best among them.
For new websites, medium traffic sites where budget is the key priority, we will highly recommend MilesWeb. However, if you can increase your budget slightly, we will definitely recommend you go for the alternatives mentioned above.
If you will see our speed and uptime test, you will find them convincing.
Just in case you still have doubts or queries related to this MilesWeb review, then let us know via your comments below.