Hostinger India Review
INR 59
Summary
Hostinger India is one of the fastest-growing web hosts that has grown to over 29 million customers in less than a decade.
It is a budget host with great service and excellent features like Free Domain, SSL and Backup facility.
You can expect a 99.9% uptime with excellent speed.
If you are looking for one of the best hosts in India, your search ends here. We will deliver you the best Hostinger review in India introduce its features in detail.
Are you low on budget and still don't want to compromise with quality?
Then you must give a chance to the Hostinger.
In this review, we will show you how Hostinger India stacks up as one of the best web hosting in India. We have a detailed pricing section along with products, features and Pros and Cons.
Introduction to Hostinger India: History and Journey
There are lots of hosting companies but why should one choose Hostinger as their hosting company? Let's figure it out.
Hostinger is a veteran web host that has served for 16 years since 2004.
Do you know? Hostinger is growing by 15000 new signups daily and has 29 million users in 178 countries.
Hostinger's Journey:
2007: Launched 000webhost.com [ad-free brand zero cost].
2008: Launched Hosting24.com a first-class cPanel web hosting brand.
2010: Crossed 1M users mark
2014: Completed 10 million users and reached 39 countries.
2016: A free cloud web was created.
2017: They acquired 29M users.
So this is how Hostinger is growing and expanding its services across the globe.
What Qualities Should You Expect From A Good Host?
India is one of the biggest marketplaces and in fact, the key focus area of various multinational companies. The web hosting industry is one of them. Various leading brands like Hostinger, Bluehost, Hostgator, and Namecheap are marketing their products aggressively to increase their market share.
But, as a customer, here are some key features that you should consider before choosing a good web host:
Cost should be Affordable
Should have Backup facility
Variety in hosting (Shared/VPS/Cloud hosting)
Good uptime up to 99.9%.
Excellent server speed.
Free SSL certificate
Free domain
Easy cancellation
Free migration
24/7 customer support
Save 90% + 8% on Hostinger Products
Coupon
It works.
45% Success
It doesn't!
Now that we have learned what all we should factor in, let us start evaluating Hostinger India.
Hostinger Plans and Pricing
We will now discuss the product range of Hostinger just to understand its offerings and suitability for your project.
From Hostinger India, you get Shared web hosting, Cloud web hosting, WordPress hosting, and VPS hosting.
Interested in exploring its products and features? Let's dive in.
If you are just starting a blog or website, you should consider Shared Hosting.
It is a hosting where different users share a single server to host their websites.
Since a shared server allows hundreds to thousands of sites under the same server, it helps you save the cost. It is the best solution for newcomers because it is a cheap hosting as compared to other plans.
From Hostinger, you get three options:
Single web hosting,
Premium web hosting,
Business web hosting
1. Single web hosting
It costs ₹59/m
It provides 1 website
Giving SSD storage of 10 GB
One Free Email account
Free SSL certificate
Bandwidth of 100 GB
Weekly Backup
2. Premium web hosting
It costs ₹119/m
Allows 100 websites
Giving 20 GB of SSD storage
Providing 100 Free Email accounts
Free SSL certificate
Free Domain
Unlimited bandwidth
Unlimited databases
Weekly Backup
3. Business web hosting
It costs ₹259/m
100 websites
100 GB of SSD storage
Free Email accounts
Free SSL certificate
Free Domain
Unlimited bandwidth
Unlimited databases
Daily Backups
Hostinger's Shared web hosting at a glance:
| | | | |
| --- | --- | --- | --- |
| Features | Single | Premium | Business |
| Cost | ₹59 /m | ₹119/m | ₹259/m |
| Websites | 1 | 100 | 100 |
| SSD storage | 10GB | 20GB | 100GB |
| Email account | 1 | Free | Free |
| Bandwidth | 100GB | Unlimited | Unlimited |
| Databases | 2 | Unlimited | Unlimited |
| Backups | Weekly | Weekly | Daily |
| CDN | No | No | Free |
WordPress Hosting
World's 39.5% sites are on WordPress as per industry estimates. Are you also planning to launch one for you?
Although you can choose a Shared hosting plan also for that, we still recommend WordPress hosting as it is a highly optimized version of traditional Shared hosting.
WordPress you know is a free CMS (Content Management System), and WordPress hosting has been developed to improve its performance and security too.
Hostinger has bifurcated its WordPress hosting into 4 different plans:
Single WordPress,
WordPress Starter,
Business WordPress,
WordPress Premium
1. Single WordPress
It costs ₹79/m
One website
10 GB SSD storage
10,000 monthly visit
One Email account
Free domain
Two databases
2. WordPress Starter
It costs ₹119/m
100 website
20 GB SSD storage
25,000 monthly visit
Free Email account
Free domain
Unlimited databases
WordPress multisite
Access SSH
3. Business WordPress
It costs ₹279/m
100 website
100 GB SSD storage
100,000 monthly visit
Free Email account
Free domain
Unlimited databases
Free jetpack
Free CDN
Access SSH
WordPress multisite
4. WordPress Premium
It costs ₹899/m
300 website
100 GB SSD storage
300,000 monthly visit
Free Email account
Free domain
Unlimited databases
Personal JetPack
Free CDN
Access SSH
Here we are comparing the features of all types of WordPress hosting.
| | | | | |
| --- | --- | --- | --- | --- |
| Features | Single | Starter | Business | Premium |
| Cost | ₹79/m | ₹119/m | ₹279/m | ₹899/m |
| Website | 1 | 100 | 100 | 300 |
| Monthly visit | 10,000 | 25,000 | 100,000 | 300,000 |
| SSD disk storage | 10GB | 20GB | 100GB | 100GB |
| WordPress multisite | No | Yes | Yes | Yes |
| Jetpack | No | No | Yes | Personal |
| FREE CDN | No | No | Yes | Yes |
| Databases | 2 | UNLIMITED | UNLIMITED | UNLIMITED |
| E-mail | 1 | FREE | FREE | FREE |
| Backup | Weekly | Weekly | Daily | Daily |
Note: Coupon ANILAGARWAL saves extra 7% over and above the 70% discount that you get normally.
Cloud Hosting
It is a hybrid plan or the latest technology which is ultra-fast and reliable. The cloud allows us to spread our data across multiple interconnected servers. These servers exist virtually, that's why they are known as the cloud.
If one server acts up, another server takes the charge and ensures your site keeps sailing.
The plans for Cloud hosting of Hostinger are divided into three options:
Startup,
Professional,
Cloud Global
1. Startup
It starts from ₹799/m
300 websites
100 GB of SSD storage
3 GB of RAM
2CPU cores
Free Email account
Free SSL certificate
Free CDN
Daily backups
WordPress acceleration
Free migration
Dedicated IP address
Dedicated resources
Unlimited bandwidth
2. Professional
It starts from ₹1,499/m
300 websites
140 GB of SSD storage
6 GB of RAM
4 CPU core
Free Email account
Free SSL certificate
Free CDN
Daily backups
WordPress acceleration
Free migration
Dedicated IP address
Dedicated resources
Unlimited bandwidth
3. Cloud Global
It starts from ₹5,099/m
300 websites
200 GB of SSD storage
16 GB of RAM
8 CPU core
Free Email account
Free SSL certificate
Free CDN
Daily backups
WordPress acceleration
Free migration
Dedicated IP address
Dedicated resources
Unlimited bandwidth
Here we are giving a table to compare all Cloud hosting plans:
| | | | |
| --- | --- | --- | --- |
| Features | Startup | Professional | Global |
| Cost | ₹799/m | ₹1499/m | ₹5099/m |
| Website | 300 | 300 | 300 |
| SSD storage | 100GB | 140GB | 200GB |
| RAM | 3GB | 6GB | 16GB |
| E-mail | YES | YES | YES |
| SSL certificate | YES | YES | YES |
| Daily Backup | YES | YES | YES |
| WordPress acceleration | YES | YES | YES |
| Free migration | YES | YES | YES |
| Unlimited bandwidth | YES | YES | YES |
VPS hosting
VPS or Virtual Private Server empowers you to access the server's root and manage it completely.
All key resources like RAM and CPU are split virtually and allocated to you. You can choose your own operating system as well.
If you have a technical know-how, you can use it to get great speed and performance consistently.
Let's see what the Hostinger is having for us in the VPS section.
Hostinger India provides 6 VPS plans which we will understand through a comparative table.
| | | | | | | |
| --- | --- | --- | --- | --- | --- | --- |
| Features | VPS 1 | VPS 2 | VPS 3 | VPS 4 | VPS 5 | VPS 6 |
| Cost | ₹285/m | ₹639/m | ₹925/m | ₹1135/m | ₹1999/m | ₹2999/m |
| RAM | 1GB | 2GB | 3GB | 4GB | 6GB | 8GB |
| SSD disk storage | 20GB | 40GB | 60GB | 80GB | 120GB | 160GB |
| Bandwidth | 1TB | 2TB | 3TB | 4TB | 6TB | 8TB |
| Dedicated IP | YES | YES | YES | YES | YES | YES |
| Full root access | YES | YES | YES | YES | YES | YES |
Why Should You Choose Hostinger India?
We checked the products along with their pricing above. Needless to say, the product line is strong and in fact unbeatable.
Here are a few more reasons why we recommend Hostinger India.
A) Pricing
A highly affordable product suite that starts with just ₹59. There are web hosts that offers you hosting at even more cheaper rates. But their after sales service, speed and uptime is pathetic.
Hostinger is an exception here which offers superb performance at really affordable rates.
B) Scalability
If you expect huge traffic in future but currently don't want to invest extra bucks, you can start with shared hosting and later on migrate to better plans.
Their team ensure seamless upgrades with no downtime.
C) Choice of Plans
As your site traffic will increase, your requirement will also grow. But there is absolutely no need to worry as Hostinger India provides you Shared, Cloud, and VPS hosting plans.
D) Speed and Uptime
You site should be live and accessible 24 hours a day and 365 days a year.
Here is the snapshot of a test site that confirms that Hostinger servers were up for 99.99% of the time.
Regarding the speed, we used the tool BitCatcha and checked Hostinger's server performance from all global locations.
The servers are rated as A+ or Exceptionally quick by the tool.
Both these factors are critical for your website's rank, performance and thereby profitability.
E) Security
Hostinger India is providing a free SSL certificate which is a good step. All its servers are Cloudflare protected and safeguards you from various attacks like DDOS.
F) Control Panel
With control panel. you can do almost everything related to your website, domain and even backups. Hostinger's inhouse hPanel is intuitive and beginner friendly.
G) Customer Support
Hostinger India's customer care support is available round the clock and throughout the year. You can reach out to them whenever you need any help. Instant live chat support is there to assist you always.
Here is the snapshot from TrustPilot which says a lot about its effectiveness.
H) 30 Days Refund
This is one of the biggest satisfaction and a decision-maker for most of us. We are ready to take risk but it should be calculated one. Here your hard-earned money will be returned to you if you are not satisfied with Hostinger's services.
All you need to do is to notify them within 30 days of purchase.
How To Get Hostinger India with Discount?
Here we are going to tell you the steps using which you can avail the Hostinger products with a heavy discount.
Just go through the process below where we have described the step-by-step actions to grab the Hostinger India deal.
Step 1: Visit Hostinger.in.

Step2: Choose a relevant plan for you and Click on the Add to Cart button.
Step3: Once you choose a plan, the next you have to do is, select a monthly or yearly hosting plan for your hosting. Longer the duration, higher the discount.

Step4: If you don't have a domain, then don't worry, scroll down a bit and you will see an option to get the domain. Choose a suitable domain for you.
Step5: When everthing is done, check out your bill, as shown below.
Step6: Find "Have a Coupon Code" and apply the Hostinger promo code. Generate a coupon below.
Save 90% + 8% on Hostinger Products
Coupon
It works.
45% Success
It doesn't!
Step7: Final Step, Click on Checkout Button and proceed to the payment option.
That's all, you have successfully purchased the Hostinger hosting for your business website.
Pros Of Hostinger India
1. Local Payment Options
There are a lot of web hosting companies in India offering great deals but you will find it really tough to own them. We get a lot of queries every day regarding payment options and alternatives as most of us do not have a credit card or Paypal account.
Hostinger has solved this problem and allows you to pay through Paytm, UPI, debit cards, net banking and various other options.
2. 99.9% Uptime Guarantee
Your audience expects your site to be available always. If you are investing your time in creating content, you will not want your audience to see 404 errors while accessing your site.
Especially, in the case of E-commerce sites, if your uptime will not close to 100%, your customers will start losing trust.
Availability builds trust and credibility. Hostinger offers a 99.9% uptime guarantee.
3. Free SSL
The secure socket layer commonly known as SSL certificate is a certificate that allows your site to move from HTTP to HTTPS.
HTTPS ensures data encryption and is secure. Hostinger offers you Free SSL.
4. It offers Free Domain
Do you know you will get a Free Domain with most of the Hostinger plans? Yes, that pricing and discount was not everything that Hostinger had to offer.

You still save around ₹900 as you get a free domain with every plan except for the entry-level one.
Few companies provide free domain but their web hosting plans are not cheap. Hostinger is affordable and you just have to pay for hosting, not for the domain name.
5. More Features in Premium and Above Plans
If we talk about the features somewhere, features help our site to work properly and it gives a good performance. Hostinger premium web hosting provides:
100 of websites
Unlimited databases
Free Email
Unlimited Bandwidth
Backup
6. Easy Refund Policy
Hostinger allows you to test their products for 30 days. In case you don't find them suitable, you will get your money back.
7. Great Page Load Speed
We already discussed this point above but here is how?
Hostinger provides LiteSpeed server along with server-level cache enabled.
At the website level, you can further use LSCache and CloudFlare which increases your speed almost 10x.
8. Free Website Builder
Basically website building needs coding and design skills but hostinger gives you a platform to build your own website by their template design.
You just have to choose a designer-made template and then customize your layout with images, videos, and any other content on it. This is called website builder and it comes free.
9. A Good Customer Support
Hostinger is quick, reliable and fast when it comes to support.
Through chat, they are available 24×7.
10. Multiple Datacenters
Hostinger is one of the best and fastest web hosting provider in the world. Hostinger has its data centres in 7 different locations across the world that helps to serve the best performance and user experience.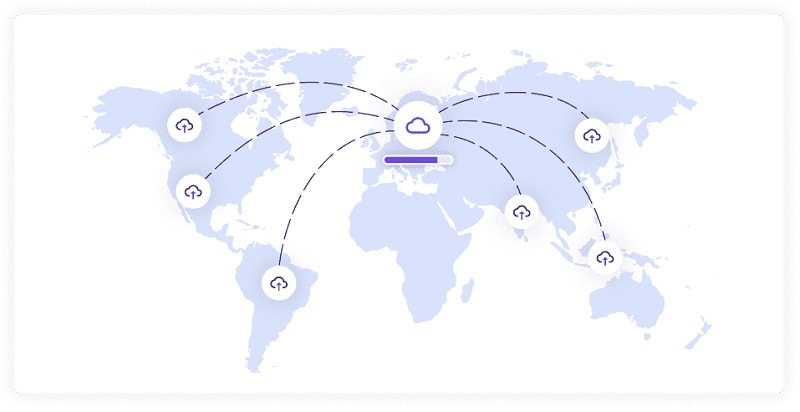 Hostinger's servers are located in the US, UK, Brazil, Indonesia, Singapore, Netherlands, and Lithuania.
These 7 datacenters are enough to provide you with great speed and availability near your audience.
Cons Of Hostinger India
1. No Phone Support
Hostinger does not provide phone support currently. However, you will get 24×7 live chat support that is really helpful.
2. Unavailability of a Dedicated Server
Hostinger is a great solution for you if you need Shared hosting, Cloud or VPS plans. If you are particularly looking for Dedicated servers, Hostinger is not for you. Check Bluehost India for Dedicated hosting.
3. cPanel is Missing
Hostinger has developed its own control panel which is a beginner-friendly tool, to be honest. If you are someone who is only looking for cPanel, Hostinger might disappoint you here. Still, we recommend trying hPanel at least once.
Have a look at the Hostinger hPanel image below,
Alternatives To Hostinger India
Hostinger is a go-to solution for Indian blogs and websites. Their 29 million customer base vouch for that.
You will get great service and features with quick customer service at really affordable rates.
Still, if you want to explore more options, you can consider the below mentioned Hostinger alternatives.
Bluehost India
Bluehost is a WordPress recommended web host that was started in the year 2003. Its plans are available from ₹199 onwards.
Hostgator India
HostGator India is also a global brand serving millions of customers worldwide. An experienced organization that was started in 2002 is also known for its prompt customer service and pro features.
Namecheap India
Namecheap is the world's leading Domain Registrar that was started in 2001 and now entered into the web hosting industry as well. Their products are also priced really well.
Hostinger India User Reviews: 2022
As we all know Hostinger provides you with the best services at affordable prices.
Lets see what its actual customers has to say on TrustPilot,
You can clearly see in the above image that, Hostinger India is rated 4.4 out of 5 stars, where 81% of users rated it as Excellent, and 9% of Hostinger India users rated it as Great.
Approximately, there are almost 92% of users are satisfied with Hostinger India's services.
What Others are Reading:
FAQs About Hostinger India
Is Hostinger India a recommended web host?
Yes, it is indeed a great hosting company. There are thousands of web hosts available today but Hostinger is a great brand that provides you with good features at affordable rates. Go for it if you are looking for great speed and uptime along with quick service.
Why is Hostinger good in India?
Hostinger is good for India as it provides you with excellent features like Free domain, SSL, Backup at pocket-friendly rates. You are getting a combo deal that includes everything you need for your website.
There is hardly any scope for upsell anymore and hence saves a lot of costs. Multiple datacenters choice is a cherry on the cake.
How is Hostinger India so cheap?
This is a question that is asked by a lot of users. A simple answer to this question may be the scale at which Hostinger operates. It is a brand that caters to 29 million customers and this helps them achieve economies of scale. Moreover, they have developed their own control panel [hPanel] and hence they don't have to buy external cPanel.
Who is the best Hostinger or Bluehost?
Both the companies are known for superb performance however they have their pros and cons. For example, you don't get phone support with Hostinger but Bluehost provides that. On the other hand, Bluehost starts with ₹199 whereas Hostinger is available for just ₹59. Depending upon the budget and features required, you can pick any one of them.
Does Hostinger India provide cPanel or not?
Hostinger does not provide cPanel. Hostinger is using its own panel known as hPanel that is developed inhouse. We tried it on a test site and found it easy to use.
Does Hostinger India have their servers in India?
No, Hostinger doesn't have their server in India but they have a server in Singapore which is also near as compared to the servers of other hosting companies. You can also use Free Cloudflare to get more edge locations that help in speed improvement.
Can we trust Hostinger Brand?
Yes, definitely because Hostinger is not a new brand today. As we discussed, it is trusted by millions of customers worldwide. We have personally tested their speed and uptime and found them bankable.
Who is better among GoDaddy and the Hostinger?
GoDaddy is a good choice if you wish to purchase only a Domain. However, they are not the best web hosts. For hosting, you should choose Hostinger.
Can we use Hostinger for free?
Hostinger does not provide free web hosting. Its group company 000webhost offers free hosting but we don't recommend it due to its features and limited options.
Is WordPress free or not with Hostinger?
WordPress is an open-source CMS. You can use it for free with Hostinger. Also, installing WordPress is just a one-click job from Hostinger's hPanel.
Related Posts:
What Others are Reading:
Conclusion of Hostinger India Review
This is one of the best reviews you will find on the internet about Hostinger. We have taken into account a lot of factors that a user should know before choosing the right web host.
In our study, we found Hostinger India a great choice for blogs and websites as they are offering an uptime guarantee of 99.9% along with A+ server response from multiple locations.
You must focus on after-sales service as, throughout the year, you need a supporting hand for various issues. With Hostinger, you will get expert and courteous staff to solve your day to day issues.
With 30 days of money-back guarantee and up to 93% discount on most of its products, it is worth giving a try.