SiteGround GrowBig review
Product Name: SiteGround GrowBig
Offer price: $5.95/month
Summary
SiteGround's Grow Big plan comes with more server resources than the StartUp plan and allows you to host multiple websites. It also comes with lots of other mouth-watering features, which you'll find difficult to resist. Check it out!
As the web hosting industry is constantly competing with one another in offering the most innovative features at the best affordable price, going for one hosting provider over the other has become incredibly difficult.
And even after you select a web host for your website, you're still faced with the task of deciding on which hosting plan will perfectly suit your website requirements.
In today's article, we'll be focusing on SiteGround grow big review. Apart from showing you all the enviable features that made SiteGround one of the best hosting providers out, you'll also get to see why their Grow Big plan will be ideal for your website.
SiteGround has built up a remarkable reputation over the years. It's typically a hosting company that's well worth looking at for anyone looking for a high-quality and affordable hosting provider.
Here, we'll be going through everything they have to offer, with more focus on their popular "Grow Big" plan as well as giving a detailed comparison of the StartUp and GrowBig plans.
So, should you choose SiteGround as your hosting provider?
If yes, why should you choose the GrowBig plan?
How much do you have to pay to get started?
Let's quickly dive in…
>>> Click here to get Started with SiteGround GrowBig Plan Now
SiteGround Grow Big Review | Company Overview
Founded in 2004 by Tenko Nikolov, SiteGround is an independent web hosting company. The company is located in Bulgaria and have users from all over the world.
SiteGround have Data Centers in the United States, UK, Singapore, and Amsterdam. It's very active in the community events and has positioned itself as well-crafted, and innovative web hosting solution provider.
With lots of recommendations and awards, SiteGround is the web hosting choice of serious bloggers, marketers, ecommerce experts, and developers alike.
It might also interest you to know that SiteGround is one of the few hosting services recommended by WordPress.org:
Read: Best SiteGround Alternatives for 2021 [Most Trusted & Reliable]
What is SiteGroud GrowBig Plan?
The GrowBig hosting plan is one of the three shared hosting packages offered by SiteGround. Their hosting plans start at $11.95 per month for the starter plan, while the GrowBig plan starts at $19.95 per month.
But I have good news for you, you can get the GrowBig plan at $5.95 per month for today, that's a whopping 70% DISCOUNT on their most popular hosting package.
With the 70% discount on the Grow Big plan, you can save over $500 on hosting if you subscribe to this plan for 3 years in advance. This is indeed a great relief for renewal charges.
That said, here are some of the notable features that come with the GrowBig hosting plan:
Fully optimized for WordPress
Free SSL certificate
Free website migration from your old hosting account
SSD hard drives storage
(More on the features later).
In the rest of this article, we'll be focusing more on in-depth analysis of SiteGround GrowBig package's features which we mentioned above.
But before that, let's quickly compare the GrowBig plan to other SiteGround shared hosting plans.
SiteGround Startup vs Grow Big Plan
Like I said earlier, SiteGround basically offers three different hosting plans.
The first one is the StartUp plan.
SiteGround StartUp plan is for users who want basic hosting features for their website that gets less than 10,000 visitors per month. Although the StartUp plan is good enough for beginners, it seems very unattractive when you want to host multiple sites with bigger web storage and other advanced features.
Does it mean that the StartUp plan is totally useless?
Not at all.
The Startup package of SiteGround offers a bunch of exciting features that other web hosts' premium packages offer.
Typically, the StartUp plan costs $11.95 per month, but you can get it at just $3.95 per month right now, that's a massive 60% discount. I'll suggest you get 3 years worth of hosting so you can save over $200 on hosting. To me, that's an incredible deal.
Now, if you want to host just a single website, and you've decided to go with the StartUp plan, simply follow the steps below to claim the 70% discount:
Step 1: >>> Click on this link to go to SiteGround web hosting page, click on the "Get Plan" button under the StartUp section::
Step 2: Clicking on the "Get Plan" button will take you to the next page where you'll be required to enter your domain name:
Once you've entered your domain name, click the "Proceed" button, and you'll be taken to the next page where you'll fill in your personal details and your chosen datacenter location, and then checkout.
NOTE: If you don't have an existing domain, registering a new one will cost you an extra $15.95.
That said, if you're looking for premium server resources as well as faster website loading times on any web browser, or if you wish to host more than 1 website, then the GrowBig plan becomes the best choice.
With the GrowBig package, you can host multiple websites, and you get up to 20GB of web space which should be more than enough if your website gets about 25,000 visitors per month.
Furthermore, it's worth mentioning that the StartUp plan does not feature priority support, while the GrowBig plan gives you solid priority support from their experts who will answer all your tickets immediately, whenever you encounter any technical problem.
The GrowBig package also lets you use different WordPress Plugins. With the StartUp plan, it's somewhat difficult to use unlimited WordPress plugins or high resource plugins, which is yet another reason why the GrowBig is far better than the StartUp plan.
Aside from that, there are still lots of other factors that make the SiteGround GrowBig plan a more preferred choice to its StartUp plan. Keep on reading to find out how this web hosting package can satisfy all your web hosting requirements.
SiteGround Grow Big Or Go Geek Plan?
If you've finally accepted the fact that the StartUp plan can't meet your web hosting needs, SiteGround also has bigger plans such as the GrowBig and GoGeek. Already, we have explained to you why the GrowBig package a better option. Now you might be considering which is better between the GrowBig and the GoGeek package.
So, let's quickly go through a few facts about this package so you can have a better understanding of what it has to offer, and if it's really the right web hosting package for you or not.
Basically, SiteGround GoGeek plan costs $34.95 per month, but for the sake of the ongoing discount, you can get it at $11.95 per month today, which is a 60% discount. And if you pay for a 3 years plan, you'll be saving over $800 on hosting.
The GoGeek plan offers the following features:
Your website will load pretty fast
It gives you 30 database backups on a daily basis
It features up to 20GB web storage, and all your support tickets will be answered by experts within 10 minutes
The GrowBig plan allows you to host numerous websites and get different useful server resources
Perfect for websites that get up to 25,000 visitors per month, and your site will never crash and will never load slowly
Up to 2000MB Email storage
The GrowBig plan comes with premium tools like 1-click backup & restore tools
To secure your eCommerce site, SiteGround provides free wildcard SSL for a period of 12 months
Because of the ongoing discount, SiteGround GrowBig plan costs just $5.95 per month, which is pretty much affordable compared to the shared hosting plans of some other competitor web hosting providers
Now, if the features mentioned above satisfy your webs hosting needs, then there's no need to go for a hosting higher package.
However, you should go for the SiteGround GoGeek package if:
You need more server resources than what comes with the GrowBig plan
You need a semi-dedicated web hosting package to host your site
You want to stage your website so as to assess the designs and code on a demo site
You want to always get on-demand backup & restore service from SiteGround
You operate eCommerce business and need PCI compliance for your business website in order to avoid credit card fraud
If you don't have any of these demands, then you don't need the GoGeek package. Instead, opt for the GrowBig Plan.
Now, if you've decided to go for the GoGeek plan:
>>> Click on this link to claim your discount.
Next click on the "Get Plan" button under the GoGeek section as you can see below:
Once that is done, follow the instructions as shown on the StartUp section above to claim over 60% discount.
Finally, you'll be better off going with the GrowBig plan because hence you will get more advanced functionalities than the StartUp plan without spending so much money on web hosting.
How to Avail SiteGround GrowBig Package Discount
| Hosting Plans | StartUp | GrowBig (Recommend) | GoGeek |
| --- | --- | --- | --- |
| Regular Price | $11.95/month | $19.95/month | $34.95/month |
| Discounted Price | $3.95/month (60% OFF) | $5.95/month (70% OFF) | $11.95/month (60% OFF) |
| Your Saving (for 36 months) | Save $288 | Save $504 | Save $828 |
| Number of Websites | 1 | Unlimited | Unlimited |
| Web Space | 10GB | 20GB | 30GB |
| Monthly Visits | 10,000 | 25,000 | 100,000 |
| Free Website Transfer | No | Yes | Yes |
| Advanced On-demand Backup | No | Yes | Yes |
| Get Discount | Grab Offer Now | Grab Offer Now | Grab Offer Now |
Claiming the SiteGround GrowBig discount is pretty easy and does not need any coupon whatsoever.
Simply follow the steps below to get the discount now.
Step 1: >>> Click on this link to visit SiteGround Hosting Plans page. Now, click on the "GET PLAN" option under GrowBig:
Step 2: Enter your domain name, or if you've not registered a domain yet and wish to register one with SiteGround, select the "register a new domain" option as you can see on the screenshot below:
NOTE: Registering a new domain name will cost you an extra $15.95.
Step 3: After entering your domain, just click on the "PROCEED" button to move on. Then on the next page, you'll be required to fill your personal data and your chosen datacenter location:
After filling the form, click on the "pay now" button to complete your web hosting registration.
Remember, with the GrowBig plan, you'll be saving a whopping $504 if you buy 36 months worth of hosting.
Why You Should Go for the SiteGround GrowBig Plan
Here are some of the reasons why you should really consider choosing the GrowBig plan today:
1. Great Uptime
In order to appeal to your visitors and always be there for them, you need your website to be online 24×7, especially if your site is growing faster. Interestingly, most big web hosting providers out there often claim 100% uptime, but their actions don't always justify their claims.
SiteGround uses in-house crafted solutions to offer its customers with high-quality web hosting services.
There have been several reviews and people's reactions on different forums and social media posts verifying the authenticity of SiteGround and their uptime claims (more on this later).
The majority of SiteGround users are 100% happy with their hosting service, and I'm sure you'll also fall in love if you go with them.
SiteGround built their hosting platform on Linux containers to provide impressive stability, especially when your site experiences unexpected traffic boost.
Interestingly, they were the first hosting company to offer the "account isolation technology" so as to offer customers with better security.
Their server monitoring system monitors all the servers every 0.5 seconds, and actively solves any problem without requiring human supervision. That's how SiteGround guarantees 99.99% uptime with their GrowBig and other premium plans.
2. More Server Resources than StartUp plan
One of the major reasons why I'll always go for SiteGround GrowBig package is because of their more allocated server resources. Even if you didn't pick anything else on this SiteGround GrowBig review guide, know that it'll give you more server resources, which the StartUp plan lacks.
With the GrowBig plan, your site can get up to 25,000 visits per month, while the StartUp powers only 10,000 visits per month sites. Apart from that, you'll also get 20GB worth of web space as well as host unlimited websites.
3. WordPress Caching Plugin
To further improve your website speed, SiteGround developed a custom WordPress caching plugin known as SG Optimizer. This plugin allows you to manage your website's caching from your WordPress Dashboard.
This plugin is, by default, installed on new SiteGround-powered WordPress blogs, and has a user-friendly interface so you can easily control how your site is optimized.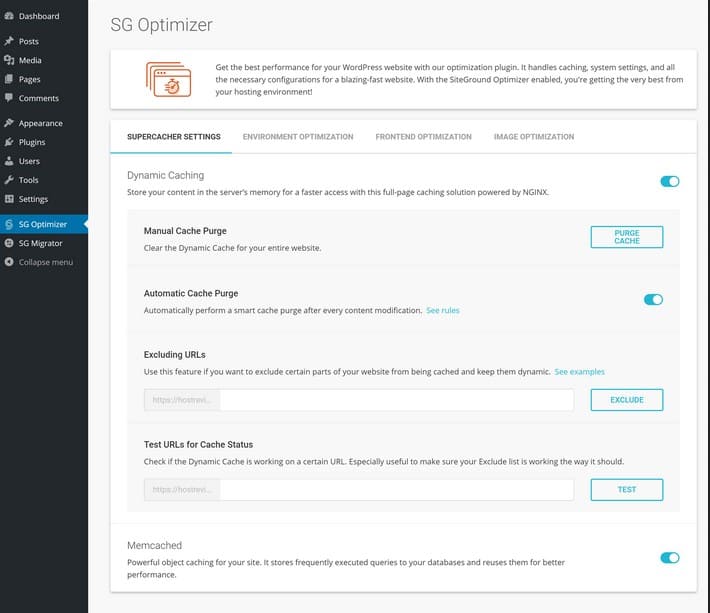 This caching plugin gives you lots of control over how it's applied to your site, competing strongly with some of the best caching plugins for WordPress out there.
From the plugin interface, you can also enable other performance-related features like browser caching and GZIP compression, and also optimize your website's front end via minification of the basic HTML, JavaScript, and CSS files.
It equally has options for image optimization and lazy loading of images:
As for the type of caching you'll get on your site, users on the mid-level and top-level GrowBig and GoGeek packages will have access to the WordPress Special Caching feature, while customers on the entry-level StartUp package do not.
It also has the proprietary SuperCacher technology, which aims to boost the number of hits a website can handle at a time, while equally increasing overall speed:
You can get confused by all these caching terminologies, but the breakdown below showing the 3 levels of caching of the SiteGround SuperCacher will hopefully give you an overview of the key differences between the plans:
First Level: Static content cache (available on all plans)
Second Level: Dynamic data cache, powered by NGINX (available on GrowBig & GoGeek plans)
Third Level: Database queries results cache, runs on Memcached (available on GrowBig & GoGeek plans)
4. Impressively Fast Loading Time
If you think that just having 24×7 uptime is enough for your site to gain users and make a good profit, you should have a rethink.
Aside from the uptime, your website's loading time matters a lot as well. Most web hosting providers are usually focused more on boosting uptime to show numbers, but often miss the chance of offering fast website loading time, which usually cost them their customers as a result.
Lots of users who are in the GrowBig package have tested their sites on different platforms and experienced loading times of 722ms.
SiteGround has a much faster loading time when compared to the average loading times of other web hosting companies:
SiteGround might not be the only company that promises such fast page loading speed. However, their loading time is quite exceptional for a $5.95 per month plan. Additionally, no traffic spikes will affect your loading time, which is why it is an excellent plan.
5. Excellent Customer Support
If there's one thing that fascinates me about SiteGround, it's their customer support.
To be honest, I've used lots of web hosting providers in the past, but none of their support gets close to that of SiteGround.
In fact, I actually moved on from my formal host mainly because of the lack of good customer support. I once waited for almost 12 hours to get a response to my support ticket, and nearly 24 hours to get my problem solved.
On the contrary, it usually takes less than 5 minutes to get instant reply from SiteGround's expert support team. Yes, I'm serious about that. I especially love contacting via live chat as they'll respond immediately, and will not leave you until your issue is fully resolved:
6. WordPress Website Staging Tool
Your website's staging version allows you to safely test the WordPress latest version, modify code, as well as make other changes without putting your website at risk or interrupting your visitor's user experience. However, you can only get this functionality on the GrowBig and GoGeek plan:

You can create and manage a staging environment via the account area on the SiteGround website. And for extra safety, a full backup of your website will be created automatically before you push the changes from the staging environment.
Therefore, if you'd like a safe space for trying out new plugins or experimenting with different code snippets and theme settings, the staging tool is yet another fantastic reason to choose the GrowBig plan over the StartUp plan.
7. Free Website Migration
If your existing website is hosted on another web hosting service and you've decided to migrate to SiteGround GrowBig plan, SiteGround will help you to migrate your site from the existing host within 24 hours, For Free!
Other hosting service providers charge an extra fee for this service. Bluehost, for example, charges a whopping $149, and they equally take up to 30 days to complete the migration.
However, you get only one professional website migration service from SiteGround, after which you'll have to pay if you want them to migrate another site for you. The good thing is that the entire process is not time-consuming, which also makes GrowBig an impressive web hosting plan to go for.
SiteGround is Loved by Lots of People
SiteGround gets positive feedbacks from many Industry Experts, including Syed Balkhi of wpbegginner.com:
Another interesting thing is that when we ran a poll on our official Facebook group some time ago to determine a hosting that is worth every penny, SiteGround beat the other hosting companies included on the pole hands down:
Even on Twitter, SiteGround is still winning numerous hosting related polls:
And is being recommended by lots of people on Twitter:
Now, if all these recommendations didn't convince you to give SiteGround a try, I wonder what will.
FAQs About The SiteGround GrowBig plan
What is the actual price of the SiteGround GrowBig package?
The actual cost is $19.95 per month. But you can get at a 70% discount today, which means you will only pay $5.95 per month. But ensure you pay for at least, 3 years' worth of hosting to fully enjoy this offer.
This is because this is a one-time discount after which you have to be renewing at $19.95 per month.
Does the GrowBig Plan come with free SSL certificate?
Yes, SiteGround offers free SSL certificate with all their hosting plans. But from GrowBig package upwards, they equally offer Wildcard SSL free for 1 year which is suitable for eCommerce website owners.
Does SiteGround offer Cpanel on GrowBig plan?
Yes. You'll get the standard Cpanel on all SiteGround's hosting plans including the GrowBig plan.
Is the 20GB web space on SiteGround GrowBig plan enough?
5GB storage will be enough for most people, but SiteGround offers 20GB web space in the GrowBig package. If you'll be hosting only WordPress websites, then the 20 GB web space will be more than enough for you, except when your site starts getting over 25k visitors per month, then you can upgrade.
Does the SiteGround GrowBig come with free Site Builder?
Yes! SiteGround offers free drag and drop website builder on all their hosting plans. So you can easily create a functioning website without hiring a developer.
How many sites can I have on the GrowBig Plan?
With the GrowBig plan, you can host unlimited websites.
Will I have an email address for my blog on the GrowBig plan?
Yes! Custom email addresses come with the GrowBig plan.
Does the GrowBig package offer automatic backups?
Yes! The GrowBig features automatic database backups, so if anything goes wrong, you can easily restore your database.
Pros
Excellent customer support via live chat or ticket
Affordable pricing plans
Free website migration and backup
PHP 7.3 hosting
Supercacher technology
Free SSL Certificate
SSD Hosting
Cons
CPU limits will not be enough for larger websites
GrowBig comes with fewer server resources than GoGeek
What Others are Reading:
SiteGround Grow Big Discount | Conclusion
Now you have it all. I believe by now, you already know all the features you'll get from SiteGround's GrowBig plan, as well as why you need it for your site.
This hosting package is undoubtedly much better than the hosting packages offered by most other web hosting providers.
And like I mentioned earlier, the GrowBig plan is a suitable plan if your site generates up to 25,000 visitors per month.
With this package, you'll get no downtime, no slow loading pages, and enchanting features that made it a powerful web hosting package for every serious marketer and blogger.
Furthermore, the free website migration within 24 hours feature is something none other web hosting solution provides for free.
Therefore, going for the SiteGround GrowBig hosting plan would indeed be a wise decision.
Check Out Our Other Related Articles: