While GoDaddy hosting is good for some customers, it is not suitable for all scenarios and website setups.
At a point, you might need something that's either cheaper, more reliable, more WordPress-optimized, or all of the above.
Whichever way, choosing a web host for your website is an important decision. Even if it's your first site, you will still want to get started on the best possible footing. This means choosing a hosting provider that's reliable, affordable, and provides every feature you'll need.
Our Recommendation
Our #1 Choice
Super fast hosting on SSDs
Best for starter and medium websites
Free SSL Certificate
Insanely fast and quick support
One-click WordPress installation
Free Automatic Backups
Only $2.99/mo
Runner-Up
Recommended by WordPress
Affordable pricing
Free Let's Encrypt SSL
Robust support by WordPress experts
One-click WordPress installation
30-day money-back guarantee
Only $2.95/mo
GoDaddy is a popular host and a common choice for newbies. It has lots of wonderful features, especially if you want an affordable managed WordPress hosting.
However, there are a few other hosting companies that offer just as much (if not more) than GoDaddy. Here are the best GoDaddy hosting alternatives you should consider in 2023.
Best GoDaddy Hosting Competitors in 2023
| Web Host | Pricing | Guarantee | Load Time | Uptime | Support | |
| --- | --- | --- | --- | --- | --- | --- |
| Bluehost | $2.95/mo. | 30 days | 689ms | 99.99% | 9.5/10 | |
| A2 Hosting | $2.94/mo. | 30 days | 1280ms | 99.92% | 9/10 | |
| Hostinger | $0.80/mo. | 30 days | 369ms | 99.91% | 9/10 | |
| HostPapa | $2.95/mo. | 30 days | 886ms | 99.96% | 9/10 | |
| HostGator | $2.75/mo. | 45 days | 691ms | 99.96% | 9/10 | |
| InMotion Hosting | $6.39/mo. | 90 days | 982ms | 99.97% | 9/10 | |
| FastComet | $3.38/mo. | 45 days | 887ms | 99.98% | 9/10 | |
| NameCheap | $1.44/mo. | 30 days | 830ms | 99.83% | 7/10 | |
Introduction to GoDaddy Hosting Service
Although most web hosting providers offer a much similar service, each one tends to differentiate itself in one way or another. GoDaddy positions itself as a newbie-friendly, cheap means of getting a website off the ground pretty quickly.
Because of this, it's a famous choice for new website owners and is an often recommended option.
GoDaddy's core offering is its Economy shared hosting that comes in four pricing packages. The cheapest option costs only $5.99 per month and $8.99 per month for renewal. This will give you one website, unmetered bandwidth, and a free domain for an annual plan.
With its higher-tier plans, you'll get more features, websites, and resources – and it goes all the way up to the Maximum plan at $19.99 per month.
GoDaddy equally offers VPS and dedicated server packages. And they've recently started offering WordPress-specific hosting plans.
Overall, GoDaddy offers an impressive list of services. But before introducing a few GoDaddy alternatives, let's quickly look at some of the reasons you might want to go for GoDaddy or look elsewhere by exploring its pros and cons.
Pros of GoDaddy Hosting
Cost-effective: GoDaddy hosting plans start at $5.99 per month, which is considered to be somewhat affordable in the industry.
Website Builder: They have pre-built websites as well as a drag-and-drop page builder for beginners.
WordPress Hosting: GoDaddy's WordPress hosting offers automatic WordPress install so you can quickly build your WordPress site.
Great Uptime: Godaddy boasts of 99.97% uptime guarantee, which is considered good enough in the industry.
Domain Name: You get a free domain name with annual plan
Cons of GoDaddy Hosting
Pricing: There are more affordable hosting options in the market for starters. And to enjoy the best discount from GoDaddy, you must sign up for 3 years
Limitations: GoDaddy limits your databases and disk space
Customer support: GoDaddy offers somewhat good support but limited live chat support, not available 24×7 like other hosting companies
No Export Function: If you use GoDaddy website builder to build your site and later decide to migrate to WordPress for example, the process can be tedious
Now, let's dive into the best alternatives to GoDaddy hosting:
Best GoDaddy Hosting Alternatives
1. Bluehost
Bluehost is often considered to be the default web hosting choice for business owners and website managers. They've been around for years and currently hosts millions of websites from around the world.
They offer excellent hosting service at a great price and have a good reputation for always looking out for their customers. Bluehost equally have hosting packages that will comfortably support whatever direction your business grows to.
Let's assume that you start with a basic shared hosting package and want to install WordPress, you'll get an easy 1-click install option to achieve that effortlessly.
And if your website grow pass the package and you decide to upgrade to a WordPress managed hosting in order to speed up your website and enhance security, they also have that.
Or if you decide to get more control of your hosting by upgrading to VPS or dedicated server, they equally have plans for both. Isn't that impressive?
The point I'm trying to make is that Bluehost has everything you could possibly need from a web host. If you host your site with them, you'll never need to migrate to someone else.
Additionally, BlueHost is aware of people switching from GoDaddy. Thus, they created a faster cPanel that helps new customers install WordPress and Joomla easily.
And when you have a problem, they have 24×7 customer support by live chat or phone. No hoops to jump through too as their support number is boldly placed right on their homepage to make it as easy as possible:
Why is BlueHost a good GoDaddy Alternative?
Affordable pricing
Recommended by WordPress
Resource Protection
Offers different training materials
Robust support by WordPress experts
It has great page loading speed
Inbuilt content delivery network
30-day money-back guarantee
Excellent customer services
Beginner-friendly cPanel
Cons of Bluehost
It imposes price increment on renewals
Bluehost's usage policies limit their unlimited hosting
It charges for website transfers
Users have minimal control over automatic backups
Bluehost's hosting packages start at $2.95 per month, but you have to choose the 36-month plan right upfront to enjoy this low pricing.
2. A2 Hosting
A2 Hosting isn't really as popular as the previous two hosting companies on our list – but that doesn't mean it's not a good web hosting alternative to GoDaddy. A2 Hosting is considered to have some of the fastest web hosting on the internet.
At every hosting package (shared, VPS, dedicated), A2 Hosting does impressively well in terms of speed. Therefore, if you're looking for a fast loading web host, this is your best option.
Sadly, A2 Hosting used to boast of a 99.9% uptime guarantee, but that's no longer the case as their uptime has reduced to 99.92% between 2017 and 2019.
They also offer free website migration, which comes with every hosting plan. If you're not happy with your current host and want to migrate, this is a brilliant deal. It will save you dozens of time and effort trying to get your website rebuilt. Allow the A2 Hosting team to deal with it.
Like many of the other hosting brands, there's also 1-click installs for every popular CMS tools, such as WordPress, Drupal, and Magento.
It's also worth noting that their lowest tier (LITE plan) only includes 1 website at $2.94 per month:
However, if you want to host multiple websites, you will need to go for the Swift plan.
So what makes A2 Hosting a great alternative to GoDaddy?
Affordable pricing: A2 Hosting pricing starts at $2.94 per month.
Free website migrations: Migrate your website free of charge from GoDaddy (or anywhere else your site is currently hosted).
A2 Optimized WordPress: This is a great feature that allows you to automatically leverage a few performance and security tweaks. No setup required!
Pre-installed WordPress: You have the option to pre-install WordPress on your site for a fast and easy setup.
24/7 support: Get assistance whenever you need it through live chat, ticket, or phone.
Cons of A2 Hosting
Somewhat low uptime at 99.92%
High renewal fee
A2 Hosting plans start at $2.94 per month for one site.
3. Hostinger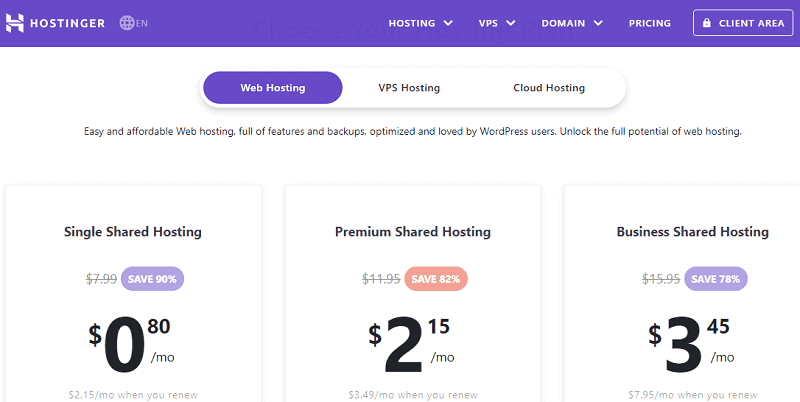 You'll seriously want to consider Hostinger if you want to keep your hosting cost as low as possible. Their cheapest plan starts at less than $1.
However, it's worth mentioning that all of these prices are promotional as they'll go up at renewal. But you can lock in these insane prices on a longer subscription.
You can basically get two years of hosting for $1 per month if you're paying for the two years up front, which is an excellent deal.
But even when the promotional pricing comes to an end, their pricing is still ridiculously low. The single shared hosting plan costs just $2.15 per month, which is considered one of the lowest rates in the business.
The most amazing part? Hostinger doesn't really feel like cheap hosting. Although they have some ploy that tries to convert you to a customer like their fake countdown timers. But Hostinger is really mild compared to most other aggressive hosting providers like GoDaddy.
From their marketing to the user-interface for managing your website, it all feels like a premium web host.
The site speed, uptime, and customer support are all impressive. They also have a 99.9% uptime guarantee as well as 24×7 customer support whenever you need assistance.
However, don't expect them to be as good as some of the other popular hosts on our list, but the value per dollar is really unbeatable.
Pros of Hostinger hosting
99.9% uptime guarantee
SSD servers with free backups
24×7 helpful customer support team
Free domain and website migrations
Ridiculously affordable hosting
Cons of Hostinger hosting
Lacks some advanced features
Support could be much better
Hostinger hosting pricing starts at $0.80 per month ($2.15 per month for renewals).
4. HostPapa
Ideal for small business and starter sites, HostPapa supports a bunch of popular and unpopular applications via its well-optimized servers and professional support staff.
HostPapa has a stunningly fast time-to-first-byte: it takes just 0.20 seconds for the server to start rendering your page. And the job is often completed in less than one second (0.90 seconds).
The backend equally rocks with the amazing 0.19 seconds of response time irrespective of the number of requests you throw at it.
Impressive, eh?
HostPapa also boasts of 99.91% uptime and supports a huge number of applications for all kinds of business: portfolios, eCommerce, restaurants, and many others can be brought online via the 400+ 1-click apps that HostPapa offers.
Additionally, if you encounter any confusion, their quick, helpful, and well-trained support team can easily address all questions and problems.
HostPapa is affordable, versatile, scalable, and can help your business grow from zero to hero via crazily-high speed and fantastic uptime.
Overall, HostPapa is one of the best independent web hosts available today, especially for websites crafted for the North American audience.
Pros of HostPapa hosting
Free setup, SSL, and domain registration
+400 business-oriented apps
Drag & drop site builder
30-day money-back guarantee
Cons of HostPapa hosting
Unclear ToS
Backups not included in all their hosting plans
HostPapa hosting pricing starts at $2.95 per month.
5. HostGator
HostGator is another popular name in small business web hosting and is one of the top GoDaddy competitors. Although, it's a little of a mixed bag.
While they do have a complete self-serve knowledge base, it doesn't provide any kind of email support – just live chat and phone.
This means that you have to be ready to get on the phone with them whenever you have an issue, even the smallest one. However, if you want a web hosting plan that's considerably cheap and offers relatively good service, this is the option for you.
HostGator does rank higher on tech publications, such as PCMag, but customer reviews are terrible: it has just one star on Trustpilot.
That said, if you're interested in using HostGator, I'd suggest you utilize the 45-day money-back guarantee they offer, and thoroughly test their support before committing further.
The good thing is that HostGator offers both Windows and Linux hosting, as well as a range of options to upgrade, including VPS hosting, managed WordPress, cloud hosting, and a dedicated hosting server.
I recommended you only consider HostGator hosting if you really need to keep your hosting bill as low as possible.
Pros of HostGator hosting
Cheaper website hosting
Excellent customer support
Suitable for starting a blog or starter website
1-click WordPress setup
Cons of HostGator hosting
No free domains or backups
VPS hosting plans are costly
HostGator hosting pricing starts at $2.75 per month.
6. InMotion Hosting
InMotion Hosting may not look too flashy, but it's a powerful web hosting brand with genuinely impressive technology, a wide variety of plans, and a multitude of longtime users.
Its huge self-help knowledgebase is the industry standard, and it has one of the best customer support teams.
Don't believe me? Try for yourself and see.
Interestingly, InMotion offers a massive 90-day trial period for shared hosting, which is undoubtedly one of the longest in the industry, giving you lots of time to test out its support and services.
They also have truly straightforward hosting plans. As you upgrade, you'll get more websites, more subdomains, faster servers, and extra databases.
We like its straightforward approach, especially for small business websites and sites that aren't overly complicated. No confusing tiers or pushy upsells to worry about.
InMotion equally provides the latest technology features, such as SSD storage, PHP 7, and custom server caching to make your site smooth and fast.
They also offer a very respectable uptime guarantee of 99.97%.
Why InMotion hosting is a great GoDaddy competitor
Free website migration
Free drag and drop website builder
90-day money-back guarantee
Free website migration
Speedy connections with the most famous ISPs in the USA
Automatic updates
Unlimited CPU cores and root access with VPS hosting
Cons of InMotion hosting
Expensive dedicated hosting plans
It's somewhat costly compared to others here
Their best services are available only to "Pro" level users
InMotion hosting pricing starts at $6.39 per month.
7. NameCheap
Incredibly affordable and with moderate support, NameCheap is a decent option that must boost its uptime.
They have a lightning-fast server response time of 0.34 seconds. The time taken for a page to load is equally superb at 1 second on average.
Admittedly, NameCheap is not the most stable web host, having only 99.83% of uptime. While this may not seem like a huge drop from the industry standard of 99.9%, if your business entirely depends on it, then each second of downtime would seem fatal.
One area that NameCheap really excels at is its pricing, (Apart from being an excellent domain name registrar, that is.)
NameCheap also has a very user-friendly customer dashboard and offers great deals on domain names. Their basic shared plan goes for $1.44 per month, making it suitable for first-timers and users who want to experiment.
Pros of NameCheap hosting
Free SSL
Unmetered bandwidth
Very affordable
User-friendly customer area
Free domain name
Free migrations and backups
30-day money-back guarantee
Cons of NameCheap hosting
Disappointing loading speed
Low uptime
Questionable customer support
NameCheap hosting pricing starts at $1.44 per month.
8. FastComet
Moderately quick and very stable servers, good scaling plans, and impressive customer support can see your website grow faster with FastComet.
FastComet has a fantastic uptime guarantee of 99.99%. No wonder it got up to 4.8-star rating on TrustPilot:
With up to 98% excellent customer reviews:
FastComet shared hosting plans are loaded with features for the tech-enthusiasts, making them a great option for advanced users.
Automatic minification, dedicated resources, aggressive GZIP, mod_expires, JS bundling, and asynchronous loading are a few of the mouth-watering goodies that await marketers who are ready to try the FastComet hosting.
Furthermore, the company has a pretty much friendly support team, rich knowledge base, and very affordable hosting solutions to attract inexperienced users as well.
Apart from being friendly, their technical support team is also quick, honest, and knowledgeable. That alone adds top-notch quality to the already excellent hosting package of the company.
Their basic shared hosting plan (FastCloud) is also very affordable at $3.38 per month. And they also have cloud VPS hosting and dedicated CPU servers for power users.
Why FastComet is a good web hosting alternatives to GoDaddy
Free SSL and domain transfer
9% uptime guarantee
Daily and weekly backups
Stellar security and advanced features for developers
45-day money-back guarantee
24×7 priority support
Cons of FastComet hosting
Proprietary CDN does not work properly
FastComet hosting pricing starts at $3.38 per month.
Browse More:
---
Which of these GoDaddy Hosting Options Should You Choose?
To be honest, all of these web hosting companies are viable alternatives to GoDaddy. I mean, we would not have listed them here if they weren't.
But based on:
Personal experience
Our survey data
Overall consensus in the entire WordPress community
We would say that Bluehost is an especially fantastic alternative because:
It's pretty much affordable at just $2.95 per month
They have great support agents if you ever run into problems
They will pre-install WordPress on your server to make it insanely easy to get started
Domain free for first year
Officially recommended by WordPress
Read More Web Hosting Alternatives:
Best GoDaddy Alternatives for Web Hosting | Conclusion
Now you've seen some of the best GoDaddy hosting alternatives that will give you better web hosting experience as per our experience. BlueHost and A2 Hosting topped the list as they're both officially recommended by WordPress.org.
In addition, their plans are very cheap, they have user-friendly cPanel, and offer a litany of helpful features that will improve the user-friendliness of your site and make it grow like a mushroom.
All the other web hosting alternatives to GoDaddy mentioned here are also superb. Especially InMotion Hosting, A2 Hosting, and FastComet. They also offer great hosting services with good speed, uptime guarantee, and security. So choosing any of them won't be a mistake.
And remember, if you didn't find whichever host you choose satisfying, you can always ask for a refund within the stipulated money-back guarantee period. So you absolutely have nothing to lose.