Black Friday Hosting Deals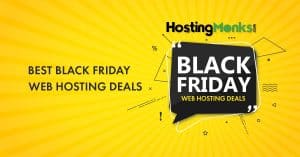 Product Name: Hosting Deals
Summary
Best Black Friday web hosting deals are here again, and you can now save a WHOPPING 99% on high-quality hosting solutions. Check out the offers and discounts now. These black Friday deals come only ONCE a year!
Looking for the best Black Friday hosting deals for 2020? You're in the right place.
In the digital marketing world, Black Friday means just one thing – It's the best time to invest in the necessary tools, apps, and services that'll help you grow your online business for the next year – and this post is about best Black Friday web hosting offers of 2020.
Most blogging and digital marketing related tools and services usually come at an insanely cheap price at this time of the year, which means that you can comfortably purchase even that tool you couldn't look at initially (even though you need it) due to its costly price.
While choosing a web host for your sites, it's also paramount to get for a company that'll severely guide your sites against cyber attacks, especially if your websites runs on the WordPress CMS.
It might interest you to know that WordPress is the most vulnerable CMS platform on the internet? Hence, the reason why you must not choose just the best value hosting plan, but the most reliable and secured too. Keep that in mind!
Even though no hosting company can guarantee 100% hack-proof of your sites, it absolutely helps to use something solid and resilient for your site.
That said, in this article, we've assembled the best trusted, robust, and secured web hosting providers for you on this Black Friday web hosting deals 2020.
Best Black Friday Hosting Deals 2020
1. SiteGround Black Friday Hosting Deals: Get 75% Off, $2.98 Per Month
>>>The Black Friday sale will begin on November 27th and last until December 1st, 2020 and you'll get 75% off on their shared hosting.
I doubt if you'll ever hear about good web hosting providers on the internet without hearing about SiteGround as it's a very popular web hosting solution.
In my whole online career, I've never heard any bad comments about the company. And that's why I'll always recommend SiteGround to every business owner that wishes to venture into the digital world.
SiteGround will make your life easier as they take care of everything from installing WordPress to getting great optimization for fast loading sites.
Excitingly, they're offering you a whopping 75% discount on all the hosting plans this Black Friday period.
Here are the SiteGround black Friday sale details for 2020.
StartUp at $2.98 per month
GrowBig at $4.98 per month
GoGeek at $8.68 per month
Therefore, if you're just starting out, or you're already marketer but you're not so happy with your current hosting company, SiteGround is more than a fantastic alternative, and I'm sure a trial will convince you.
Here are some of the key features you'll enjoy on SiteGround:
cPanel & SSH Access for better security
Free Website Migration
Super-fast loading times because of SSD storage
Free Setup & Transfer
99.99% Uptime Guarantee
Insanely affordable hosting plans
Free Website Builder
Free Daily Backup
Unlimited email accounts
24/7 Technical Support
30 Days Money Back
Free CloudFlare CDN to enhance your website loading speed
HTTP/2 Enabled Servers
Unlimited Emails & DBs
Free SSL certificates even with their basic plan
So what are you still waiting for? Rush now and get a hosting package with a massive 75% OFF on all shared hosting plans, and I'll recommend GoGeek plan if you plan on hosting unlimited websites.
2. A2 Hosting Black Friday Sale: Get 67% OFF, $1.98 per month
>>> You can enjoy up to 67% discount + $1.98 per month from A2 Hosting in this 2020 Black Friday deal.
If you're one of the people that are obsessed about their website speed, then this is the ideal web host for you. A2 Hosting uses SSD servers that are incredibly fast compared to the regular disks used by the likes of HostGator and Bluehost.
Here are the A2 Hosting black Friday and cyber Monday sale details.
Shared Hosting is at just $1.98/mo: 67% off with promo code: MEGA67
Reseller Hosting: 51% off with promo code: RSLR51
Managed Dedicated Servers: 50% off with promo code: HALFDEDI
Managed WordPress Hosting: 60% off with promo code: WP60
Managed VPS & Core VPS: 50% off with promo code: MVPS-50
Additionally, their hosting plan supports turbo-boosting feature which helps to improve page speed by at least 2x. Therefore, if you really care much about your website's loading speed, I'll highly suggest you check out this A2 Hosting Black Friday deal.
Unfortunately, A2 hosting is one of the most overlooked web hosting providers out there, but their quality service speaks volume.
Like some other high-quality hosts, they equally offer free website migration from your old to a new server – alongside free SSL certificates on every website hosted on their servers.
That's not all, you'll also get any time money-back guarantee once you buy any of their hosting plans. Isn't that outstanding?
And here's the best part – they're offering a 67% discount on shared hosting plans and up to 50% on VPS solutions during this Black Friday sale.
Finally, apart from the features mentioned above, here are the other benefits you'll enjoy from A2 Hosting:
Timely backups
20X Fast Loading Speed
Excellent Customer Support
99.9% Uptime Commitment
Pay with your debit cards
3. Bluehost Black Friday Web Hosting Deals: 60% Off, $2.65 Per Month
>>>Get hosting at just $2.65/month. The sale is already live and will expire on 2nd Dec, 2020
Bluehost is undoubtedly one of the best web hosting solutions available today, especially for WordPress powered blogs as the company is officially recommended by WordPress as the perfect web hosting provider for their servers.
Bluehost is popular for its excellent and affordable hosting price. So if you're looking for a cheap and pretty much dependable hosting deal, Bluehost is definitely for you.
During this Black Friday period, you'll need to pay $2.65 per month only on their hosting packages – and if you're an AdWords customer, you'll equally get the $100 credit coupon free of charge.
Here's the pricing breakdown during the Bluehost black Friday hosting sale for 2020.
$2.65/month for the Basic Plan (60% Off)
$4.45/month for the Plus (60% OFF)
$4.45/month for Choice Plus Plans (70% OFF)
$9.95/month for the Pro Plan (58% OFF)
Here are few more Bluehost hosting offers during this black Friday week.
60% Off WordPress Hosting
50% Off VPS Hosting
40% Off WP Pro Hosting
Apart from these awesome benefits, here are also the features you'll enjoy on Bluehost:
Unlimited hosting space
Unlimited Domain hosting
Unlimited bandwidth
Unlimited FTP accounts
Free Domain Name (for 1 year)
Free CDN (CloudFlare)
Free SSL Access
Standard cPanel Hosting
1 click WordPress installation
Free Site builder with lots of stunning free templates
You don't have to wait any longer, quickly grab this Bluehost black Friday deal now before you miss it.
4. HostGator Black Friday Offers: 70% OFF Hosting Plans, A FREE Domain
HostGator Black Friday sale starts from Wednesday, November 25th to Tuesday, December 1st, 2020.
Offers include;
Flat 70% discount on hosting
A free domain (only during the offer period)
HostGator is a renowned web hosting provider – I bet there's no old digital marketer or blogger who doesn't know about it and has probably used it at some point. This rugged hosting company has been there for years before most of the alternatives we have today.
HostGator offers Shared hosting, Cloud hosting, WordPress hosting, VPS, Dedicated hosting, and Reseller hosting packages at reasonable prices. With its affordable price and great technical support, it's seen as one of the best web hosts out there.
Now, here's the best part…
…Hostgator is offering its new users a MASSIVE 70% discount during this year's Hostgator Black Friday sale.
If you're looking to get a new host, I'll suggest you check out Hostgator as it's one of the most trusted web hosts for every newbie who's starting their online journey because of their ease of use and solid support.
Apart from the discount, Hostgator will also help you to migrate your website from your old server to the new server without extra cost. Therefore, if you have any pending renewal on your old host, now is the best time to migrate to Hostgator, leveraging their free migration.
And finally, you'll also get $100 Bing and $100 AdWords credits on every hosting package you purchase, which is indeed a steal deal.
Here are the other benefits you'll get from Hostgator during this Black Friday deal:
Affordable shared hosting plans
FREE domain
Free SSL Certificate for a more secure site
Free website migration
Impressive customer support
45-day money back guarantee
1-CLICK Script Installs
4,500 Free Website Templates
9% Uptime Guarantee
EASY Control Panel (Try Demo)
UNLIMITED Bandwidth
UNLIMITED Disk Space
5. HostPapa Black Friday Hosting Deals: 92% OFF, $1 per Month
>>> Starting from Tuesday, November 26th and end at Wednesday, December 4th, you can get HostPapa hosting for just $1 per month.
Originated from Canada, HostPapa is simply the best Green eco-friendly web hosting provider on the web. Green hosting means that the hosting company is environmental friendly where it reduces green technologies via environmental impact.
Since its inception, HostPapa remained one of the most affordable and feature-rich web hosting choice for small and medium businesses, bloggers, and marketers.
HostPapa offers different hosting services such as Shared hosting, WordPress optimized hosting, reseller hosting, VPS hosting, etc.
Excitingly, HostPapa is also offering a mouth-watering deal this year's Black Friday, below are the details:
Get shared hosting account at only $1 per month if you're buying 36 months plan.
WordPress Optimized hosting goes for $1 per month only if you're buying 36 months plan.
Reseller Hosting Bronze and Silver plans will sell for $1/month for anyone buying a 1-month package.
Simply click on the "buy button" below and get HostPapa hosting at only $1/month during this Black Friday (you don't need any special promo code as the deal will be applied for automatically on checkout).
Here are some of the features you'll enjoy from HostPapa:
99.9% uptime guaranteed
Dedicated customer support
Secure server
High-performance servers for faster loading websites
Free domain registration
HostPapa black Friday deal of 2020 will start from 24th November until 2nd December. So grab the deal right now using the link below.
6. WPX Hosting Black Friday Offers: 99% OFF for 1st Month, 3 Months Free
>>> WPX Hosting Black Friday deal will start on November 23rd and last until December 2nd, 2020.
Launched by Terry Kyle, WPX Hosting is basically Premium Managed WordPress Hosting solution, whose focus is mainly on quality over pricing.
Since WPX offers only Managed WordPress Hosting, its servers are fine-tuned for giving the ideal performance for a WordPress powered site. And the outcome is their insanely fast page load times.
It'll interest you to know that our main blog is hosted on the WPX hosting server as it's the fastest and most secure web hosting provider we've seen so far.
And here's the exciting news – WPX hosting is giving out MASSIVE benefits for their first-time users on this 2020 Black Friday period, you can get their first month hosting at a whopping 99% discount on their entire hosting plans after which you'll start paying the regular price.
WPX Hosting will actually be offering 2 types of deals during this period:
Deal 1: 99% discount on first-month hosting
If you wish to be paying for hosting on a monthly basis, then this is the perfect deal for you. This means that you can get started as low as $1 in your first month.
Deal 2: Free 3-Months Hosting On Annual Subscriptions
If you wish to pay for an annual hosting (which is the best), this is an excellent deal for you as you can enjoy 3-months hosting for free by buying an annual plan.
With WPX hosting you'll get:
Free website migrations
Free SSL certificate
24/7 customer service
Free content delivery network (CDN)
Fixed for you guarantee
>>>Starting from 23rd November to 27th November, you can get up to 90% OFF on Hostinger shared hosting plans.
There's a reason why we put Hostinger #1 in the list of best black Friday hosting deals because it is offering up to 90% discounts (along with a FREE domain). Hostinger is somewhat new in the web hosting industry. However, according to the company, they're getting up to 15,000 new accounts per day, which makes them one of the fastest growing web hosting providers.
Hostinger offers different web hosting packages such as Shared, Cloud, and VPS Hosting. However, unlike other hosting providers, Hostinger does not provide a cPanel with their shared hosting plans. Instead, they offer a custom build panel known as "hPanel."
This control panel is very lightweight and easy to use compared to the regular cPanel from other web hosts. Although the hPanel is fortified with the basic features that most people, especially the newbies might need, it does lack several functionalities of the traditional cPanel.
During this 2020 Black Friday period, Hostinger is offering up to 90% discount on its shared hosting plans – and you can equally get up to 78% discounts on Cloud Hosting and up to 70% on its VPS Hosting.
That said, here are some of the amazing features that come with Hostinger:
Superior speed performance
99.9% guaranteed uptime
Full root access
Dedicated IP
Unlimited number of websites
Unlimited disk space
Unlimited bandwidth
Unlimited resources
IPv6 Support
MySQL and PHP database support
Single Click web script installer
Free domain name & SSL
4X Optimized WordPress hosting
SSD website hosting
30 days money back guarantee
FTP & cPanel customization
WordPress friendly
24×7 Live support
8. Namecheap Black Friday Hosting Deal: Get up to 99% off
>>> You'll enjoy 99% discount on Namecheap hosting during the Black Friday period — and the deal will be live from 27th November to 1st December 2020.
Namecheap is generally recognized in the industry as a domain registrations company. However, some people also know that they do offer excellent hosting products as well.
As the name goes, their hosting solutions are insanely cheap even without the Black Friday discounts. But having a low-cost hosting services does not mean they're cheap in quality though as they offer a solid hosting solution with great customer support.
Interestingly Namecheap is offering 99% discount on their web hosting during this year's Black Friday sale, so I'll suggest you keep an eye for it if you truly want to get a high-quality web host for your websites at an insanely reduced price.
Here are the Namecheap black Friday offer details for 2020.
Up to 70% off (on popular hosting plans)
Up to 97% off (on top domain registrations and transfers)
60% off (on Private Email hosting)
Up to 85% off (on VPN, SSL and more!)
99% off is for EasyWP plan
Remember, this type of offer only comes once in a year, so you've got to act fast while it's still available.
That said, here are some of the features you'll enjoy once you buy Namecheap hosting.
Excellent uptime guaranteed
Access to user-friendly cPanel to make your life easier
Shared hosting for less than the price of a domain name
Easy database backups
24×7 live chat support
50 free PositiveSSL certificates for 1 year
Easy-to-install WordPress
100% uptime guarantee
9. WP Engine Black Friday Hosting Sale Offers: 5 Months FREE Hosting
>>> WP Engine Black Friday offer will start on Thursday, November 26, 2020 – Monday, November 30, 2020.
WP Engine does not need much introduction – they're the king in managed WordPress hosting services and this 2020 WP Engine Black Friday sale has something extraordinary compared to previous years.
WP Engine is not one of those cheap hosting providers by any means and they cater to only people concerned about high-quality products together with near perfect customer support.
The customer support team at WP Engine is specially trained to troubleshoot WordPress related problems and provide you with solutions promptly. So if you don't mind spending a few extra $$$ to get the peace of mind you so much desire, then WP Engine would be the ideal hosting choice for you.
That said, for the year 2020, WPEngine is offering 5 months of free hosting on any of their annual shared plans.
The hosting discount is applicable only on Startup, Growth, and Scale plans and is meant for new customers only.
The WPEngine Black Friday sale will run from Wednesday, November 18, 2020 – Monday, November 30, 2020.
Here are some of the features you'll enjoy from WPEngine:
100% uptime
Super-fast loading time around 140ms
Global data center locations via Google Cloud and AWS
More than excellent customer support
130+ CDN locations
So what are you still waiting for? Instantly get 5 months free hosting from WP Engine on shared plans using the coupon code: cyberwknd30
10. FastComet Black Friday Hosting Deals: Up to 75% OFF
>>>Get up to 75% discount on FastComet hosting plans from November 23rd to November 30th, 2020.
If you're looking for affordable hosting plans to host your WordPress sites, FastComet hosting is just for you. During this black Friday season, they are offering up to 75% discount on their hosting plans.
Here are the shared hosting deal details:
25th Nov and 28th Nov: 65% Off

26th, 27th, 30th Nov and 1st, 2nd Dec: 70% Off

29th Nov: 75% Off
Here are the cloud & dedicated hosting deal details:
25th Nov: 10% Off

26th Nov and 28th Nov: 15% Off

27th Nov: 20% Off

30th Nov and 1st Dec: 25% Off

29th Nov and 2nd Dec: 30% Off
Here are some of the features you'll enjoy on FastComet:
Free CDN
Free SSL Access

High-performance SSD Cloud

Free Website Migration

10 Global Datacenter Locations

Super fast servers

Free Let's Encrypt SSL certificates

Daily Backups & Free Restore

45 days money-back guarantee

Free Domain Name (for 1 year)
So what are you still waiting for? Grab this FastComet black Friday deal now using the following button.
11. FlyWheel Black Friday Hosting Sale: FLAT 40% Discount
>>>Starting from today to 4th December, you can get up to 40% discount on Flywheel annual hosting plans.
Flywheel is a fantastic web hosting solution that offers only Managed WordPress Hosting services. Launched in 2012, Flywheel's core focus is to offer web hosting services for developers and web designers who wish to build their website on the WordPress CMS.
Therefore, if you're a developer or web designer, you can expect some insanely useful features specially meant for you on Flywheel hosting. The company also offers you a temporary domain name for ease of building your site.
And aside from that, it equally allows you to create a blueprint of a WordPress installation with all the necessary themes and plugins to enable you not to start from the beginning for every new website project.
And if you are a developer, you can also provide access to a designer or vice-versa – and billing can equally be transferred to the client if you wish not to pay for it.
Flywheel black Friday deal details:
The Flywheel Black Friday Hosting sale discount will run from today to 2nd Dec, 2020 – and during this time, Flywheel is offering the following deals on their annual plans.
40% off (on annual Starter plans)
25% off (on annual Freelance and Agency plans)
25% off (on annual Add-ons subscriptions including White Label, Plugin Updates, and/or Performance Insights)
Once you're on their pricing plans page, make sure to click on their annual plans and enter promo code: FLYDAY19 (to get up to 40% off)
With that out of the way, here are other benefits of Flywheel hosting:
Free website migrations
All users are on VPS server which is non-shared
Built for WordPress sites with server-side caching
Aesthetic user interface
Nginx as standard (naturally faster than Apache)
No overage charges
One-Click staging sites
Fascinating performance
Client billing transfer
Free Demo websites (Only pay when site go live)
Fantastic uptime
Huge security and malware monitoring
Re-imagined SFTP
Nightly backups stored off-site and one-click restores
Easy CDN integrations
12. Cloudways Black Friday Hosting Sale Offers: 40% OFF for 3 Months
>>> Cloudways Black Friday deal will start from 12th Nov, 2020 to Dec 2nd, 2020
If you're looking for the #1 cloud based managed hosting platform, Cloudways is for you. It offers you a ton of hosting features to make your site faster, reliable, secure at affordable prices.
This year 2020, Cloudways is offering 40% off for 3 months on all the plans during the Cloudways Black Friday sale. So yes, you'll be saving huge on all of their hosting plans.
Cloudways Black Friday sale will be available from Nov 12th to 2nd of Dec, 2020. So make sure to grab the offer before the deal expires.
Here's a list of some of the incredible features that you get with Cloudways hosting.
Free SSL certificates with all the plans
24/7 Expert Support
Managed Backups
Managed Security
Access Cloudways CDN
SSD based hosting for faster speeds
And the list goes on
So what are you still waiting for? Get 40% instant discount on Cloudways using the coupon code: BFCM40
13. WP Rocket Black Friday Hosting offers: 35% Instant Discount
WP Rocket black Friday sale 2020 starts from November 26th – December 3rd (where you can avail 35% instant discount)!
There's no doubt that WP Rocket is the best WordPress cache plugin in the industry. The plugin is pretty easy to use and offers an all-in-one approach to WordPress performance and speed optimization.
Apart from these impressive features, it equally offers a bunch of other functionalities that advanced users will find very handy.
Now, the best part…
WP Rocket is giving out up to 35% discount on all their licenses during this 2020 WP Rocket Black Friday deal. Therefore, if you have a WordPress powered blog or website, and you wish to switch to a premium and reliable caching plugin, WP Rocket is the ideal option for you.
Like most serious online marketers and bloggers, you should always prefer faster loading websites as it affects the way users perceives your site as well as affects how the search engines see your site.
However, the problem is that making your website faster is usually easier said than done – and that is why you need great performance cache plugins such as WP Rocket.
WP Rocket will typically give your site all the performance boost it needs, which is the primary reason why it's widely used by experts and professionals throughout the world to power their WordPress blogs.
To put succinctly, WP Rocket will help to:
Defer loading of JavaScript files
Cache all the pages and posts on your site
Enable browser caching
Remove Query Strings from Static Resources
Optimize Google fonts
Reduce bandwidth usage with gzip compression
Minify and concatenate CSS and JS files
Defer JS Loading
Defer loading of images
CDN/ Cloudfare Compatibility
Cache Preloading/ Sitemap Preloading
So if you're tired of the snail-like loading of your site, it's time to let WP Rocket do its job, and you'll have a lot to gain from it this WP Rocket Black Friday period.
FAQs
1. What is Black Friday?
Black Friday is an informal name given to the fourth Friday of November which is celebrated as the shopping festival.
2. When is Black Friday 2020?
Black Friday 2020 is on 27 November. Generally, Black Friday Sale goes live a few days before the Black Friday and continues till Cyber Monday (Monday followed by the Black Friday).
3. What are the best Black Friday web hosting deals?
SiteGround, A2 Hosting, Bluehost, Hostgator, WPX hosting, Hostinger, Namecheap, WP Engine, FastComet, Flywheel, Cloudways are offering massive discounts on this Black Friday.
4. How much discounts do I get during Black Friday web hosting sale?
Though discounts vary from host to host, a maximum of massive 99% discounts are available on the web hosting right now.
5. Which are the best web host beginners?
For a beginner, Bluehost, A2 Hosting, Hostgator, Namecheap are some of the best affordable web hostings.
Best Black Friday Web Hosting Deals 2020 | Conclusion
There you have it all. I'm sure by now, you no longer have any excuse not to bring that your website to life.
With Black Friday Web Hosting deals for 2020, you'll be able to buy hosting servers at giveaway prices. This is that time of the year when most bloggers and marketers make their web hosting purchases to get huge discounts and save money for other areas of their business.
Therefore, if you are planning to create a new blog – or you wish to switch from the Blogger platform to WordPress – or you simply want to switch from your current hosting server to a new one, this is the perfect time for you.
The only problem most newbies usually have is that these popular and reliable web hosting providers charge very high during the time for renewal – this fact is often hidden for you until the renewal invoice comes.
That is why we often recommend that you buy 2-3 years' worth of web hosting service this black Friday at the discounted price as you will certainly save lots of money if you would've bought the same hosting plans on a regular day with just 1-year validity.
So yes! It's worth saying again that the Black Friday period is the ideal time to purchase your web hosting package and save money.
Check Out Our Individual Web Hosting Black Friday Sale Offers:
SiteGround Black Friday 2020 Deal [Get 75% OFF Now]
HostPapa Black Friday 2020 deal [$1 Per Month for a High-Quality Host]
Bluehost Black Friday Deals 2020: [Get 60% Discount Now]
Hostinger Black Friday 2020 Deals [Get 90% Off on Hosting Now]
WP Rocket Black Friday Deal: Missive 35% Discount on Best Caching Plugin
WPX Hosting Black Friday Deal: Get 99% OFF