A2 Hosting Black Friday And Cyber Monday Deals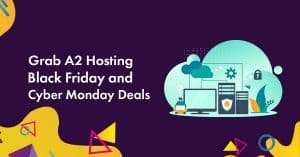 Summary
The A2 Hosting is popularly known for its reliable web hosting solutions across the world. Here's your chance to get a massive 67% discount on premium hosting from them this Black Friday. Sign Up Now for $1.98/Month Only!
Here's another breathtaking discount on A2 Hosting Black Friday sale with a whopping 67% off in 2020!
Okay, you really need to stop whatever you're doing and pay attention to what I'm about to tell you.
Black Friday sale is almost here again, and people are seriously getting ready for it because of all the massive discounts that usually come with it. This is that period when people buy things for themselves, for family, and for friends – because that's the only time you can get the most value for money.
Interestingly, A2 Hosting Black Friday deal is among the most anticipated deals during this season due to their massive 67% discount on premium hosting, as well as their quality of service.
Undeniably, A2 Hosting is not popular when compared to giants like HostGator, SiteGround, or Bluehost, but they are one of the few hosting services which offer fantastic services at a reasonable price. As always, you'll get amazing deals from them during this 2020 Black Friday sale.
So without wasting any more of your time let's get to the A2 Hosting Black Friday offers – and If you're busy like me then, here's the direct link to get the discount. 
Quick note: The offer is valid from 12:00 AM EST on 24th November, 2020 until 11:59 PM EST on 30th November, 2020.
A2 Hosting Black Friday 2020 Deal Coupon Codes
Why You Should Consider A2 Hosting Black Friday 2020 Deals
Widely touted as one of the fastest and trusted shared hosting provider in the web hosting industry. A2 Hosting transformed the shared hosting industry with their remarkable server speed, quality support team, and fantastic uptimes.
Using technology like pre-configured server caching, SSD storage, and Railgun Optimizer, they're currently the leaders of shared hosting servers in terms of speed.
Launched in 2001, A2 Hosting was formally known as "Inquinet," before they renamed it "A2 Hosting" in 2003 to honor the founder's hometown, "Ann Arbour," Michigan.
Apart from that, here are other features of A2 hosting that should convince you to check it out this Black Friday:
1. Timely backups
Excitingly, you don't need to worry about having your website's backup created as A2 hosting provides a timely backup solution, that automatically backs up your entire database and cPanel whenever you make any changes in the database, like when you publish new content.
Basically, A2 Hosting gives you access to the last 7 backups of your site, which is very useful if you want to migrate to another host, or when your site gets hacked, and you want to restore it.
2. 20X Fast Loading Speed
You'll have the option to get turbo SSD servers with their shared hosting packages. Turbo SSD servers help to boost your website's speed by at least double.
All their hosting packages come with free SSD. Unlike traditional hard disks, these outstanding drives provide more real-time traffic handling and are pretty fast. This architecture improves your site's load time even in shared hosting environments.
3. Excellent Customer Support
A2 Hosting customer support is just something else.
You'll get access to a toll-free number that you can easily dial up on Skype, and they offer a 24/7 free support with all the hosting plans.
Interestingly, their hosting branches are spread all over the world so you can always call the local number for support anytime you need help with something. Having a toll-free local number ensures you get excellent support instantly.
4. 99.99% Uptime Commitment
With the latest security features of A2 Hosting, your website is guaranteed to be online for 99.99% of the time.
I'll suggest you use this excellent A2 Hosting Black Friday deals and save some money on hosting, so you can use the money for other things.
5. Pre-Installed WordPress / Free Migration
If you're starting a blog for the first time, and you don't know how to go about it. Then you have nothing to worry about as A2 Hosting offers you servers with pre-installed WordPress to make life easier for you.
That's not all; you can equally get A2 Optimized WordPress. (For newbies who are unable to optimize it.) Apart from all that, they also offer free site migration from old web hosts, so you don't have to worry if you don't know anything about site migration.
6. Anytime Money Back Guarantee
And finally, A2 Hosting gives you any time money back guarantee. Not 30 days, 45 days, 60 days money refund policy like most other hosting providers. Host with them today and if you're not satisfied, get your money by tomorrow – it's that simple.
7. Pay with your debit cards
Yes, A2 Hosting also allows you to pay for their hosting services with your debit card, Visa prepaid card, and other prepaid debit cards as they accept the majority of debit cards and prepaid gift cards out there.
The Massive A2 Hosting Black Friday Offers Details
Quick note: The A2 Hosting black Friday and cyber Monday deals offer is valid from 12:00 AM EST on 24th November, 2020 until 11:59 PM EST on 30th November, 2020.
1. Shared Hosting
You can host your personal or business blogs that get medium traffic in A2 hosting shared hosting plan with the best services.
Furthermore, this plan comes with 3 options, from hosting a single site to unlimited websites with the Turbo Hosting plan, which helps to 20X your website loading speed.
Offer: 67% Off
Coupon Code: MEGA67
Click Here to Activate Coupon Now! 
2. Managed WordPress Hosting
A2 Hosting's Managed WordPress Hosting package is great option for WordPress users who don't want to deal with technical related stuff.
If you have a high traffic website, then it's better to use the Managed hosting plan and here are the offer details.
Discount: 60% Off
Coupon Code: WP60
Click Here to Activate Coupon Now! 
3. Managed VPS And Core VPS Hosting
If you want to have total server control with fully managed hosting, this is the best option.
A2 Hosting's Core VPS hosting plan comes with these options as well as Guru Crew support 24x7x365. This means that the customer support team will always be available whenever you need them.
Additionally, the Core VPS hosting plan also gives you the 20X faster Turbo boost option together with Cpanel at no extra cost, and with full control.
Discount: 50% Off
Coupon Code: MVPS-50
Click Here to Activate Coupon Now! 
4. Reseller Hosting Plan
The Reseller hosting plan is basically for people that want to own a hosting company and host unlimited client's websites.
With A2 Hosting's reseller hosting plan, you'll get "WHM Control Panel," which lets you create individual hosting accounts for your customers.
That's not all; you'll also get the "WHMCS Billing Options" for creating bills and purchase invoice for your clients.
Discount: 51% Off
Code: RSLR51
Click Here to Activate Coupon Now! 
5. Managed Dedicated Servers
Discount: 50% off
Code: HALFDEDI
Click Here to Activate Coupon Now! 
A2 Hosting Black Friday Cyber Monday Deals for 2020 | Pricing
The screenshot above shows the regular prices of A2 Hosting. As you can see, the Lite plan usually go for $3.92/month, Swift plan goes for $4.90/month, while the Turbo plans goes for $9.31/month.
However, with the Black Friday discount, below is what you'll get:
1. LITE Plan: This is A2 hosting most basic hosting plan – and it's suitable for people who are just starting out – and it comes with unlimited bandwidth and storage.
The Lite plan will cost only $1.98 per month this Black Friday 2020.
2. SWIFT Plan: At only $2.64 per month this Black Friday, this is the ideal plan when your website starts getting a decent amount of visitors. It's perfect for bloggers and small website owners alike.
3. TURBO Plan: This is the fastest plan offered by A2 Hosting (shared hosting). If you're looking to host sites such as E-commerce websites that get high traffic, then the Turbo plan is the best choice for you.
It will cost only $5.61 per month this Black Friday.
How to Avail A2 Hosting Discount This Black Friday
1. Click here  to go the A2 hosting website, and the A2 Hosting Black Friday coupon code will be automatically applied on its own.
2. The link will take you to A2 Hosting homepage from where you'll have the options to choose your desired hosting package. It's also good to compare the different hosting plans of A2 hosting before making your final selection.
3. Once you've decided on which plan you're going for, the next step is to fill in your domain details, but you can skip this step if you don't want to register a new domain.
4. Once you've completed all these steps, the last thing is to pay, and it's done. So, what are you still waiting for? Click on the button below to avail the 2020 A2 Hosting Black Friday deal now:
A2 Hosting Black Friday 2020 Deals | Conclusion
As I mentioned earlier, A2 Hosting is fortified with all the fantastic features you can expect from a great web host (affordability, 99.99% uptime guarantee, Free CDN, Free SSL, cPanel, etc.). They are undoubtedly worth the money – even though you can get them at a ridiculously discounted price this Black Friday season.
Even though lots of other web hosting providers such as Kinsta, SiteGround, WP Engine, Bluehost, etc. also provide special discounts during Black Friday sales, A2 Hosting is still cheaper than these top web hosts, and still competes toe to toe against them.
Therefore, there's no denying that A2 Hosting should be enough for your web hosting needs. But if you're looking for other amazing offers during this Black Friday season, you can also check out our other Black Friday deals.
Check Out Our Individual Web Hosting Black Friday Deals 2020:
SiteGround Black Friday 2020 Deal [Get 75% OFF Now]
HostPapa Black Friday 2020 deal [$1 Per Month for a High-Quality Host]
Bluehost Black Friday Deals 2020: [Get 66% Discount Now]
Hostinger Black Friday 2020 Deals [Get 90% Off on Hosting Now]
WP Rocket Black Friday Deal: Missive 35% Discount on Best Caching Plugin
WPX Hosting Black Friday Deal: Get 99% OFF for first month
So what do you think about this deal? Let us know in the comment section below.